AMAZING ABLETON LIVE OFFERS!
Posted on Wed 06 February 2013 in Computer Music

And when we say 'AMAZING', we really mean it! Grab Ableton Live in some fantastic bundles with interfaces, MIDI keyboards and DJ/studio controllers and make HUGE savings! For example, grab Ableton Live 8 with a FREE upgrade to Ableton Live 9 and a professional audio interface for less money than the full version of Ableton Live 9 costs (RRP is £339)! These offers are only valid while stocks last and they are going to fly out of the door so don't delay! Read on for full information...

](https://www.absolutemusic.co.uk/catalogsearch/result/index/?category=categoryROOT&p=1&q=ableton+bundle)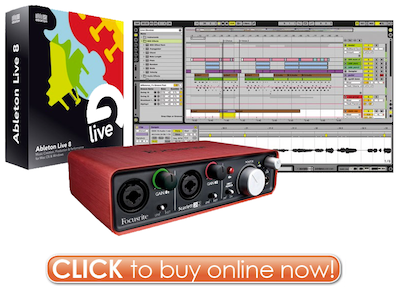 ](https://www.absolutemusic.co.uk/focusrite-scarlett-2i2-and-ableton-live-8-free-upgrade-to-live-9.html)
If you require a 2-input, 2-output device for recording a single synthesiser or a guitar and microphone signal, then Focusrite's Scarlett 2i2 interface would be perfect! However, the really great news is that you can get the 2i2 with the full version of Ableton Live 8 and a FREE upgrade to Ableton Live 9 for just £279! Wait a second - doesn't Ableton Live 9 on its own cost £339? Why, yes it is, so by purchasing one of these bundles, you're getting more and actually saving money at the same time!!!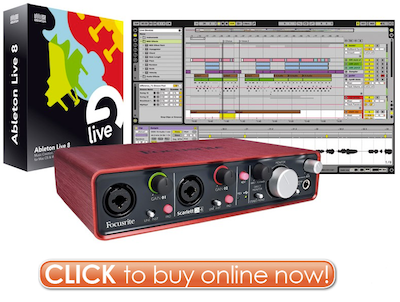 ](https://www.absolutemusic.co.uk/focusrite-scarlett-2i4-and-ableton-live-8-free-upgrade-to-live-9.html)
But what if you need more outputs? What if you need the ability to set up a headphone or cue mix, which is separate from the main output signal? This kind of flexibility is very useful if you're using the interface for digital DJing or recording vocals and need to send a separate mix to a vocalist's headphones.
In this case, check out our amazing Ableton Live 8 (with FREE upgrade to Live 9) plus Focusrite Scarlett 2i4 bundle. At just £329, this means that for just £10 more than purchasing the full version of Ableton Live 9, you'll be grabbing yourself a professional recording interface with pro-quality preamps, plus the full Ableton software!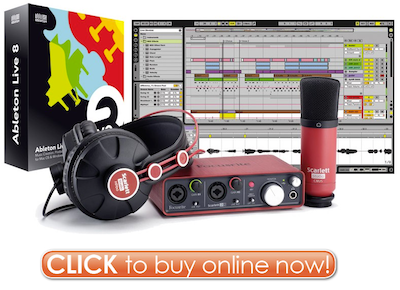 And how about if you need some recording/production software plus a compact interface, but you also need a microphone and pair of headphones? Then you'll want to check out our Focusrite Scarlett Studio and Ableton Live bundle! Grab the full Ableton Live 8 software (with FREE upgrade to Ableton Live 9) plus the Focusrite Scarlett Studio package for just £379. This means that essentially (considering Ableton Live 9 is set to be priced at £339), you'll be getting your hands on a professional interface, condenser microphone, headphones and microphone cable for an additional £40! We'll repeat that: £60 for a professional interface, microphones, headphones and cable! Crazy!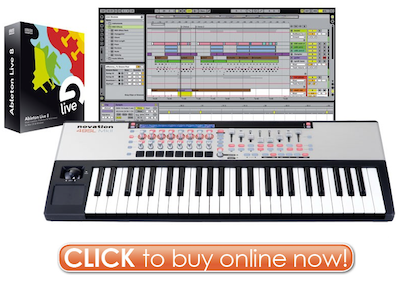 If you're after a controller keyboard with maximum hands-on controls then you won't find anything more suitable than the Novation 49 SL MkII (also up for grabs in a smaller 25 note version and a larger 61 note model), available in more amazing bundles with Ableton Live and Ableton Suite.
These keyboards feature 8 endless encoders, 8 encoders with fixed start and end points, 8 sliders and a load of assignable buttons. They even have a special 'speed dial', which automatically controls any software parameter that you have your mouse hovered over! Novation SL MkII keyboards are also super-easy to configure with your DAW because they come with Novation's Automap software, which automatically sets everything up for you! Bundles start from just £429.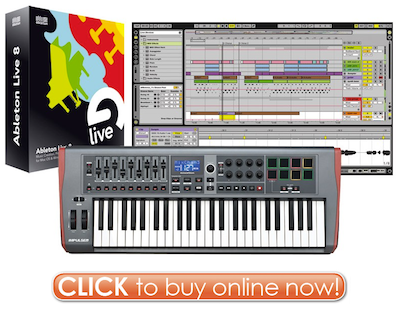 If the SL MkII doesn't tickle your fancy then you can also grab these amazing Ableton bundles with Novation Impulse keyboards, which feature less hands-on controls and no speed-dial, but have larger multi-coloured pads, a more natural keyboard response, a built-in arpeggiator and extremely tight integration with Ableton software. Just like the SL MkIIs, the Impulse keyboards also come with Automap software, making setting up with your DAW and plug-ins extremely quick and easy - great for getting hands on with your mixdowns and virtual instruments! They also come in 25, 49 and 61 note models.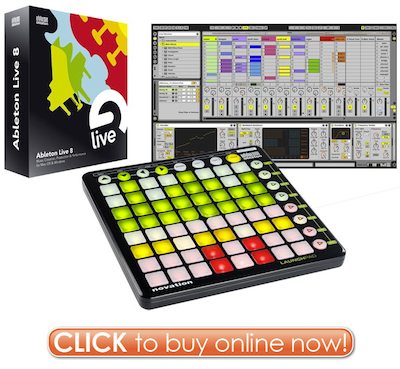 The first of our Ableton DJ bundles includes the hugely popular Novation Launchpad with its matrix of multi-coloured pads and buttons (for launching clips and controlling effects in Ableton software). This compact controller is especially useful for intuitive live DJ performances, although it can also be used as part of a home-studio, using the buttons to trigger some of your most used software actions.
Our Ableton Live 8 (with FREE upgrade to Live 9) plus Launchpad bundles start from just £309! Yep, that's £10 cheaper than the full version of Live 9 is set to cost on its own!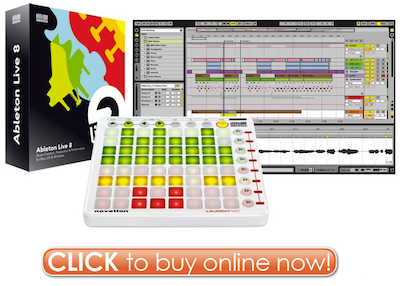 If you're feeling particularly flash then you'll be pleased to hear that this deal is also extended include the limited edition white model of the Launchpad. So, whichever model tickles your fancy, now is definitely the time to grab one!
The Novation Launchpad is also available in various other bundles with Ableton Suite 8 (plus FREE upgrade to Suite 9) and with protective sleeves. Click the following links to check our other Ableton + Launchpad bundles: Ableton Suite 8 (with FREE upgrade to Suite 9) plus Novation Launchpad & Sleeve (just £445) and Ableton Suite 8 (with FREE upgrade to Suite 9) plus Novation Launchpad (White) (just £429).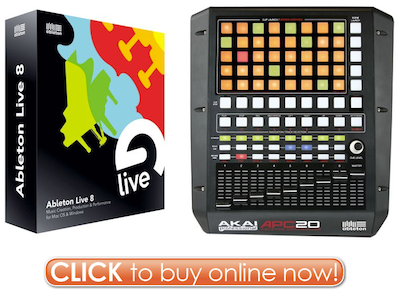 Perhaps you really like the idea of the Launchpad but require more hands-on controls. Check out the Akai APC20! This adds faders for controlling your track levels as well as dedicated buttons for soloing, muting and record arming your tracks. This functionality makes them a great home-studio addition for mixing your tracks as well!
An Akai APC20 controller with Ableton Live 8 (and FREE upgrade to Ableton Live 9) will set you back just £329!!! Only £10 more than Live 9!
Or if you need even more controls, we would recommend going for the Akai APC40. This has all the functionality of the APC20 but adds more encoders (for controlling things such as pans and effects), dedicated bank select buttons (for jumping between fader banks), a cross-fader and more. In our opinion the APC40 is the ultimate all-in-one Ableton live performance controller.
Our Ableton Live 8 (with FREE upgrade to Live 9) plus Akai APC40 bundle costs just £459. These amazing deals won't be around forever so don't miss out!
Akai APC bundles are also available with Ableton Suite 8 (and FREE upgrade to Suite 9).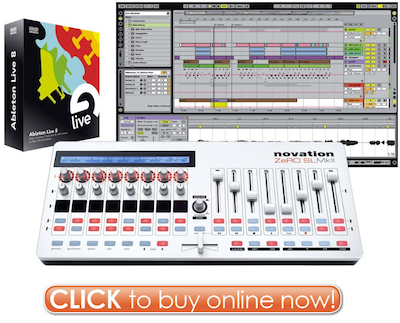 Or, maybe you don't need a full keyboard but you're looking for a way to get more hands-on with your mixes, instruments, effects and live performances? If so then our Novation Zero SL MkII and Ableton bundles are for you! These handy live and studio controllers are jam-packed with controls: 8 sliders, 16 encoders, a cross-fader, 8 pads, loads of buttons, the intuitive speed dial (which controls any software parameter that you have your mouse hovered over) and a 144 character display for instand feedback. Combine one with a Launchpad and create the ultimate hands-on performance set-up!
We have plenty more Ableton Bundles available online so if you've not found what you're looking for, CLICK HERE to view all our amazing Ableton deals!
Please note that all products in these bundles come with Ableton Live Lite. Each bundle then includes an upgrade from Ableton Live Lite to the full version of Ableton Live 8. Once Ableton Live 9 is released (not too long to wait), you will then receive a FREE upgrade!
OTHER IDEAS
We can offer similar deals (while stocks last) on any products that come with Ableton Live Lite or APC even if they are not listed as special bundles on our website. If there is a product that fits these specifications but is not already created as an Ableton bundle on our website, please give us a call on 01202 597180 and we will look into putting a special bundle together for you!
Examples of such products are: TC Electronic Twin Impact Firewire Interface, Alesis Q & QX Controller Keyboards, Akai MPK Controller Keyboards and Focusrite Saffire Firewire Interfaces.