WE NOW STOCK AUDIENT & THE AMAZING ID22
Posted on Fri 23 August 2013 in Computer Music
For those that haven't already noticed, we are now official Audient dealers!
Why is this so exciting? Because Audient make great-sounding products for professional and high-end home studios, including microphone preamps, interfaces, consoles and more! CLICK HERE to view our range of Audient products online or give us a call if you desire something that isn't listed on our website for pricing and availability.
Amongst the Audient products that we stock is the superb ID22 USB 2.0 audio interface and monitor controller, which is also available in some great money-saving bundles. Read on to find out more about our bundles and why we rate the ID22 so highly...
http://www.youtube.com/watch?v=mMvVATiyqTc
To me, the ID22 is a product that represents superb value for money for anyone who demands quality. It features 2 Class A microphone preamps (the same as those featured on their top-end consoles), high-quality DA and AD converters, as well as a main pair of outputs, a secondary pair of outputs (useful for connecting to a second pair of reference speakers), plus two balanced sends and returns for hooking up to outboard gear. On top of this, the Audient ID22 also features ADAT in and out, so you can either use it to expand an existing ADAT system, or connect another ADAT device to it to gain more inputs and outputs. For example, in our money-saving bundle, you can combine the ID22 with Audient's ASP008 8-preamp unit, so that you can have a professional-quality 10 input system for less than £1600. CLICK HERE for more information on this bundle.
Please note that at the time of writing this article, the Audient ID22 is only compatible with Mac computers. However, PC drivers are in the pipeline so keep checking Audient's website for future announcements and windows drivers - CLICK HERE.
And just a quick note on the monitor controller aspects of the ID22, which has been designed to make recording and mixing as straightforward as possible. The ID22 features controls for each input channel directly on the front of the unit. You get a gain dial, phantom power switch, pad, invert and low-cut filter per channel. Then there's a large  output level dial with dim and cut buttons, plus 4-LED level meters for the main stereo output. There's also a dedicated headphone level control, plus 3 assignable function buttons, which you can easily program to do whatever you want in the included software (e.g. program one to quickly switch to a mono mix for checking your track).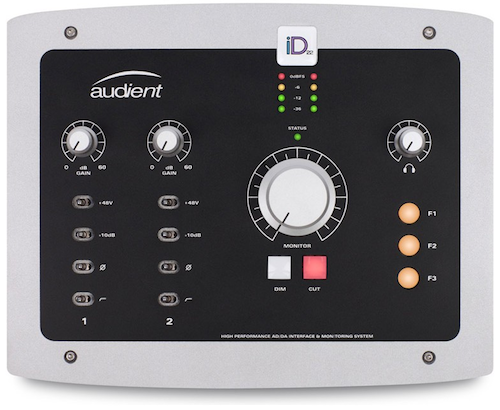 So, why do I think that the Audient ID22 is one of the best value interfaces on the market? Well, when you consider that it combines both a top-quality USB 2.0 interface with an intuitive monitor controller and taking into account the amazing quality of its preamps and converters, plus the fact that it feels very well built and it's expandable, I think that the price is surprisingly low. If you were to buy a significantly lower quality interface and monitor controller separately, you would be paying approximately the same price as the ID22 (if not more), so to get all of these features in one unit of such quality really sets the ID22 apart.
For more information on any of our Audient products or money-saving bundles, click the links below, give us a call on 01202 597180 or e-mail shop@absolutemusic.co.uk.
Audient ID22 & ASP008 Bundle - SAVE £££s!!! - More Info/Buy
Audient ID22 & MiCO Preamp Bundle - SAVE £££s!!! - More Info/Buy