Remix Competition - Win Over £1300-worth of Audient Gear
Posted on Thu 24 July 2014 in Uncategorized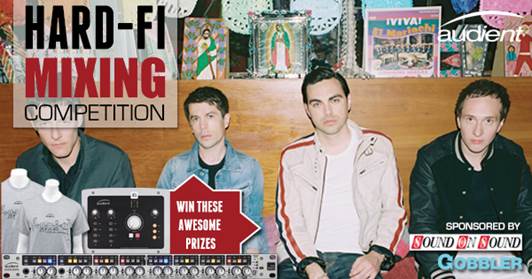 Audient have teamed up with English indie-pop group, Hard-Fi, to offer one lucky person the chance to win a professional ID22 interface/monitor controller with ASP880 preamp, worth over £1300! To put yourself in with a chance of winning, you will need to remix Hard-Fi's 'Move Over' track by downloading the provided stems. Two runners up will also bag a one-year subscription to Sound On Sound magazine and a coveted Audient 'Tea Boy' t-shirt!
Read on to find out how to enter...
HOW TO ENTER
The competition is open to budding remixers across the globe, provided that you are over 13 years old. To enter, follow these steps:
1. Head over to the Audient website (click here) and enter your details to receive a link to the remix stems. Full terms and conditions can also be found on this page.
2. Create your remix.
3. Upload your remix to Audient's remix Soundcloud page (click here) before 18th August 2014 where the public can decide on their favourite mixes.
4. The 25 mixes that receive the most Soundcloud 'likes' will proceed into the final round, where a panel of judges (including music producer and audio mixer, Cenzo Townshend; representatives from Sound On Sound, Gobbler and Audient; plus Hard-Fi themselves) will decide on their top three mixes.
5. The overall winner will be announced on 1st September and will win an Audient ID22 and ASP880. Two runners up will each receive a year's subscription to Sound On Sound magazine and an Audient t-shirt.
Good luck!
For more information on the Audient ID22 or ASP880, click the links below, give us a call on 01202 597180 or e-mail shop@absolutemusic.co.uk.
Audient ID22 Interface/Monitor Controller - More Info/Buy
Audient ASP880 Preamp - More Info/Buy
Audient ID22 and ASP880 Bundle - Save £££s!!! - More Info/Buy