FREE STRINGS FOR A YEAR WITH VOX NIGHT TRAIN G2
Posted on Thu 10 April 2014 in General News
For a limited time, Vox are giving you the chance to claim 10 packs of premium U.S. made Dean Markley strings when you buy any new Vox Night Train G2 head or combo amp from us between 14th March 2014 and 31st May 2014. That should be enough to get you through a whole year, based on changing your strings every 5-6 weeks.
Choose between Blue Steel or Helix series strings...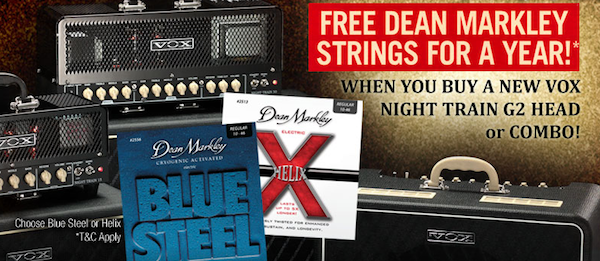 DEAN MARKLEY BLUE STEEL STRINGS
Blue Steel strings are blasted with liquid nitrogen, which freezes the strings down to -195ºC in order to tighten the molecules and minimise microscopic gaps. This process reduces transient frequencies that result in harsh highs and muddy lows, allowing Blue Steel strings to produce a more consistent sound with a truer tone and longer life.
DEAN MARKLEY HELIX STRINGS
Helix strings are created using a Hyper-Elliptical compressed winding process, which allows for an increased number of wraps across the length of the string, without altering the diameter. This results in a fuller tone and increased sustain, as well as a longer life.
HOW TO CLAIM...
1. Purchase a qualifying product from us before 31st May 2014.
2. CLICK HERE to visit the Vox website and download the claim form. Full terms and conditions can also be found on the Vox website.
3. Fill in all required details and select the type of strings that you would like to receive.
4. Register your amp at www.voxamps.com/support/register.
5. Post your claim form to:
The Vox Night Train Offer,
KORG UK LTD,
1 Harrison Close,
Knowlhill,
Milton Keynes
MK5 8PA
Don't forget to include a copy of your dated, itemised invoice/receipt.
Please note that all claims must be received by Vox (Korg UK Ltd.) no later than June 17th 2014. Any claims received after this date will not be valid. Please refer to the claim form or Vox website for full terms and conditions.
For more information on any qualifying Vox product, click the links below, give us a call on 01202 597180 or e-mail shop@absolutemusic.co.uk.
Vox NT15C1 Night Train Combo Amp - More Info/Buy
Vox NT15H-G2 Night Train Valve Amp Head - More Info/Buy