New: Arturia Audiofuse USB Interface
Posted on Tue 13 June 2017 in entries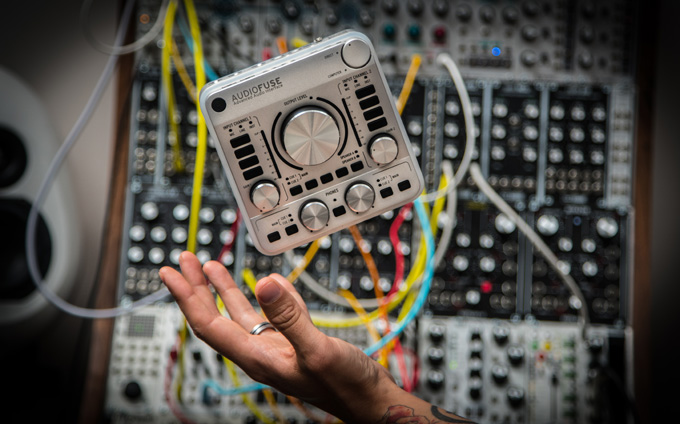 Arturia just launched their first professional USB recording interface, and they didn't do it by half-measures.
The new Arturia AudioFuse interface is small enough in physical footprint terms to be easily portable alongside a laptop or tablet but has enough connectivity to drive a professional setup. AudioFuse offers a host of connectivity options, from 4 analog inputs including two DiscretePRO microphone preamps, ADAT I/O, S/PDIF I/O, 2 RIAA phono preamps, 4 analog outputs (1/4" TRS), Word clock I/O, MIDI I/O, and even a 3-Port USB Hub for your dongles, hard drives, controllers… everything you need in one high quality audio interface. For the guitarist, AudioFuse also offers re-amping (via multiple Hi-Z inputs and outputs), a feature which is rarely seen on interfaces in this bracket and produces excellent results for the creative engineer.


Connectivity on the Arturia AudioFuse
Not only is there lots of flexibility in terms of connectivity, but the AudioFuse also has 4 power modes, which have been developed for various different recording scenarios. For example, there is battery-saving low power mode for recording when you're out and about with a tablet or a full-power mode when you are in the studio with the unit fully connected. From looking at the pictures you will see that there's a lot of functionality ready at the press of a button, such as talkback (with built-in mic), A-B switching of monitors and designated level control for both headphone outputs.

The Arturia AudioFuse boasts ultra-low latency, with round trip latency rated as low as 3ms and built-in blend control of input and computer playback, giving the performer plenty of control over what they hear. Because this is Arturia's first interface, everything has been designed and built from the ground-up. From the chassis to the convertors, the headphone connections to the DiscretePRO® preamps (with boast a Signal-to-noise ratio (EIN) of \< -131.5dB).

Currently priced at £509 and available in 3 different colours - Classic Silver, Space Grey and Deep Black, the Arturia AudioFuse is in stock ready to order now with free UK postage, order before 4pm to get next day delivery.
2 DiscretePRO microphone preamps
2 RIAA phono preamps
4 analog inputs
2x Mic/Instrument/Line (XLR / 1/4" TRS)
2x Phono/Line (RCA / 1/4" TRS)
4 analog outputs (1/4" TRS)
2 analog inserts (1/4" TRS)
ADAT in/out
S/PDIF in/out
Word clock in/out
MIDI in/out
24-bit next-generation A-D/D-A converters at up to 192kHz sampling rate
Talkback with dedicated built-in microphone (up to 96 kHz Sample Rate)
A/B speaker switching
Direct monitoring
2 independent headphone outputs
Separate master and monitor mix channels
USB interface with PC, Mac, iOS, Android and Linux compatibility
3-port USB hub
3 models: Classic Silver, Space Grey, Deep Black
Aluminum chassis, hard leather-covered top cover