FOCUSRITE SCARLETT 2i2 REVIEW
Posted on Thu 03 November 2011 in entries

When I bought my first ever audio interface, I forked out £99 for a 2-in, 2-out device with minimal features, average sounding preamps, USB 1.1 connectivity and a copy of Cubase LE. At the time, this seemed like a bargain to me, but things have changed since then. In fact, it wasn't until I became introduced to the Focusrite Scarlett 2i2 that I realised just how much things had changed! For only £20 more (at the time of writing), Focusrite are offering a device with similar features, but that makes use of high-speed USB connectivity, includes two of Focusrite's renowned preamps and comes bundled with four top-quality plug-ins and Ableton Live Lite! To me, this seems like an absolute bargain and with prices like this, it definitely pushes the older USB 1.1 protocol closer towards extinction.

However, with all this optimism comes a little bit of scepticism. Looking at what is currently on the USB market, the Scarett 2i2's specifications seem to blow everything in a similar price range out of the water! Surely there must be a catch? That is what I intend to find out…
FOCUSRITE SCARLETT 2i2 – DESIGN & BUILD
First thing's first - I love how this thing looks! I would even go as far as to say that I prefer the look of the 2i2 over the other more expensive and more feature-rich models in the Scarlett range (the 8i6 and 18i6). Its rounded edges give it a professional, executive look, and the fact that it is made of aluminium only adds to this aura. Despite being fairly simplistic, it has the look of a high-tech gadget and I love that!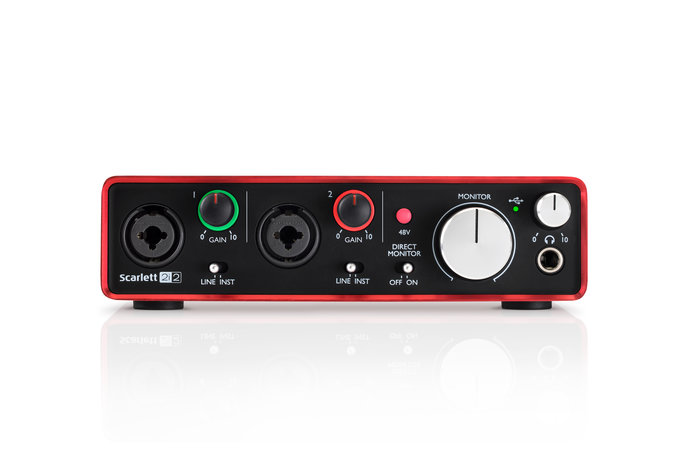 The red and black colour scheme makes this interface really stand out on my desk, which is cluttered with numerous other bits and pieces and the dials and switches all have sturdy feels to them, just as you would expect from a Focusrite product. Both the front and back panels are very simply and logically laid out, so I can already tell that this thing is going to be a doddle to work with.
I really like the compact size of the Scarlett 2i2 as well. This is something that would be very easy to carry around with a laptop and a mic, ready for on-the-go recording. So far, so good then, but how does it sound?
FOCUSRITE SCARLETT 2i2 – RECORDING
Scarlett 2i2 connected to my computer and configured within Logic, sE 2200A II microphone hooked up, phantom power turned on and it's time to record! A few vocal recordings in and I had already heard enough to come to a conclusion. In fact, I really didn't need to do the tests in the first place as the preamps in the Scarlett 2i2 are exactly the same high-quality preamps as are featured on most other Focusrite interfaces, right up to their flagship model, the Liquid Saffire 56 (although to avoid being misleading they aren't 'Liquid pres'). With their clean, detailed sound, the Scarlett 2i2 is almost worth the money just for the preamps alone! Plus, you can also use the XLR/jack Neutrik combo inputs to record either a guitar or a line level signal, so you really are fully equipped for any small project.
The simplistic interface of the Scarlett 2i2 makes recording a quick and easy task. It provides you with switches for selecting the source type for each input and for activating/deactivating zero-latency direct monitoring. It then gives you a Gain knob for each channel, which are surrounded by 'halo' signal indicators. You can use these as a reference when setting your input gain as they turn red to indicate clipping, amber as the signal returns to a 'healthy' level and green when your level is at an acceptable level (i.e. no clipping). Of course, these lights are not as detailed as dedicated level meters and I would not rely on them fully to set my levels (as they have no way of showing how close a level is to clipping), but for quickly judging whether a signal is too high or not, they are ideal. You can then use the detailed meters on your recording software to judge exactly where to set your levels.
Finally, the front panel of the
FOCUSRITE SCARLETT 2i2 – INCLUDED SOFTWARE
Firstly, the Focusrite Scarlett 2i2 comes with a copy of Ableton Live Lite, which I have to say is an excellent piece of software and perfect for creating your first simple recordings. Now, if you are planning on creating monstrous professional projects, then Live Lite is highly unlikely to fulfil your requirements as, amongst other limitations, it only allows you to run up to 8 audio and 8 MIDI tracks per project. However, it does come with a number of included software instruments and effects and perhaps most importantly, it gives you a cheaper upgrade path to the full version of Ableton Live, which is an absolutely amazing piece of software.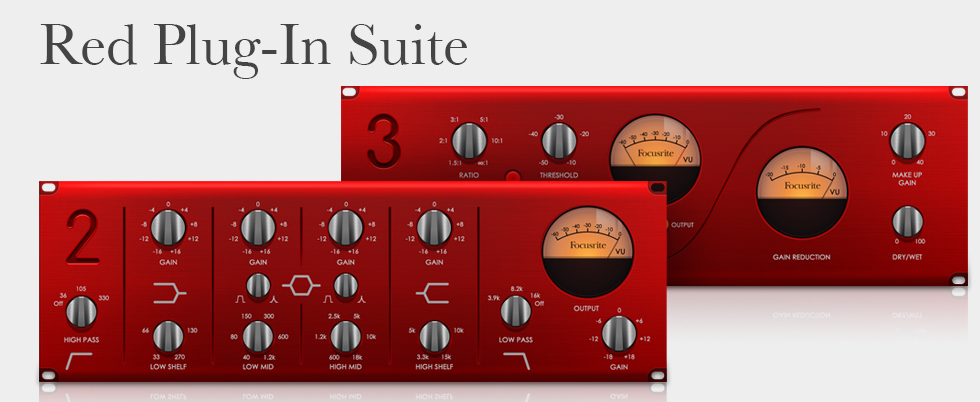 However, the inclusion of Ableton Live Lite isn't the highlight of the software that comes bundled with the Scarlett 2i2, as you also get two high-quality effects from the RED plug-in Suite. letting you exploit the originals' famous sound, conveniently from within your audio software. Coveted by producers and engineers for their exceptional clarity and versatility, the original Red 2 and Red 3 remain prized fixtures in professional recording studios the world over. Now, you can use these revered pieces, easily and flexibly, in your own mixes, I am more than happy to have it in my plug-in collection!
FOCUSRITE SCARLETT 2i2 – CONNECTIONS
Aside from the ¼" jack headphone input on the front of the unit, the Focusrite Scarlett has a USB 2.0 Type B connection on the back and two balanced ¼" jack outputs. That's it!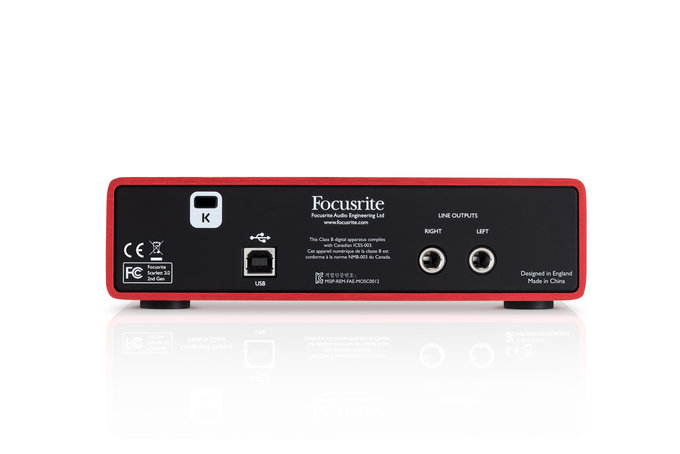 FOCUSRITE SCARLETT 2i2 – SUMMARY
For the price, the Focusrite Scarlett 2i2 is bang on the money. In fact, because of the price and because of what it is (essentially just a simple 2-in, 2-out interface), I don't have any complaints about it at all! With what is currently available on the market, this is definitely what I would get myself if I were on the lookout for a 2-in, 2-out USB device on a budget! Let's face it, for most home studios (unless your setup comprises of a number of synthesisers), 2 inputs and 2 outputs is all you are going to need!
In this price bracket, the Scarlett 2i2 is definitely at the top of the list of interfaces that I would recommend. No, it doesn't come with any digital connectivity, but I know very people in small home studios that require this feature, and interfaces around this price that do feature digital connections do not give you the same quality of the preamps or those brilliant plug-ins. The Scarlett 2i2 also doesn't come with any MIDI connections, but as most modern controller keyboards and synths transmit MIDI data over USB or Firewire, again, this shouldn't be a problem – although it is a factor that could definitely sway your decision.
Of course, there are other options with similar functions that will elevate your recordings to the next level. The product that immediately springs to mind is the RME Babyface with its highly transparent and un-coloured preamps, its equally portable design and its extra pair of outputs (allowing you to route a click track to a pair of headphones whilst sending the main music to a pair of speakers, etc.), but it does come at an increased cost compared to the Scarlett 2i2, which can still be used to create pro-sounding recordings.
If you need a little more flexibility and can only stretch your budget a little more, then I would highly recommend taking a look at the Focusrite Clarett 2. It features the same preamps as the Scarlett 2i2, but also features an extra pair of outputs as well as MIDI In and Out connectivity. However, the Saffire 6 is only a USB 1.1 device, so if you don't need these extra features, nor think that you will need them in the future, then the Scarlett 2i2 is still your best option.
So, to sum up, it's well made, it sounds great, it is fantastically priced and to top it all off, it comes with four professional and highly-useable plugins! If you have less than £150 to spend and all you need is a simple 2-in, 2-out USB interface, with no MIDI connections, then you simply can't overlook the Focusrite Scarlett 2i2.


For more information on the Focusrite Scarlett 2i2 or to buy one, click the link below[:]
Focusrite Scarlett 2i2 - More Info/Buy

](https://www.absolutemusic.co.uk/focusrite-scarlett-2i2-2nd-gen-usb-audio-interface.html)

<p style="text-align: center;">



***If you're interested in buying and you have seen it cheaper elsewhere, please call us or use our

As well as receiving our first rate customer service you can also claim money off your next purchase with our loyalty points scheme and receive a 3 year warranty if you sign up to our FREE VIP Club (click here for more infomation). Many of our items also come out on a FREE next-day delivery service to mainland UK customers, so you won't be left waiting!
Also, if you want to keep up with all our latest offers, competitions, news and videos, why not follow us on Facebook and Twitter?