Shure KSM8 Dualdyne
Posted on Sun 10 July 2016 in General News
The first all-new dynamic microphone from Shure for nearly 50 years — the KSM8 Dualdyne. Much speculation has emerged about the 'dual' in 'Dualdyne,' and what this term actually means. The KSM8 is unique in being a dual-diaphragm, moving-coil stage vocal mic — hence the title 'World's First Dual-Diaphragm Dynamic Handheld Microphone.'
---
Why Does it Matter?
Microphones, in many ways, are the unsung heroes of live performance; they rarely have stage presence, modern designs are discreet, and most audiences only really become conscious of their existence when something goes wrong. As professionals in the audio world, it can be easy to forget that most people really don't care about the microphone on stage — I mean, really, when was the last time you booked tickets to see a microphones début performance!? The reality is, although we as professionals understand the importance of proper microphone selection and placement, the vast majority are there to enjoy a show, listen to a speaker, or communicate with their colleagues. In many ways, microphone technology is best when it blends seamlessly into the application environment.
Does that mean microphones are inconsequential? Absolutely not. Microphones are the first piece of equipment in the signal chain; just like your home hi-fi, the end result is only ever as strong as the sound source.
When things are right, a microphone can raise a performance to new heights; when things are wrong, the result is disastrous for performer and engineer. Like Unidyne before it, Dualdyne technology is a substantial step forward in allowing microphone technology to work seamlessly for a smoother, more natural performance. For the artist, the huge sweet spot and natural off-axis bleed allow for a more free and creative performance. For the engineer, a natural sound and more comfortable artist reduces stress on the job. Ironically, by blending into the performance environment, Dualdyne can truly shine as part of a proud and long line of unsung heroes.
Shure KSM8 Dualdyne Handheld Dynamic Vocal Microphone, Black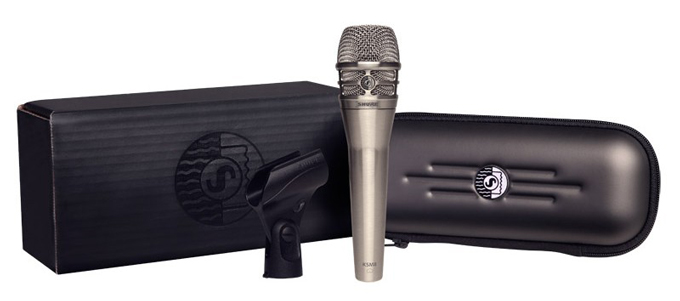 FOR MORE INFORMATION GIVE US A CALL ON 01202 597180 OR E-MAIL SHOP\@ABSOLUTEMUSIC.CO.UK.