SONTRONICS APOLLO RIBBON MICROPHONE REVIEW
Posted on Mon 12 March 2012 in entries

This review was written by studio-owner and Absolute Music recording expert, Tim Way...
SONTRONICS APOLLO STEREO RIBBON MICROPHONE REVIEW
Every now and again, a recording situation will present itself that can challenge the very best of us. There are situations when your favourite microphone just doesn't cut the mustard and we have to reach into our ever expanding pockets and budgets and simply purchase (or hire) the correct tool for the job. Despite the additional cost, it can save hours of frustration for you and your client and it can once again let you concentrate on the job at hand. I'm talking about the specialist application of stereo recording with a ribbon microphone.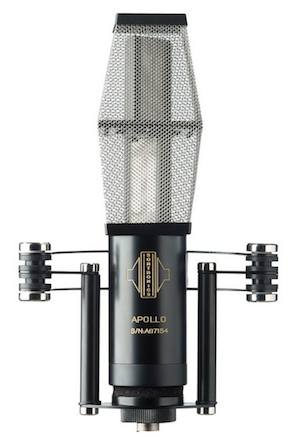 ](https://www.absolutemusic.co.uk/sontronics-apollo-stereo-ribbon-microphone.html)
SONTRONICS APOLLO - SO WHY A RIBBON?
Ribbon's tend to relate to a sound in such a way that it seems to know what it's recording. What I mean by this is that it works in sympathy to the vibration of sound. Record a violin through a standard condenser microphone and you're presented with a fairly flat image, even if you pull the microphone back to take in the sound of a room. Record the Violin through a ribbon microphone and the sound takes on a whole new body of tone, giving a bigger and far more honest representation of the instrument. If you are after a more direct and intimate experience with a solo instrument, go for the Sontronics Sigma. If you want to pull back and record the big picture in a loud or delicate manner, the Sontronics Apollo is simply stunning.
SONTRONICS APOLLO - I'VE HEARD RIBBON MICROPHONES BREAK EASILY
Yes, you do have to look after Ribbon microphones. If a sound wave pushes too much air (volume to you and I) into the microphone, you can damage the membrane, where a standard condenser microphone will simply overload and go into distortion. Don't run away just yet though as the Apollo can still take 125 dB, so whilst you may need a better understanding and relationship of the sound you are recording, you should still be safe; remember, a kick drum knocks out at about 120 dB.
All-in-all, the Apollo is a very robust Stereo Ribbon Microphone that can be used for a wide variety of applications.
SONTRONICS APOLLO - MY EXPERIENCE
When you remove the Apollo from its flight case, you are immediately aware that this is something very special indeed. The cage protecting the ribbons is unlike anything I've seen before and is a little work of art! The shock mount is, in my opinion, a little over worked, but nonetheless, functional and oozes great design.
Now... my lounge is 20 by 12 feet, with carpeted floor, a sofa and a decent upright piano in one corner of the room (no I'm not inviting you around for dinner)! I ran some quality XLR cables from my studio upstairs to the lounge, positioned the Apollo in the opposite corner of the room (approximately 6 feet in) and the results achieved were both surprising and stunning. I kid you not, my upright piano sounded like a grand piano in a taylor-made acoustic environment! The Apollo uses 2 figure-8 ribbons in a Blumlein configuration (that's 90 degrees to each other) so it's basically four microphones in one! For me, in this test it gave the impression of a much bigger space than the one that I was actually recording in. Needless to say, I used the recording and then sadly returned the Apollo back to it's rightful owner.
SONTRONICS APOLLO - CONCLUSION
The Sontronics Apollo is an imposing microphone, representing a greater sense of space than the price of its parts. The Apollo made my instrument sound far more expensive than it actually was and was very easy to use and very quick to set up. Reading through the literature, the microphone is designed to work with vocal, acoustic guitar, piano, organ, orchestra, drum overhead and ambience sources. If stereo spatial recording is your thing, the Apollo needs to go on your very short list.
For more information on the Sontronics Apollo Stereo Ribbon Microphone, click the link below:
Sontronics Apollo - More Info/Buy

******If you're interested in buying and you have seen it cheaper elsewhere, please call us or use our
---
As well as receiving our first rate customer service you can also claim money off your next purchase with our loyalty points scheme and receive a 3 year warranty if you sign up to our FREE VIP Club (click here for more infomation). Many of our items also come out on a FREE next-day delivery service to mainland UK customers, so you won't be left waiting!
Also, if you want to keep up with all our latest offers, competitions, news and videos, why not follow us on Facebook and Twitter?