ROLAND ANNOUNCE AIRA SERIES
Posted on Fri 14 February 2014 in entries
After all those teases, we finally know what the Airas are! In fact, we have a confession to make... some of us have known for a while and have even got to hear and play them! Unfortunately for the rest of us, those people were bound by a strict contract that meant that they had to keep schtum until the official announcement... but that's now here!
So, the Aira line-up consists of the TR-8, which brings together the sounds of the TR-808 and TR-909 rhythm machines in one easy-to-use unit; the TB-3, which gives you the classic sound of the Roland TB-303 bass synth; the VT-3, which is a compact vocal transformer for adding electronic effects to your voice in realtime and finally; the System-1, which can be loaded with your choice of soft-synth sounds in order to model a selection of classic Roland instruments (including the SH-101), as well as featuring its own, unique synth engine.
http://www.youtube.com/watch?v=0D-Ieh7x9vQ
ROLAND AIRA - THE BIG QUESTION
The big question that everyone has already been asking is: are they analogue or digital? Well, I'm going to have to break it to you that the Aira range all make use of digital technology; there isn't an analogue circuit in sight.
I can already hear the cries of 'blasphemy' from those that grew up during the acid house boom of the late 80s and the rave scene of the early 90s! How could Roland taint the name of such iconic instruments with the 'digital' tag? Wait a second though, let's not jump to conclusions before we've found out more...
Firstly, let's make one thing clear... analogue is not better than digital. Both formats traditionally provide a certain characteristic sound, with analogue producing a warm, often slightly unpredictable tone and digital being cleaner and more versatile. Each technology therefore lends itself to producing a certain type of sound, although there are even differences between synths of the same type, which is why all analogue/digital synths don't sound the same. Also, let's not forget that when digital synths first hit the market, many artists at the time chose to ditch their analogue gear in favour of the fresh digital sound.
I imagine that most analogue purists would back me up on my thoughts here, understanding that the analogue vs digital debate is purely subjective. However, when setting out to re-create an analogue classic, people are understandably going to want it to sound... you guessed it... analogue. It's this fact that will cause the furore with purists, as it's a well known fact that it's extremely difficult to make authentic analogue-sounding gear with digital technology.
However, I say that we should definitely give Roland a chance before we form judgements. After all, analogue modelling technology is improving all the time and I would cite Universal Audio's plug-ins as examples of software algorithms that I personally think sound like the real things. In fact, Arturia's software emulations of classic plug-ins get extremely close to an authentic analogue sound as well (although I admit that I can tell the difference when A/Bing the sounds... but only just), so let's at least find out what they sound like first...
ROLAND AIRA - ANALOGUE CIRCUIT BEHAVIOUR MODELLING
The products in the Aira series that are designed to model vintage instruments make use of what Roland have called ACM (Analogue Circuit Behaviour) modelling technology. Refreshingly, you may be interested to hear that it's a very similar approach to that taken by Universal Audio when they create their superb plug-ins.
ACM involves examining the original analogue circuits and then using digital algorithms to replicate them, piece-by-piece. For example, the Roland team worked on accurately modelling the analogue oscillator circuit of the TB-3, separately to modelling the analogue filter. At each stage, the digital models were tested against the original analogue circuits, using a variety of tests such as analysing waveforms on an oscilloscope and of course making comparisons by ear. Working in this way and by ensuring that each part of the original instrument was faithfully replicated, a complete, authentic analogue model was constructed. Ingenius!
ROLAND AIRA - HOW DO THEY SOUND?
Thankfully, the hard work of the Roland engineers (many of whom also worked on the original machines) has paid off, because they do sound very authentic. (Well, the System-1 wasn't actually up and running with its SH-101 emulation when we saw it in our secret pre-release demo, but the TB-3 and TR-8 certainly sounded great).
I'm sure that the internet will soon be flooded with audio examples of these units, allowing you to hear them for yourself, but the emulations that we heard were very close to the original instruments, if not 'spot on' in many cases. Unfortunately we didn't have original instruments to compare them to at the time, but both the TB-3 and TR-8 would definitely have fooled me into thinking that they were original units had I not known otherwise.
Whilst I'm sure that the original instruments will continue to be desirable, if not simply for the 'coolness' factor of owning one, these new units provide the classic sounds and hands-on workflow (that massively added to the appeal of the originals) for a fraction of the cost.
Consider this: you'll be lucky to get an original TR-808, TR-909 and TB-303 for less than £4500 for the lot. With the TR-8 and TB-3, you can get it all for less than £750. Is the difference in owning the real analogue gear really worth £3750 more than owning instruments that can model them so closely that the majority of people aren't going to notice the difference, and can do a lot more than the originals?
Plus, nowadays music gets put into a digital format at some point or another anyway, and is most likely to get played back in a digital (and often compressed) format, which will further narrow the (already tiny) gap between some of the sounds of the analogue and digital instruments.
In my opinion, it's a no-brainer.
ROLAND AIRA - TOUCH BASSLINE TB-3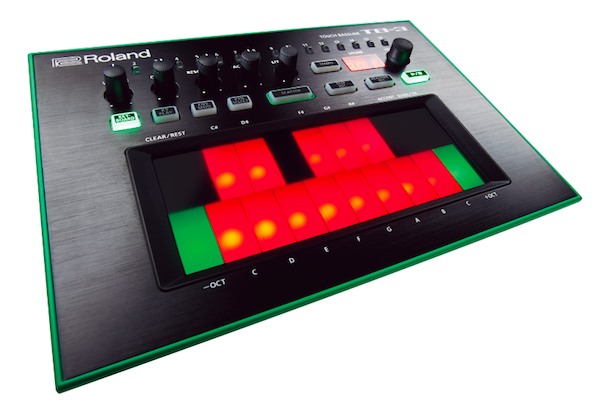 We've written a more in depth review of the TB-3 for those that want to find out more about its features: CLICK HERE to read it. However, for those that just want a brief overview, I've tried to sum it up here.
One of the coolest things about the TB-3 (apart from the fact that it sounds like a TB-303) is that it is packed with a lot more sounds, so it's a much more flexible instrument than the original synth. In fact, you get 134 different sounds included with it, many of which have built-in effects and distortion applied to them.
The TB-3 is also designed to be easier to use than the original, which is notoriously complicated. The brightly-lit touchpad is at the heart of the TB-3 interface, allowing you to perform different tasks depending on what mode you are in. For example, you can enter notes into the step sequencer, record notes in real-time, use the X-Y and pressure sensitive nature of the pad to control volume, pitch and modulation simultaneously or use a single finger to manipulate the decay and envelope modulation parameters of the synth.
In addition to this, the new Scatter feature allows you to create glitches, reverse effects and chops on-the-fly, for added depth, especially if using it to perform live.
For more information on the TB-3 and to hear it in action, check in out in the video below by Point Blank Music School.
http://www.youtube.com/watch?v=xqNiXtqjACY
Roland Aira TB-3 - More Info/Buy
ROLAND AIRA - RHYTHM PERFORMER TR-8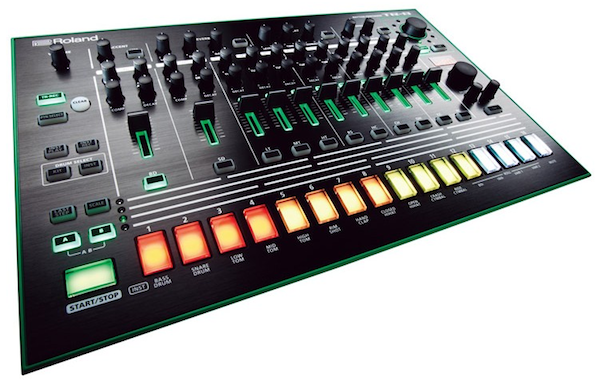 The TR-8 provides you with authentic sounds from the TR-808 and TR-909 rhythm machines along with a hands-on interface that massively adds to the fun of electronic beat creation. The unit comes with 16 kits made up of 11 instrument types and there's plenty of hands-on controls for customising your beats. You can even mix-and-match 808 and 909 sounds to create custom kits.
The Aira TR-8 features built-in effects to add variations to the original sounds, as well as the Scatter effect of the TB-3, to add glitchy and stuttery twists to your grooves.
Although the TR-8 doesn't feature multiple physical outputs as the original units did, it does allow you to split different drums between different tracks in your DAW if connected via USB to your computer, which is very handy (see video below).
Oh and if you own both TR-8 and TB-3 units, you can easily connect and sync them together to create awesome hands-on performances. Very fun indeed! You can also connect other synths to it and then use the built-in side chain feature to pump the other sounds for a classic, grooving effect.
For more information on the TR-8 and to hear it in action, check in out in the videos below by Point Blank Music School.
http://www.youtube.com/watch?v=H4Ol1_qOI_g
http://www.youtube.com/watch?v=N58jVASFeVs
Roland Aira TR-8 - More Info/Buy
ROLAND AIRA - VOICE TRANSFORMER VT-3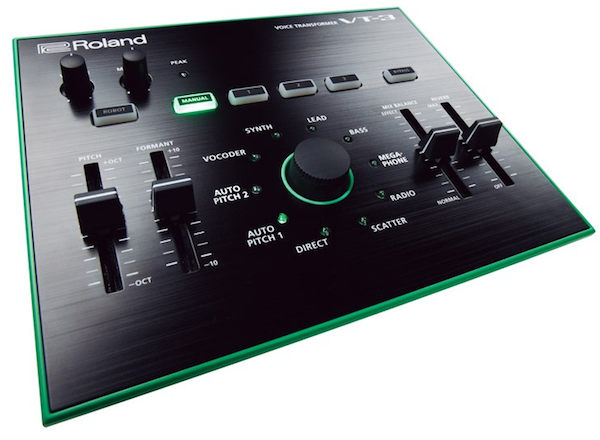 The VT-3 is a voice transformer, which can be used to add effects and alter the character of your voice on-the-fly. Although the VT-3 can be used in the studio to create unique samples, the fact that all effects can be applied to your voice in real-time makes it a fantastic tool for live performers and DJs.
The VT-3 can be used to alter the pitch and formant of your voice, add reverb, as well route your voice through the various algorithms. For example, you can turn your voice into a synth or bassline, hard tune it, robotise it, as well as putting it through a virtual megaphone or radio. In total, you get a choice of 9 different vocal algorithms to choose from.
Just like the other Aira products, the VT-3 also features the Scatter effect, allowing you to chop up your voice in real time and create interesting glitch effects.
The VT-3 has a direct microphone input, it connects to your computer via USB using the built-in audio interface (with loopback recording to overdub vocals on existing tracks) and it can also supply phantom power for using condenser mics, which is a very handy studio feature.
Roland Aira VT-3 - More Info/Buy
ROLAND AIRA - SYSTEM-1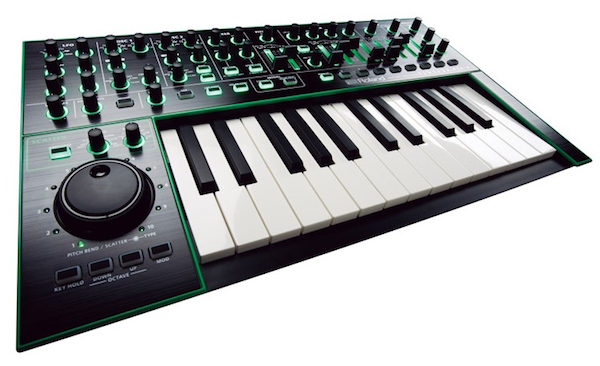 The System-1 is a digital synth with four oscillators, a built-in arpeggiator, extremely smooth and characteristic filters and plenty of hands-on controls, including 25 full-size keys. However, there is something else about the System-1 that makes it extremely special and unique...
The System-1 makes use of Roland's advanced Analogue Circuit Behaviour technology, allowing it to sound like a selection of iconic Roland synths, or control plug-ins on your computer that emulate these instruments. For example, the first soft-synth that Roland will be introducing is an authentic emulation of the legendary SH-101. However, the design of the System-1 also allows you to load the soft-synth into the keyboard itself, meaning that you can then disconnect it from your computer and hey-presto, you've got a standalone keyboard that sounds just like an SH-101, in addition to the unique, modern sounds of the System-1's own synth engine.
However, the SH-101 is just the start of it. As time goes by, Roland will release more and more emulation plug-ins that can transform your System-1 into other classic instruments!
Roland Aira System-1 - More Info/Buy
ROLAND AIRA - SUMMARY
Roland's Airas are great-sounding, exciting products and to me, the fact that they aren't true analogue pieces of gear doesn't matter one bit. These things should be judged on their sound and playability and they get a big thumbs-up for both from me.
Each Aira unit is also built extremely solidly. The units themselves feel very rugged and the pots and faders are perfectly sturdy.
The TB-3, TR-8 and VT-3 are all due out in March of this year, with the System-1 set to follow shortly after. If you're reading this article before the official release and you know that you want one, then we would suggest pre-ordering online or giving us a call (01202 597180) and putting down a 10% deposit over the phone. We're expecting these things to be extremely popular, so putting your name on one early is the only way to guarantee that you'll get one from the first UK shipment.
For more information on any Roland Aira product, click the links below, give us a call on 01202 597180 or e-mail shop@absolutemusic.co.uk.
Roland Aira TB-3 Touch Bassline - More Info/Buy
Roland Aira TR-8 Rhythm Performer - More Info/Buy
Roland Aira VT-3 Voice Transformer - More Info/Buy