PROCO RAT REVIEW
Posted on Wed 05 December 2012 in entries

For those of you who are unfamiliar with it, let me take a moment to introduce you to the truly legendary ProCo RAT! This pedal began life as a custom order unit back in 1978 but, due to its popularity, ProCo began mass-producing it only a year later. In 1988, following a cosmetic tweak & the addition of an LED indicator, it was renamed the RAT 2 & has remained largely unchanged ever since. This little pedal is an unsung hero that spans both decades & genres indiscriminately, lending its signature raspy distortion sounds to anyone who may have a use for them.
If you were to think back to the '90s, you'd probably remember that there was a big divide in rock music back then; there was 'Grunge' & then there was everything else. However, whether you were wearing a lumberjack shirt and allergic to guitar solos or fond of skin-tight jeans and sweatbands, one thing sure to be near your foot was the ProCo RAT. Its presence was a permanent fixture in Nuno Bettencourt of Extreme's rig, yet it was also at the feet of both Kurt Cobain & Krist Novoselic of Nirvana. Move forward in time a bit & jump the Atlantic to the UK, you had Brit-Pop & you had 'Alternative', but whether you were listening to Blur or Radiohead, yep, ProCo RAT!
You'll find the RAT popping its head up all over the place really, whether it be at the mercy of Metallica's James Hetfield, or in the accomplished hands of Aerosmith's Joe Perry. You can go back all the way to the late 70s/early 80s where you'd have found it being put to use by the likes of Jeff Beck & David Gilmour, or fast-forward to today where you have the likes of Muse's Matt Bellamy & Foo Fighters' Dave Grohl with RATs glued to their feet. So yes, when I say 'truly legendary' I certainly mean it; the RAT has earned its understated reputation a good many times over indeed!
The RAT is essentially a True Bypass equipped distortion pedal with a multitude of different tones on tap (from subtle overdrive-like sounds all the way through to over-the-top fuzz). However, there is a certain tonal character that the RAT imbues wherever you have the settings & this is one of things that, much like with a Tubescreamer or a Dynacomp, have helped it achieve its heralded status.
The pedal has three controls: Distortion, Filter & Volume. Depending on how you balance the Distortion & Volume levels, you can dial in on exactly the right amount of gain & saturation for your purposes; however, use of the filter control lets you take the tonal shaping a little further. It's perhaps this filter more so than anything else that has garnered the ProCo RAT with such praise. In essence, it is just a passive tone circuit that works the opposite way round from a standard tone control (i.e. the further clockwise you turn it the more treble gets rolled off), yet it's so precise in its filtering that it feels like a tonal scalpel that slices its way through the frequencies. Many people who try the RAT for the first time actually miss its potential by not realising just how precise the filter control is. Small incremental turns left or right can dramatically alter the tone, so be sure to experiment with this if trying a RAT for yourself.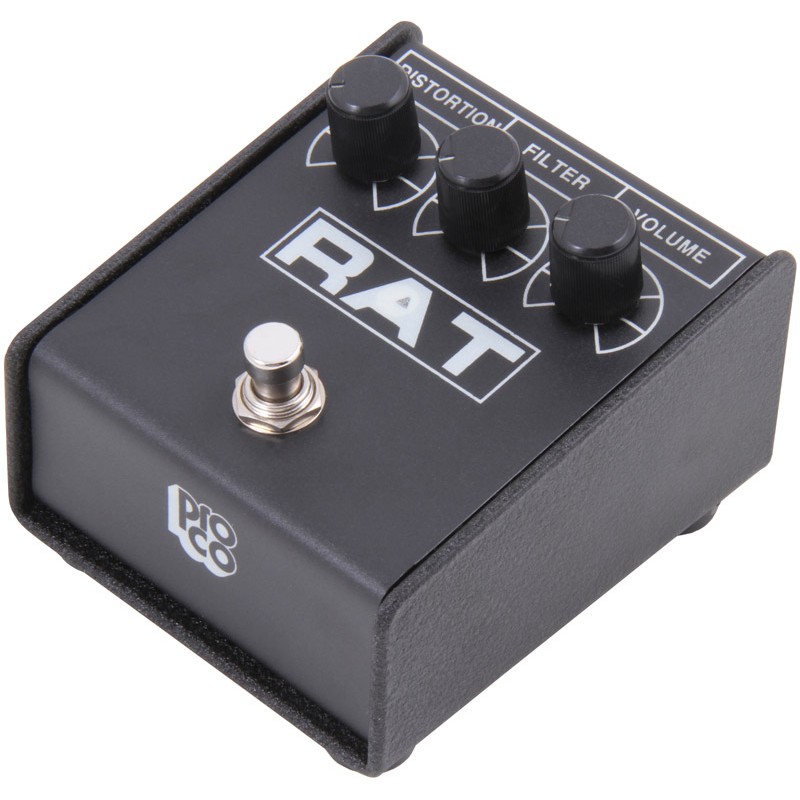 The other thing worth pointing out is the bomb-proof build quality of the RAT. Its rugged black metal housing looks like it was built to survive nuclear fallout & ProCo back this up with what they tout as 'the best warranty in the industry' (they even cover user-inflicted damage). These are certainly things that help to give the touring musician peace of mind & can only be a bonus for the home user as well.
You can power the RAT via a standard 9v battery or with a 9v power supply. However, if intending to use a power supply, please do bear in mind that it uses a centre positive mini-jack (not the standard barrel jack that most pedals use these days).
One great thing about the RAT's sound is that I have yet to find an amp where it doesn't seem right at home. Although it does have its own identifiable character, it isn't one that completely disregards the amp itself. The RAT somehow seems to respect what it's plugged into while also adding the articulated edge & attack that has become its trademark.
I would perhaps venture to say that most people would set the distortion levels on the RAT somewhere between the ten & two o'clock positions. However, setting them lower than this can allow one to use it as a respectable lead boost. This way you can hit the front end of your amp harder by utilising the RAT's volume control & you can also use the filter to focus your lead tone for extra cut. Setting the distortion higher than 2 o'clock pushes the RAT into fuzz territory (this is the sound heard on many a Nirvana album) &, when used this way, it's not hard to see how ProCo got their start modifying existing old-skool units such as the Arbiter Fuzz Face.
To many, the ProCo RAT is the distortion pedal that all other distortions are measured by. Its wide reaching levels of distortion make it more multi-purpose than most gain pedals as you can use it in place of anything from a subtle lead boost to an over-the-top fuzz. The precision of the filter control allows you to focus in on the tone that suits you, but it can require some trial & error before you find that sweet-spot so experimentation is recommended!
The RAT's signature sound though is that of extra articulation & attack & this seems to be the case regardless of how you have the pedal set. Users looking for a pedal that gives them a smoothed-out gain may be better served looking at a more subtle overdrive pedal of sorts, but if you're after a pedal that adds a layer of definition & presence then the RAT would be an obvious contender. It provides a multitude of gain settings that can work with any amp & the ProCo RAT is as great today as it has always been.
For more information on the ProCo Rat, click the link below or give us a call on 01202 597180.
******If you're interested in buying and you have seen it cheaper elsewhere, please call us or use our
---
As well as receiving our first rate customer service you can also claim money off your next purchase with our loyalty points scheme and receive a 3 year warranty if you sign up to our FREE VIP Club (click here for more infomation). Many of our items also come out on a FREE next-day delivery service to mainland UK customers, so you won't be left waiting!
Also, if you want to keep up with all our latest offers, competitions, news and videos, why not follow us on Facebook and Twitter?