MOOER MICRO SERIES REVIEW
Posted on Wed 21 November 2012 in entries

As far as effects pedals are concerned, the majority of them tend to fall into one of two categories: cheap & cheerful (which is okay for the younger player, or possibly for those effects that we don't use all that often); or higher priced units whose tried & tested reputation has earned them permanent fixtures on countless players' pedalboards. Whether the effect for you is in one camp or the other depends entirely on the player; however, every now & then a little gem appears on the market that has the potential to straddle both camps.
Enter Mooer pedals, a newcomer on the effects pedal scene, who seem to have struck on a formula that may well just tick enough boxes to tickle the fancy of a good deal of players.
MOOER MICRO SERIES - THE FEATURES
The first thing you will notice about their Mooer Micro Series pedals is the diminutive size. Mooer is one of a number of companies who have recently started producing down-scaled pedals that come in at about half the size of the regular pedals that we're used to. In an age of downsized lunchbox style amps it would perhaps seem logical to try & downsize our pedalboards too; however (with this relatively new breed of pedal), it doesn't mean that we have to reduce the number of effects we use in order to achieve this.
The second thing you may find yourself feeling when looking through the Mooer range is a certain sense of familiarity. This is because the models they have on offer are all heavily influenced by popular tried & tested pedals that we have already come to know & love. The colour of the housing, the name of the model & the font are clear indicators of what sound Mooer are aiming at with each unit (the more seasoned amongst us will find ourselves instantly recalling the names of those classic units when fishing through what Mooer has to offer) & this makes identifying the correct unit for you a simple task if you already have a clear idea what you're looking for.
MOOER MICRO SERIES - THE RANGE
The Micro lineup consists of 36 pedals covering everything from subtle overdrives & distortions through to pitch-shifters & modulation effects. All of the units feature True Bypass switching & the input/output jacks are conveniently located slightly offset from one another enabling you to fit the pedals that bit closer when using a number of them together.
For the purposes of this write up I had 6 pedals at my disposal: the Green Mile Overdrive, Black Secret Distortion, Triangle Buff Fuzz, Ninety Orange Phaser, Ensemble King Chorus & ShimVerb Reverb.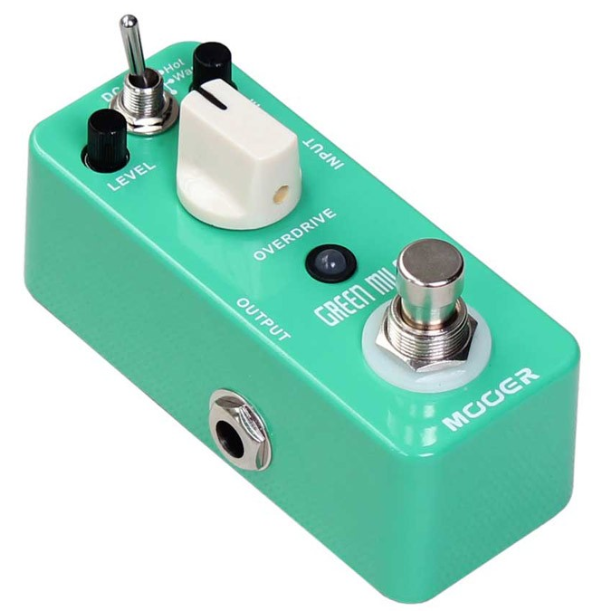 MOOER MICRO SERIES - IN USE
Hooking the Mooer Micro pedals up is quick & simple & (as somebody with a large pedalboard fitted with pedals of varying shapes & sizes), I was astounded at how many of these little toys would fit in such a small footprint. The other thing of note is how lightweight the Mooer units are; this is obviously partly due to the size, but the extra-thin metal casing must also play a part in it.
In terms of the bypassed tone, True Bypass switching means that these units will not affect your tone when they are switched off &, when disengaged, your guitar's signal is passed straight from one jack to the other without going through the pedal's circuit at all (a great feature that one wouldn't usually find on pedals at this price point).
The other thing that I really liked was the mini knobs & toggle switches that the pedals are fitted with. This is obviously something that was done out of necessity due to the limited space; however, I found it a very handy side effect as it is more difficult to accidentally hit a knob & change a setting when using the pedals. There is no need to despair if you like to tweak your sounds on the fly either as there is one regular sized knob in the centre of each pedal & Mooer have chosen to assign this knob to whatever task is more commonly altered during use; therefore the function of the knob is specific to each pedal in the Micro series.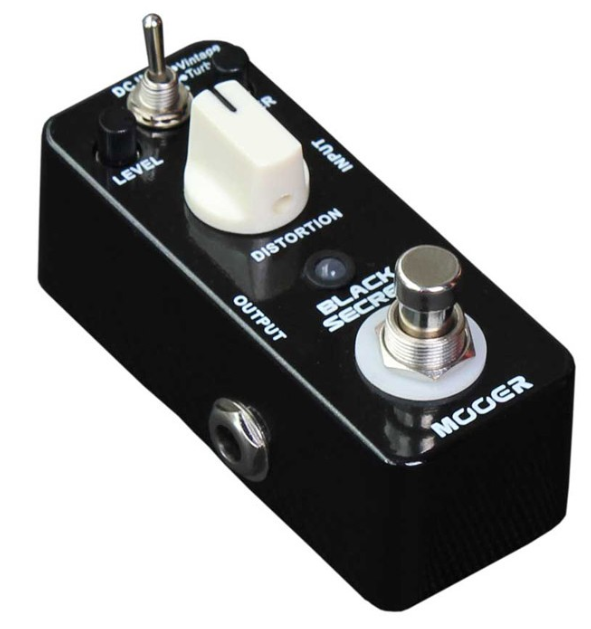 There are a couple of things to be aware of however; firstly, the pedals won't fit a battery & therefore they must be powered from a power supply of some sort (they take a 9V centre negative supply, the same as the majority of pedals on the market) & secondly, they feature a big rubber foot fitted to the baseplate much like you'd find on a Boss unit. This means that in order to fit these pedals to a pedalboard properly you will have to get out a knife & pry the rubber away from the pedal (which would seem like a curious design choice for a range that is obviously intended for pedalboard use). However, neither of these things are problems per-se, just maybe minor inconveniences for some people.
MOOER MICRO SERIES - SOUNDS
Of the units I tested, the sounds are all certainly respectable & they are of a quality that you wouldn't usually expect at this price point. Each pedal has a character that stays true to what their name would suggest & there was no unexpected surprises with any of the units that I had on demo. If you were to directly compare them to the pedals that they take their lead from then I would be surprised if you'd pick the Mooer unit over the original; however, to look at it this way would be to completely miss the point. The bottom line is that there are pedals available at twice the price that don't sound as good &/or have the features that the Mooer Micros offer. It was actually quite a rewarding experience plugging into a series of low-priced mini-pedals that conjure up the feelings of my favourite high-end units & I can't help but think that these pedals offer a great solution for both budget constricted & younger players alike.
It is also worth noting, as tends to be the case in the world of effects pedals, that some of the most rewarding tones to be found are when layering multiple effects on top of each other (I found some unexpectedly pleasant results running the Chorus Ensemble into the ShimVerb).
MOOER MICRO SERIES - CONCLUSION
Going into this article I didn't really know what to think about the Mooer Micro Series &, if I'm honest, the idea of low-priced effects pedals heavily based on other things had me feeling a little wary at first. However, the results were both pleasant & surprising & I'd have no hesitation in recommending these pedals for certain applications.
The obvious place where the Mooer pedals would fit the bill would be for beginners who are just starting out in the world of guitar effects. The low price point means that you can experiment to find the effects that suit you without having to break the bank & the inclusion of True Bypass switching means that you won't have to worry about tonal degradation regardless of how many pedals you are running through. Their small size & lightweight package also mean that they're fairly easy little units to cart around, even if you don't have a pedalboard to mount them to yet; plus, you'd also be hard pushed to find better sound quality at this price.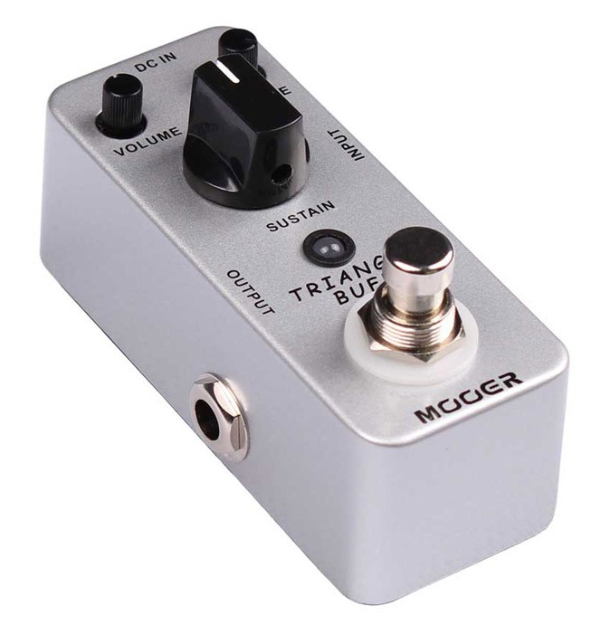 I'd also recommend the Mooer Micro Series for the seasoned player with a cramped pedalboard, but who still possess a craving for an extra pedal or two (with my Pedaltrain PT-3 I reckon I'd probably fit seven of these little things on one line). They're the perfect solution for that effect you only ever use once in a while & have never been able to justify a slot on your board for, or even to fill that awkward little space that's just asking to be used! The True Bypass switching & familiar tonal qualities garner usable results even to the more experienced of ears.
Overall, a valiant effort from Mooer & I can't help but think that these are going to be very popular little pedals indeed! They successfully set a new standard in what a budget pedal can be & I'm sure they'll give many people hours of fun; plus, at this price, one can have more Mooer pedals right!?
If you want to read more about Mooer pedals then I have written a follow-up article, where I look at the Mooer Solo, Ultra Drive, Ana Echo, Repeater, Funky Monkey and Lofi Machine in more detail. Click here to read it.
For more information on any Mooer Micro pedal, click the link below or give us a call on 01202 597180.