Special Offer: iZotope RX Plugin Pack
Posted on Wed 22 March 2017 in entries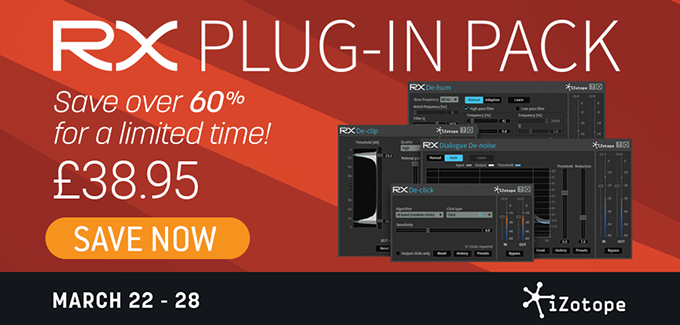 One of the go-to plugin developers for many of the members of staff here at Absolute Music is having a month of special deals on their mixing and mastering plugins. iZotope is running the Master the Mix promotion all through March and has just announced it is giving a huge discount on their RX Plugin pack.
The iZotope RX Plug-in Pack of audio repair tools is now reduced from £99.95 down to £38.95 (a huge 60% off!). This pack features four essential audio repair plug-ins taken from iZotope's award winning RX audio editing software. The four plugins – De-click, De-him, De-clip and Dialogue De-noise – are a perfect combination for musicians and producers who are recording in less-than-ideal environments and scenarios.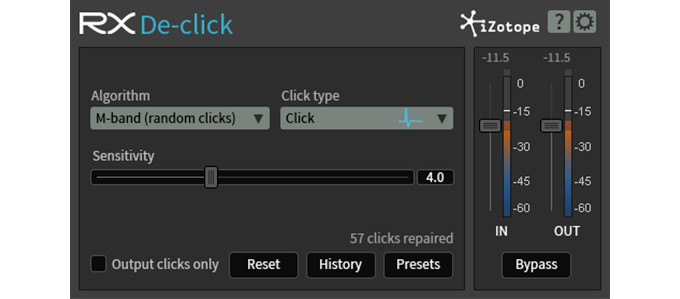 De-click
With the De-Click plugin you can salvage vocal performances by removing the unintended clicks and other mouth noises that somehow make their way through the pop screen during an otherwise perfect take. You can also eliminate clicks, crackles, pops, and digital impulse noises from instrument tracks! De-click can also be used to treat continuous background crackle and clicks on old recordings and vinyl transfers.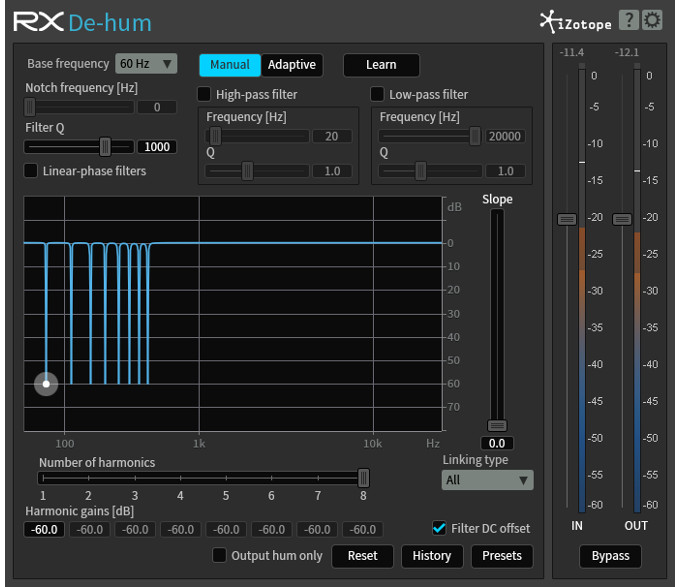 De-hum
Get rid of annoying electrical hum and line noise of ground loops and buzzes with this very handy De-hum plugin. These noises can often find their way onto multitrack recordings, and are often only caught later on in the process. iZotope De-hum automatically identifies the base frequency of unwanted hum, and precisely removes it from the recording along with harmonics — ensuring a clean overall sound without electrical interference. Another useful feature of this plugin is the "Adaptive" mode that removes hum as it morphs and changes in frequency over time.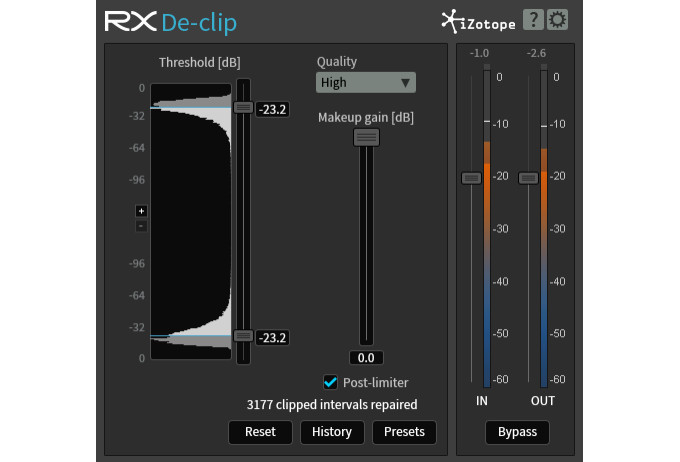 De-clip
De-clip specialises in quickly reducing distortion on a vocal recording, cutting down on the need for retakes. This is massively helpful when only one take is available, such as repairing digital and analog performances such as live shows, rehearsal recordings, and archive material.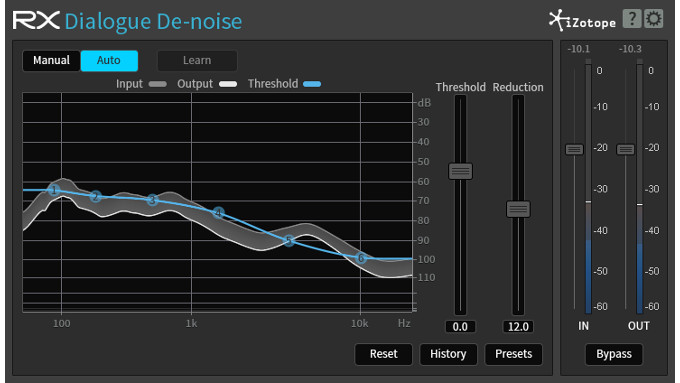 Dialogue De-noise
Reduce the noise floor of a vocal recording in real time, without affecting the tone and quality. The Dialogue De-Noise plugin makes it easier to work with tracks that have been recorded in uncontrolled and untreated spaces - like a spare bedroom or even a bathroom (yes, we've all done it). This zero-latency Dialogue De-noise real-time plug-in is one of the most powerful de-noisers available for working with any voice recordings: sung vocals, podcast, voiceover work, and more.
We can find a lot of uses for these audio repair plugins, especially when the vocalist gets caught up in the moment and decides to belt out an out-of-this-world performance that was much louder than the soundcheck and previous takes and you don't fancy telling him, or her, to do the same again because it was clipping. It will also be handy for those looking to clean up some tracks that have been bounced and not in an otherwise usable format.
Between now and 28th March you can get the iZotope RX-Plugin Pack for £38.95 (normally £99.95). Just click here to order or get in touch if you have any questions.