FULLTONE FULLDRIVE 2-MOSFET PEDAL REVIEW
Posted on Fri 13 September 2013 in entries
Whatever else may be said, Mike Fuller has certainly garnered a reputation for quality with his Fulltone brand of vintage-inspired effects pedals. In 2007 Mr. Fuller decided to update the self-proclaimed 'most popular boutique overdrive ever made' & the FullDrive 2 became the FullDrive 2-MOSFET. The inclusion of the MOSFET (Metal Oxide Field Effect Transistor) allows the pedal to achieve a more amp-like overdrive than its predecessor & the addition of a 'Flat Mids' mode adds an extra tonal option. These extra features helped the pedal to win Guitar Player magazine's 'Reader's Choice' award for Best Stompbox in the year of its release & it is with high-expectations that I begin this review...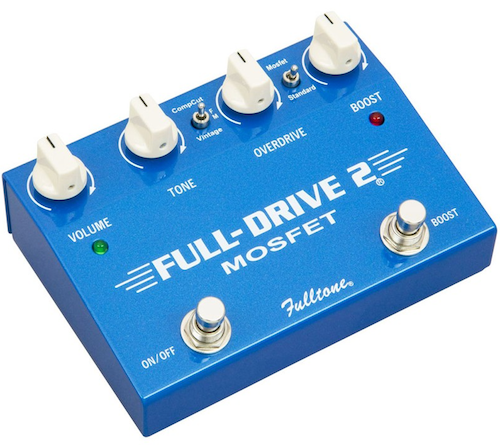 FULLTONE FULLDRIVE 2-MOSFET - FEATURES
On first inspection one may be forgiven for thinking that the FD2-MOSFET looks relatively complicated for an overdrive pedal; however, once you fire it up you will notice that the controls are all fairly intuitive to use & only a minimal amount of fiddling is necessary in order to understand what this pedal is all about.
In terms of controls, we have an 'On/Off' footswitch, a 'Boost' footswitch, knobs for 'Volume', 'Tone', 'Overdrive' & 'Boost' & two mini-toggle switches for selecting the pedal's various voicings. The pedal features True Bypass switching, a dashing powder-coated metal housing & it can be powered via a 9-volt battery or any centre-negative 9-18v DC power supply that features the usual barrel-jack connector. Its ultra-bright LEDs provide a clear representation of what is or isn't on at any given time & the various connections are all lined up along the backside of the pedal (which means that it takes up a little less room horizontally than the relatively wide enclosure might suggest).
FULLTONE FULLDRIVE 2-MOSFET - IN USE
So, the first thing to cover here is the fact that the FullDrive 2-MOSFET is a two-stage overdrive. The leftmost footswitch (labeled 'On/Off') is the main switch for engaging/disengaging the FD2 & all of the controls save for the 'Boost' knob serve to sculpt the overdrive to best suit your needs. On its own it's a fairly low-gain overdrive that can be used to add a little extra hair to your signal, but then we also have the 'Boost' function should we wish to kick things up a notch. By engaging the 'Boost' footswitch you are essentially activating an extra gain stage that is placed in front of the pedal's overdrive circuit. This means that you can use the 'Boost' knob to control exactly how hard you want to hit the overdrive & thus drive it into a higher level of distortion as a result. By doing it this way, the overdrive keeps the same character regardless of whether or not you have the 'Boost' side engaged, yet you have the added flexibility of being able to instantly call up two different gain levels from the same pedal... clever!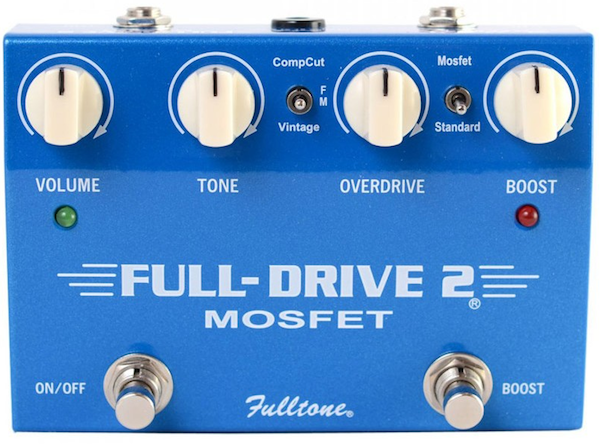 In terms of the mini-toggles, the leftmost switch gives you the choice of 'Comp Cut', 'FM' or 'Vintage' modes & the rightmost lets you choose between 'MOSFET' or 'Standard' modes. 'Comp Cut' yields a less compressed, lighter drive for those that wish to use the pedal more like a clean-boost of sorts, 'FM' (which stands for 'Flat Mids') is the pedal's most transparent drive setting & 'Vintage' yields more of a typical mid-hump overdrive. In terms of using the pedal in 'Standard' or 'MOSFET' mode, to me, 'Standard' mode is a bit on the sterile side of things & 'MOSFET' mode is the far juicier option. Still, the toggle switch does present you with the opportunity to hear what the original pre-MOSFET FullDrive2 sounded like & hey, it's possible that some people may prefer it that way!?
FULLTONE FULLDRIVE 2-MOSFET - SOUNDS
Well, this is what it all boils down to really isn't it & I'll be honest, this is where I couldn't help but feel a little disappointed. Now, let me be clear, it's not that it's a bad sounding pedal (far from it), it's just that it isn't what Fulltone say it is. Fulltone like to bill the FullDrive 2-MOSFET as a transparent & natural sounding overdrive that retains your guitar's original tone. This description would lead me to believe that the FullDrive 2 would be right up my alley; however, I really didn't find this to be the case. To me, a much more accurate way to describe the FullDrive 2-MOSFET is with two simple words: Tube Screamer! The FullDrive 2 is essentially a tricked-out Tube Screamer & it's as simple as that. Yes, you can smooth out the typical TS upper-mid hump by running it in 'FM' mode; however, you still lose the bottom end regardless of how you set the pedal. This makes it an overdrive that adds an aggressive top-end bite to your tone, not something that I would describe as transparent.
FULLTONE FULLDRIVE 2-MOSFET - CONCLUSION
The FullDrive 2-MOSFET is an articulate, bright overdrive that (like any Tube Screamer style pedal) is well suited as a lead boost for dirty soloing. It may leave you wanting when it comes to chunky rhythm work, however, that's never really been what TS-style pedals are about anyway.
If you are looking for a TS style pedal with added flexibility, then the FullDrive 2-MOSFET would be a good choice. The switchable boost function is a great addition that could prove extremely useful & you are able to smooth out that typical upper-mid hump should you wish. On the flip-side though, if you're looking for a pedal that functions like a TS-style overdrive yet is more faithful to your guitar's original tone, then I'd strongly suggest you check out the Mad Professor Little Green Wonder instead. The LGW is far more transparent, has better dynamics & your low-end will remain in tact (something which I've yet to find on any other TS-style pedal, FD2 included).
In summation, the FullDrive 2-MOSFET is a high-quality tricked out Tube Screamer for those that like the traditional Tube Screamer sound & don't want to stray too far from it. A very good pedal for sure, just not what one would expect from Fulltone's own description...
For more information on the FullTone FullDrive 2-MOSFET pedal, click the link below, give us a call on 01202 597180 or e-mail shop@absolutemusic.co.uk