ELECTRO-HARMONIX NEXT STEP PEDALS REVIEW
Posted on Wed 27 March 2013 in entries

Electro-Harmonix is certainly a company that has earned a reputation for innovation over the years &, with their new 'Next Step' line of effects, they seem to be at it again!
Next Step is essentially a line of expression-based effects pedals that contain no moving parts & instead utilise the same technology as you would find in a smartphone to ascertain the position of the pedal as you rock it back & forth. The advantages of this are two-fold: firstly, the lack of any moving parts should mean zero maintenance, as well as increased reliability &, secondly, it allows for much smoother, friction-free operation.
http://www.youtube.com/watch?v=LZMA79WvqmE
The lineup currently consists of the Crying Tone wah, the Talking Pedal, a volume pedal, a pan pedal & an expression pedal. All of these pedals feature the exact same housing (which feels suitably rugged), but can be distinguished by large differently coloured status lights that spell out both the EHX logo & the names of the units themselves. For the purposes of this article I have both the Crying Tone & the Talking Pedal at my disposal, so why don't we take a closer look at these two units...
The idea of a maintenance-free wah is certainly something that would prick the interest of any wah pedal aficionado. It would make sense then that the Crying Tone was the first of the Next Step line to be released & this is perhaps the pedal that will garner the most interest within the range.
In terms of feel, it's a very different affair from the traditional wah & the nature of the design allows for much smoother travel under the foot. The smoothness of the pedal's movement is echoed in how easy it is to execute perfectly smooth sweeps through the frequency range & it's also possible to achieve fast fluttery wah warbles with a responsiveness that you'd seldom find elsewhere. The only thing to be aware of however, is that the pedal can walk about a bit on the floor when one is executing particularly excitable wah work.
So, what about the sound!? Well, I can gladly say that Electro-Harmonix have certainly produced a very pleasant sounding wah. I would suggest that it leans more toward the voicing of the Morley-style optical wahs than that of the original Cry Baby types & it would perhaps be best described as smooth, full & articulate. (I could see this wah excelling most in lead work applications).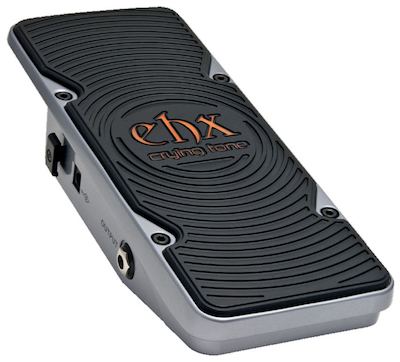 ](https://www.absolutemusic.co.uk/electro-harmonix-crying-tone-wah-effects-pedal.html)
There are also a few hidden modes that give you the option of square wave & notched wah sounds. To access these, one has to push the calibration button on the side, hold the pedal in a particular position & then push the button again for a second time (once this has been done one can then return the pedal to the floor & resume use). It's a particularly fiddly procedure but it's nice to know these modes are there should you require them.
Overall, the Electro-Harmonix Crying Tone is a great sounding wah with a unique design that provides both advantages & drawbacks. For lead work, its responsiveness & smooth operation really come into their own; however, for notched wah tones I can't help but feel that one would be best served elsewhere. One thing's for sure though: the Crying Tone definitely does offer a unique take on the Wah pedal! It's certainly one to try if you're looking for something a little different & if expressive leads are of your main concern.
From the days of its first inception, the unmistakable vocal growl that can be accomplished with a Heil Talk Box has littered many a hit single. Joe Walsh, Peter Frampton, Stevie Wonder, Sly & The Family Stone, Aerosmith, Bon Jovi, Tool, Foo Fighters; the list of artists that have used it to really hammer home their hook-laden riffs goes on & on & on. Unfortunately though, the use of a talk box is by no means pleasant or easy & as a result it has only ever been used sparsely. Fortunately for us however, there are other options that have since come on the market that enable us to achieve similar results with less hassle. Firstly, there's formant filters that give out different vowel-like sounds based on the dynamics of your playing (the Electro-Harmonix Talking Machine being a good example of this) & now there's a new option as well: the Electro-Harmonix Talking Pedal.
The Talking Pedal is basically an expression pedal containing two bandpass filters. These filters imbue your guitar's signal with a male vocal quality & as you rock the pedal back & forth it will alter the type of vowel it imparts. This allows you to use your foot (rather than your mouth) to create those talk box style lines that you're imagining & you don't have to worry about tubes & microphones etc. to do so. It's a different approach to touch-sensitive formant filters & it does accomplish a different result (think of the Talking Pedal's relationship to a formant filter as you would think of a wah pedal's relationship to an envelope filter). Anybody who's comfortable using a wah would be in familiar territory when using the Talking Pedal & as a result this approach could well appeal to a good deal of people.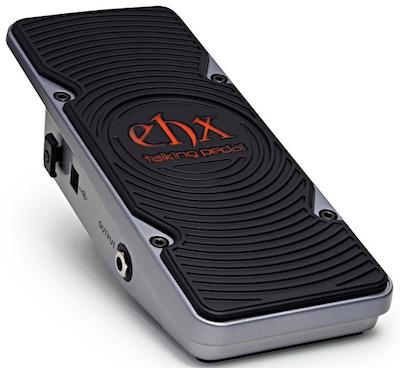 In terms of controls, Electro-Harmonix have chosen to keep it simple: there's one single rotary knob on the side of the unit. This knob allows you to dial in the amount of fuzz that the pedal adds to the signal. The more fuzz you use, the more overtly vocal it will sound. However, there is plenty of fuzz on tap & a little goes a long way (there's even enough fuzz there to significantly dirty up a clean amp). In practice, I found that the best results are to be obtained with any dirt being generated before the pedal rather than after. With this in mind, if you're the type of player who usually gets your distortion from your amp then you may be best served by using it with the clean channel & cranking the fuzz on the Talking Pedal instead.
In summation, Electro-Harmonix have successfully managed to make talk box-style effects both simpler & easier to use. The Talking Pedal could well be a player's most sensible option for this as the familiarity of its wah-style usage & the simplicity of its controls make it very much a plug & play device. For more extravagant vocal formant work, the touch-sensitive Talking Machine may still be a better option, but the Talking Pedal could well appeal to those who have found such alternatives a bit too daunting to tackle.
CONCLUSION
The Next Step line of effects are interesting for sure & Electro-Harmonix certainly have to be commended for their use of new technology. Whether or not they're the right choice for you will really depend on the type of use you intend to enlist them for. The obvious drawbacks are the fact that you can't mount them to a pedalboard & that it can also prove difficult to keep them stationary. Notched wah sounds are fiddly & limited, & the volume & expression pedals could only really be used for swelling applications (not for selecting fixed levels). However, the lack of moving parts results in ultra smooth swelling & sweeping capabilities that are of great benefit for this type of use, while also prospectively offering up years of maintenance-free operation.
The main issue I found with them was switching them on & off; to do so you have to tip the pedal forward with your foot & this is rather easy to do by mistake when using them. In addition to this, the light that tells you whether or not the effect is switched on is right underneath where your foot would be & therefore it is impossible to see this when the pedal is in use. To my mind, a side-mounted LED & an auto-on function like the ones found in some of Morley's pedals would have been a more sensible option. However, this is certainly an interesting new approach to executing some of our most established guitar effects & I'm looking forward to seeing how the concept evolves in the future.
For more information on any pedal in the Electro-Harmonix Next Step range, click the links below or give us a call on 01202 597180.
Electro-Harmonix Crying Tone Wah - More Info/Buy

](https://www.absolutemusic.co.uk/electro-harmonix-crying-tone-wah-effects-pedal.html)
Electro-Harmonix Talking Pedal - More Info/Buy

](https://www.absolutemusic.co.uk/electro-harmonix-talking-pedal-vocal-formant-wah-with-fuzz-effect.html)
******If you're interested in buying and you have seen it cheaper elsewhere, please call us or use our
---
As well as receiving our first rate customer service you can also claim money off your next purchase with our loyalty points scheme and receive a 3 year warranty if you sign up to our FREE VIP Club (click here for more infomation). Many of our items also come out on a FREE next-day delivery service to mainland UK customers, so you won't be left waiting!
Also, if you want to keep up with all our latest offers, competitions, news and videos, why not follow us on Facebook and Twitter?