Customer review: Applied Acoustics Systems Modeling Collection
Posted on Mon 18 July 2016 in entries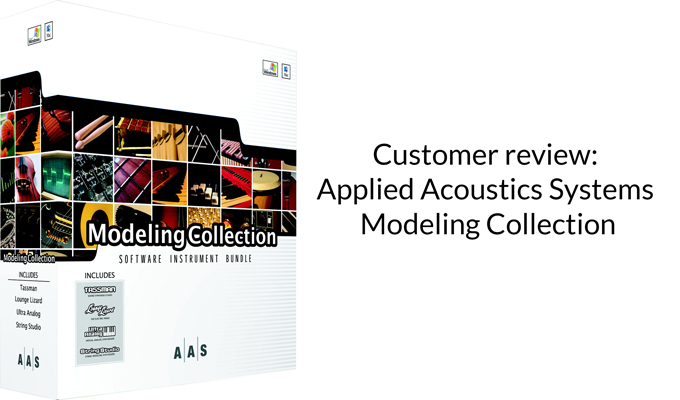 Author: Paul Mathews (winner of Applied Acoustics Systems Modeling Collection)
We ran a competition last month to win AAS Modeling Collection, which includes a suite of physical modelling virtual instrument plugins. The winner, Mr Paul Mathews, is a retiree, and although relatively new to music production, has given us his thoughts on this fantastic plugin collection...
Let's start with Lounge Lizard, This is an electric piano plug in, probably about a third of the keyboard parts I play require a decent electric piano. Lounge Lizard doesn't disappoint. On opening you are presented with a retro looking depiction of an electric piano control panel. Drop down menus allow you to select amongst other things, Rhodes, Wurlitzer Classic tracks and much more. Further drop down menus give you many many options for each of those categories. My favourite being Riders on the storm in Classic tracks. A great representation of Ray Manzarek's haunting Rhodes from the song of the same name. I was immediately transported to a smoke filled Whisky a go go bar in LA back in the 60's.
Long before the days of multi sampled presets was a keyboard known as a Logan String machine. I believe String Studio to be a representation of this. Via it's drop down menus (all very clear and easy to follow) are a plethora of Clavinets, Acoustic Pianos, synth strings and many more. Along with a comprehensive FX bank including delay chorus reverb and more.
This opens up and looks just like a massive modular synth. The presets appear to be almost infinite. There are pianos, organs, drums and hybrids. Again, being a Doors fan I was drawn to the Doors organ combi's. Some brilliant reproductions of a Vox continental organ with a Fender Piano bass.......awesome. I can't even scratch the surface of what Tassman consists of here. Suffice to say you will not be disappointed.
This does exactly what is says on the tin. Analog synth with a retro look to it. Presets galore, and a fantastic Arpeggiator to play with. An EDIT tab displays a comprehensive bank of VCO'S LFO, VCA's Filters, ADSR and more. You can spend hours on this page alone manipulating your patch. Great fun!
Wow, a plug in dedicated to percussive instruments. Not just drums, but vibraphones,bells, cymbals, chimes, and even strings (I know not strictly percussive, but they can be hit!). Editing can be as deep as you like. You can even change where you strike the instrument you have chosen and what type of resonator it has. The possibilities are limitless.
Suddenly after years of playing keyboards, I'm a guitarist. Unbelievably realistic strumming and picked guitars filled my meagre home studio. You can change bp , styles, rhythm patterns, and of course the guitar or indeed instrument itself. Again so many to choose from.
Conclusion
All of the AAS modelling studio collection are easy to install, set up and my midi controller was found instantly and i was playing within seconds. All in all, a fantastic compendium of plug ins.
I was lucky enough to win mine courtesy of AAS and Absolute music.
Now excuse me I'm off to write my first Number 1.
FOR MORE INFORMATION GIVE US A CALL ON 01202 597180 OR E-MAIL SHOP\@ABSOLUTEMUSIC.CO.UK.