Top 5 Best Closed Back Headphones
Posted on Wed 28 December 2016 in entries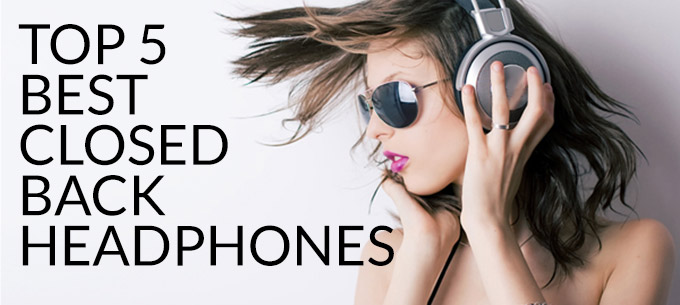 Closed back Headphones are one of our most popular recommendations for many musicians, so we've taken the time to list our best top five.
What are closed back headphones?
Closed back headphones have a sealed-back earcup that isolate listeners from outside noise. These headphones are usually easily identified by a solid piece of metal, plastic, or other non-breathable material on the outer backing of the earcup, rather than a grill or grate. Here are our top 5.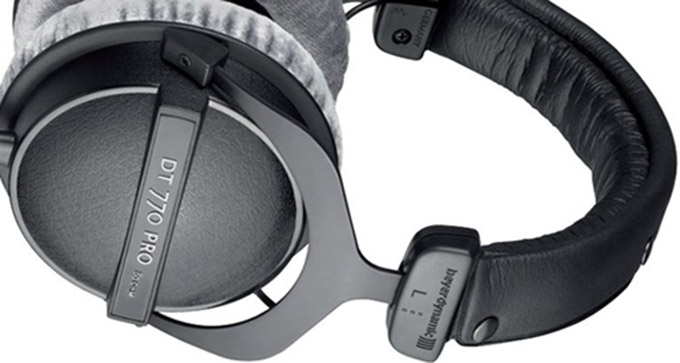 The Beyerdynamic DT770 pro headphones. A closed back headphone designed for optimal audio quality. when open back headphones are not an option, these are the ones to go for. Go into any top recording studio and you will probably see a set hiding somewhere.
OUT OF THE BOX AND COMFORT
Straight off the bat you notice the grey felt ear cushions. Trust me they feel as good as they look. Hands down these are the most comfortable headphones I've used.
HOW DO THEY SOUND?
Audio quality is fantastic. Clarity is great and they have a great warm bottom end. An important thing to consider with the DT770 pro is the impedance. Impedednce is measured in Ohms. If the resistance is high, like the DT770 Pros which are 250 ohms, then you're much less likely to get noise and have a much cleaner signal. The downside of this is that the DT770s will seem much quieter compared to other headphones. Consumer devices like iPhones and other audio players wont be able to drive the signal hard enough. On high end audio interfaces however, you wont have that problem at all.
PORTABILITLY
Unfortunately this model does not fold down for portability which is not the end of the world but it would of been a nice feature for the travelling producer.
SUMMARY
Overall the Beyerdynamic DT770 pro headphones ticks all the boxes for me.
Great for tracking with no bleed (whether your in the same room as the performer or you're tracking a session yourself).
Accurate/flat sound reproduction
Incredibly detailed
Every part is replaceable. Spare parts are very available and easy to replace. (Once your used to a set of headphones, you usually want to stick with them. Especially if you use them for referencing and do any mixing). So this Seals the deal for me.If your after a premium set of headphones for either singers or producers in your studio, then these things are fantastic. Amazingly light weight and the soft pads are extremely comfortable.
FOCAL SPIRIT PROFESSIONAL HEADPHONES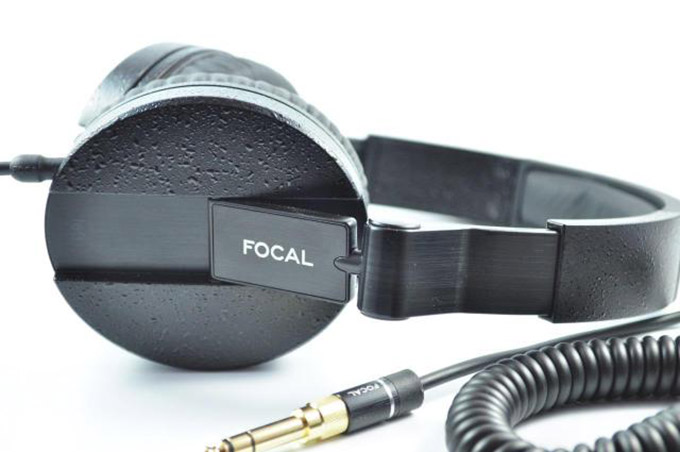 OUT OF THE BOX
With The Focal Spirt Professional Headphones you get Everything you'd expect from a pair of closed back headphones, it has a sound quality rivalling many high-end open back models.
In keeping with the monitor loudspeakers of this French manufacturer, the Spirit Professional headphones ensures a build and sound quality without compromise.
COMFORT
One clever feature of these headphones is the memory foam padding, which comfortably molds to your head, sealing up any open gaps. That way…the inside noises stay IN, and the outside noises stay OUT. Great for avoiding audio Spill when tracking instruments.
I don't know about you guys but I tend to spent a lot of time in front of my workstation. So Being comfortable when mixing is really important. The very lightweight design gives optimal comfort over a long period of time. Ideal for those long sessions in the recording studio.
PORTABILITLY
Adjustable to all head sizes. The headphones also pack down and fit into a small travel bag that is provided free with the Focals, I tend to have a lot of equipment to carry, so saving valuable space is a must for me, these are the ideal pair of headphones for the on the go recording musician.
The Focals come with 2 cables; coiled and straight, both appox 1.5 meters.
I would recommend burning/running these in for a few days, before you get mixing just to get them settled in. Otherwise they may sound a little bright at first listen.
I've had my hands on these for a few days and mixed a few sessions on these headphones now. and overall I found it very easy to get my mixes sounding great straight away.
SUMMARY
So there you have it. The Focal Spirit Professional Headphones. check them out, I think you'll be very impressed with these headphones.
V-MODA CROSSFADE M-100 CLOSED BACK HEADPHONES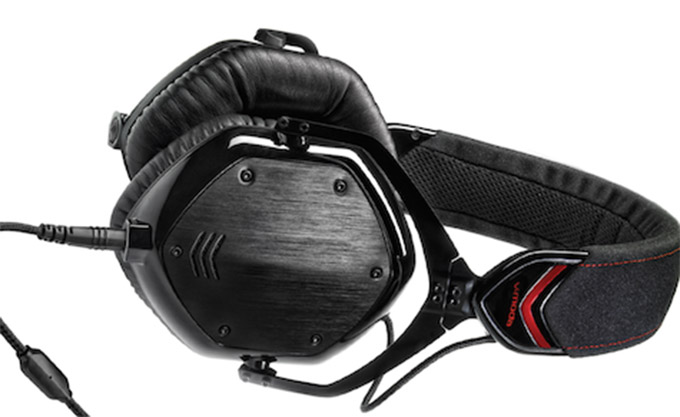 OUT OF THE BOX
Straight out of the box the M-100 Crossfades come in a robust hard shell case. they have a extremely sturdy, spring driven metal hinge which enables you to pack down the headphones and give you extra storage space when traveling/giging. Double hole sockets on both sides enable you to have the kevlar cable on the left or right side.
The cable has a inline remote so you can also use these headphones with your mobile device. Very versatile indeed.
In addition the extra lead that is provided enables you to split the signal. Ideal for DJs who are playing live back to back maybe? either way it's a nice edition that's included with the M-100s. Unfortunately there is no coiled cable enclosed, but you do get the choice to buy an optional coiled cable if you so desire. Every part of these V-moda headphones are replaceable and the company really take care of their customers. their after sales service is impeccable. Thumbs up to V-Moda.
COMFORT
The ear cups on the Crossfades are cosy, but if you are going to wear these for a long period of time, I would recommend that you buy the optional XL Cusions; which are extra soft and more comfortable, especially for long periods of time. Reverse bending the headband eased the pressure as they can feel a little too snug otherwise.
CUSTOMISATION
The side shields are interchangeable and there are many different colours to choose from. You can even have a unique signature with a variety of designs and laser engraving of your own artwork via the V-Moda website.

With the addition of the boom mic (sold separately), the V-Moda M-100 have great sound clarity for conference calls and gaming too.
SOUND
These headphones have a warm, detailed sound with a powerful thumping bass
PORTABILITLY
The hinges on the SRH440's allow you to fold the earcups inward for storage. Very handy for the traveling musician.
SUMMARY
Beautifully built and sounds great with all types of music. It's exceptional build quality and durability.
SHURE SRH840 REFERENCE STUDIO HEADPHONES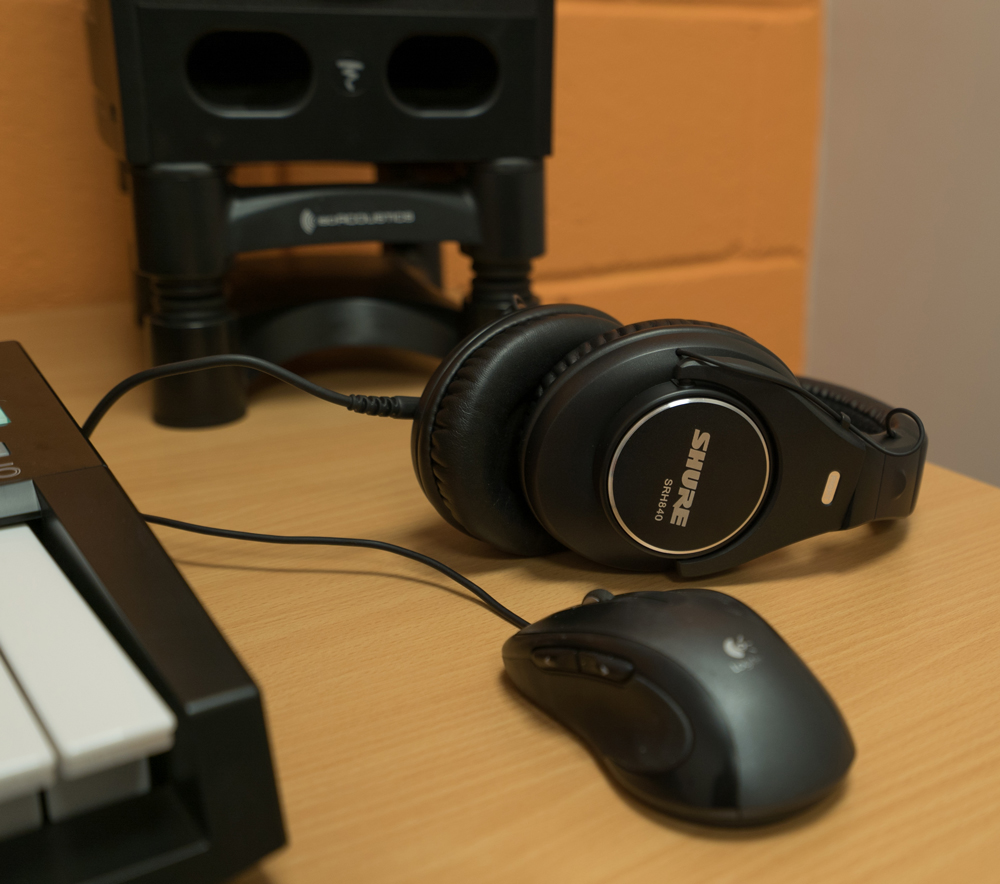 OUT OF THE BOX
The Shure SRH840 Closed Back Headphones only come in at around £100, but the SRH840's are surprisingly well balanced. The SRH840's are intended for the recording musician in the studio, but there's no reason music lovers who prefer headphones over earbuds can't enjoy them as well. The cable securely locks into the connection port of the left ear cup and is long and coiled (a straight cable is available as a separate purchase on Shure's Web site).
MAIN FEATURES
Enhanced frequency response: accurate audio across an extended range
Closed-back, circumaural design: optimal sound isolation
Adjustable headband: ergonomic fit
Collapsible design: easy storage and portability
Detachable, single-sided coiled cable: easy cable replacement
Threaded 6.3 mm gold-plated adapter
Carrying bag included
COMFORT
The vinyl black headband is lightly padded, discomfort may set in after an hour of continuous use, but for the price you can't really complain too much. The ear pads are nicely padded and sit over the ear really well.
SOUND
The SRH840's gives each instrument a turn to shine. They will satisfy classical listeners with a crisp interpretation of strings, as well as jazz, and most rockers.
SUMMARY
A great pair of studio headphones just over the £100 price mark.  Shure SRH840 Closed Back Headphones are a perfect mix of professional sound, quality and comfort, making them ideal for recording and monitoring applications.
SENNHEISER HD25 PLUS CLOSED BACK HEADPHONES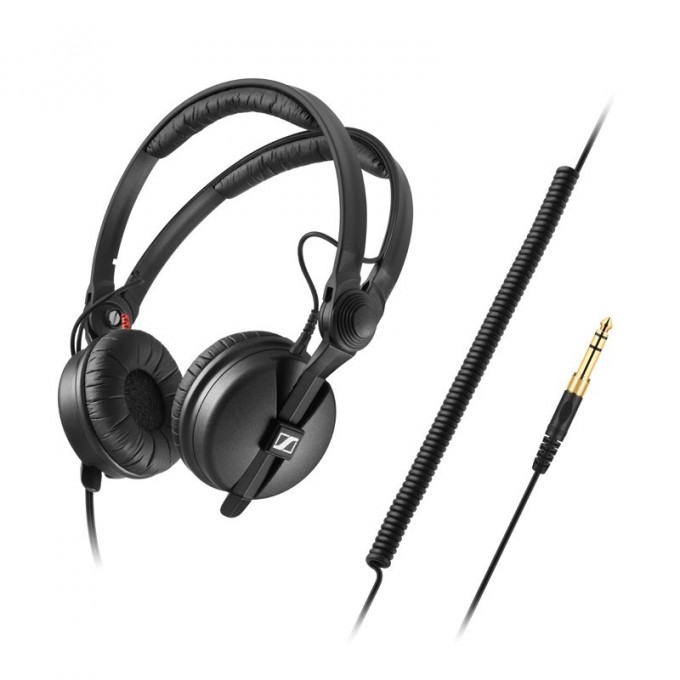 OUT OF THE BOX
SENNHEISER HD25 PLUS CLOSED BACK HEADPHONES are the full version of the legendary DJ headphones. No compromise on sound, build quality or any of the characteristics of this internationally famous headphone. For 25 years it has set the standard and redefined performance in DJ headphones.
Its ruggedness and accuracy mean it remains a favourite of true music professionals to this day.
SOUND
Great audio quality, very clinical sounding.  The capsule is rotatable for one-ear listening. Ideal monitoring headphones for cameramen and DJs. Ambient sound isolation is superb and response is crisp and clear across all frequencies right down to a punchy and tight low end.
MAIN FEATURES
High sensitivity due to lightweight aluminium voice coils
Capable of handling very high sound pressure levels
Very lightweight and comfortable, even if used for long periods of time
Includes detachable 2m straight cable and 3m coiled cable
Spare set of velour earpads included
Rotatable capsule for single-ear listening
COMFORT
Even though they are very lightweight, the HD25's do tend to press on the outer part of the ear a bit too much, after about 2 hours you may have to take them off for a few minutes.
CUSTOMISATION
The basic edition only comes with one set of ear cups and non-extendable (non-coiled) 1.5m cable- worth bearing in mind if you plan on using them to DJ. You may want to go for the Sennheiser HD25 that comes with extra cables, carry bag and spare ear pads. The HD25's are very repairable. Designed for years of hard use in demanding situations so all parts can be easily replaced if needed.
SUMMARY
The robust construction and features such as the rugged, replaceable steel cable make the HD 25 more than a match for tough everyday demands. The HD 25s perform exceptionally well in loud environments. Great for DJs and cameramen.