Roland AIRA System-1 Plug-Out Synthesizer Review
Posted on Tue 04 November 2014 in entries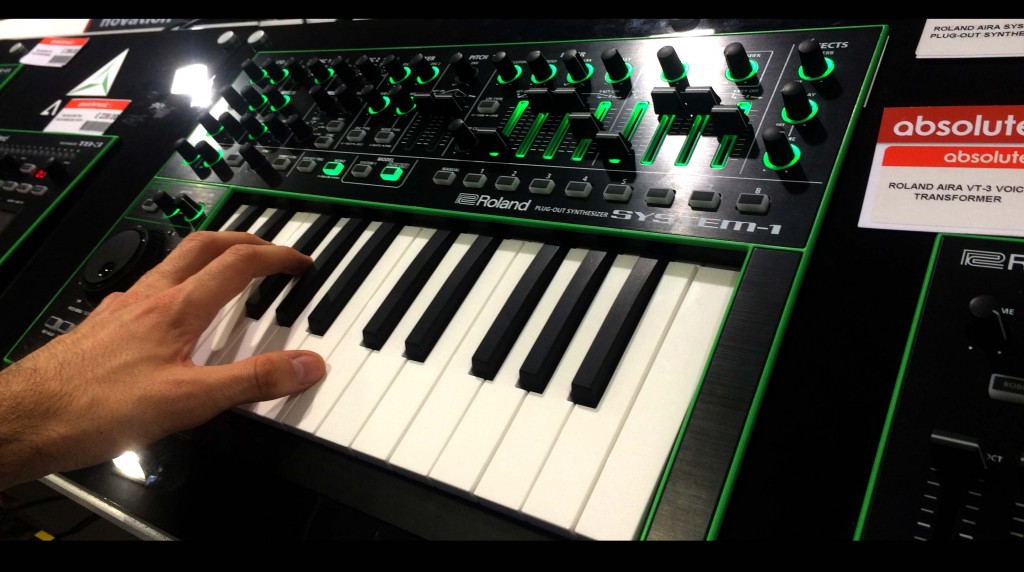 They say "Small ones are more Juicy". After 30 minutes alone with the new Roland System-1 synth, I pretty much reckon they are right. Beautifully illuminated, and showing off its new Alpha Dial style Mod wheel, she waits for eye contact, then whispers "touch me! do it now, take me and play all night long". As I had only 30 minutes I thought, OK! but it'll have to be a quickie. This is when I fell over my jaw as it headed south at great speed.
Two big, fat window shattering oscillators + a variable sub, sync and ring mod punched me smack in the face, each of the main 2 equipped with several new waveforms that when you utilise Roland's SuperSaw function, twist and turn over and upside down, creating the fattest combination of sounds which will have furry animals and all manner of cute beasties falling unconscious from every surrounding hedge row. It Is Immense. Not only that, displaying a most welcome return of the control slider & rotary pot control on the front panel means all her parameters are accessed via these controls, making sound creation and programming not only quick and easy, but also at last, cursor free - and good riddance. Awesome sounds without tearing your hair out with sub menus and cursors. I welcome this with open arms, and that's just for starters.
The System-1 is standalone, but get this, it's also a "plug-out" synth, whereby new synth engines can both be uploaded to the System-1 and also run as a plug-in on your computer. Roland have a queue of classics waiting to fill up this massive little synth very soon: SH101 (free download from Roland Now Available) , SH-2 (now available), JUPITER 4 , and JUNO 6 and hopefully (not confirmed as yet), if we are very lucky JUPITER 6 & 8
THE ARPEGGIATOR.
"Arpeggiator" doesn't begin to describe this section of the System 1 as Roland have decided to incorporate their "Scatter" function. The arpeggiator boasts 6 variations (i.e. up, up down etc) each with 6 quantize variations, each of these variations has 10 Scatter variations with assignable parameter variation. Select a variation with the centre wheel and turn the outer mod wheel and fantastic things happen - from fat bass, you can open and crush the filters out of audio range, and it does this spectacularly. Assignable parameters open a wealth of effects and variations exclusive to the System-1
FILTER
The System-1 has 12db and 24 db filters as standard with the ever faithful BPF LPF & HPF, but Roland have seen fit to add a variable sweep between LP, BP and HP so you are not tied by the button - nice touch! 10\10 Roland.
Even better is that ringmod and sync envelope can be assigned to various envelopes. Leaving the pitch envelope free to do its own thing or sweep sync up while filter takes ring sweep down. It's Mono, it's Poly, it has unison, in fact, as an owner of the brilliant Jupiter 6 for 12 years, I would say that the
System-1 is bigger and better than the JP6 all round. Brave words, but true.
SH101 PLUG-OUT
The first plug-out to be released was the SH101. Every bit as authentic as the original synth in every way, there is no difference EXCEPT the arpeggiator is still active, and the bit crusher also. This is a bonus in every sense, making this Sh101 that much more powerful than the famous original, you can easily switch between in-built sounds and the plug-out engine with a single button, and the system 1 cleverly blanks out any parameter not featured on the original. The icing on the cake is you can choose any of the original colours for your virtual SH101 so the on screen synth can be customised to suit.
Here are a couple of audio demo's from my brief play with the System-1:
DURAN DURAN SAVE A PRAYER AUDIO

As you listen you will hear how quick and easy it is to emulate the sound also using on board FX
Single SQUARE wav, then add another square wave one octave higher, set both ADSR to average percussive, add delay and chorus,
GARY NUMAN ARP ODYSSEY AUDIO

Pulse wave and sawtooth wave with slight detune, add low cut off, portamento and reverb.
GARY NUMAN DOWN IN THE PARK AUDIO

square wave. pulse width mod on osc 2. Sub osc. reverb and delay, manual sweep on the bit crusher.
THE VERDICT
Do not be fooled by the diminutive keyboard, you will most likely use this via a controller, giving you access to as many octaves as you can handle. Otherwise, Roland have hit the nail of brilliance right on the head with the System-1. I am in love. Also, I found myself thinking how close the System-1 synth can get to replicating the classic ARP Odyssey. I'd go as far as to say the next best thing - and I've not been able to say that for decades.
FOR MORE INFORMATION CLICK ON THE LINKS BELOW OR GIVE US A CALL ON 01202 597180 OR E-MAIL SHOP\@ABSOLUTEMUSIC.CO.UK.