MEET THE MINILAB MKII
Posted on Thu 17 November 2016 in entries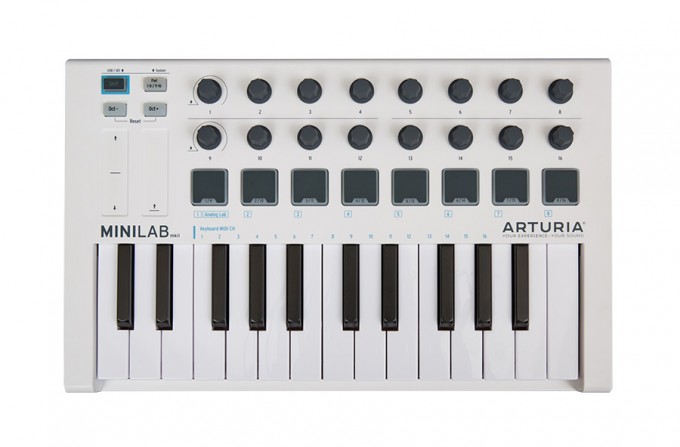 ARTURIA TO UNVEIL NEW MINILAB MKII COMPACT KEYBOARD CONTROLLER & SOFTWARE BUNDLE.
Arturia are excited to announce the imminent release of MiniLab MkII: a space saving, high-quality controller bundle that's perfectly suited to small home studios and musicians on the move. MiniLab MkII combines an expressive 2 octave keyboard, RGB backlit performance pads, 16 rotary knobs, with an impressive suite of included software, for an amazing price.
Key features of the MiniLab MkII include:
● Take it anywhere: Amazingly portable and highly durable. MiniLab MkII sets new standards in the small controller market, combining unparalleled control with space saving, small studio-friendly size.
● Great feeling keyboard: MiniLab MkII features a 25-note slim-keys, velocity sensitive keyboard, striking an uncompromising balance between size and playability. ● Powerful performance pads: record a drum pattern, launch clips, cycle through presets, MiniLab MkII's 8 multi-purpose pads ultra-responsive and RGB backlit, helping you easily identify the sound or function they are controlling.
● Useful rotary knobs: 16 rotary encoders give you full access to all of the important parameters of your favorite effects, synths, and DAW functions. 2 of the knobs are even clickable, allowing even deeper control of your music making.
● Expressive performance controls: MiniLab MkII features incredibly responsive touchstrip controls for pitch bend and modulation, sustain pedal input to capture that authentic keyboard performance, and dedicated octave up & down buttons for full creative access.
● Record your songs: Ableton Live Lite - an introduction to arguably the most popular, intuitive recording & performance software on the market - is now included with MiniLab MkII, meaning you can record and produce your songs straight out of the box. Thanks to dedicated pre-mapping within Ableton Live, it's never been easier to take control.
● Amazing keyboard sounds: the included Analog Lab Lite software gives you access to hundreds of iconic preset keyboard sounds taken from Arturia's award-winning V Collection 5. From electric pianos to analog monosynths, string machines to modular monsters, and everything in between.
● A famous piano at your fingertips: a beautiful, ultra-realistic piano sound is always useful, and that's exactly what you get with the included UVI Grand Piano Model D software. Meticulously sampled from a classic Steinway, and yours with the MiniLab MkII. Fun to use, easy to master, and superbly affordable, MiniLab MkII sets a new standard for small
format controller keyboards. Musicians old and new will be inspired by the hundreds of classic keyboard presets in Analog Lab Lite, and love recording their own songs using Ableton Live Lite. MiniLab MkII brings unmatched control to the project studio, and gives bus-powered, go-anywhere versatility to performers.