DigiTech CabDryVR and FreqOut Pedals
Posted on Fri 27 January 2017 in entries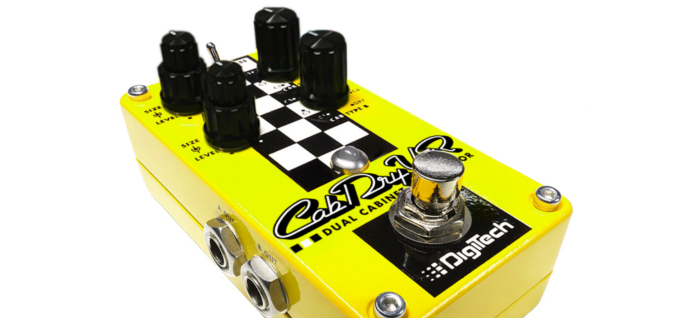 At the recent NAMM show in California Digitech announced the arrival of two new pedals, the DigiTech CabDryVR Cabinet Emulator and the DigiTech FreqOut Natural Feedback Creator Pedal. Two very different pedals in one blog post, let's check them out.
Digitech CabDryVR
Firstly, the DigiTech CabDryVR Speaker Cabinet Emulator pedal. Straight off the bat, this is not ever going to be a contender for the sexiest pedal award (and good luck to anyone that has to explain this pedal or justify buying it to a wife or girlfriend) but make no mistake, it is a very, very handy tool to have. The CabDryVR pedal emulates 7 different guitar cabs and 7 different bass cabs, with the ability to run two different cab emulations at the same time and adjust the output of each.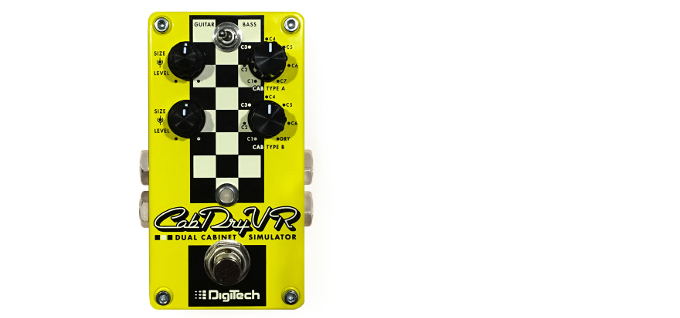 You might be thinking "that's great but when would I need this?"... possibly the most common use for the Digitech CabDryVR will be in a live situation. Put the pedal at the end of your pedalchain, send one of the outputs to the front-of-house desk and the dry output going to your amp on stage. This will give you a fantastically clear sound out front because it is a direct channel signal (without the use of a microphone) but with the added bonus of a cabinet emulation in the mix. The Digitech CabDryVR can also be used in the studio, again, put it at the end of the pedal chain and take the cabinet emulated wet output to your DAW of choice.
Guitar Cabinets
Cab 1 - Vintage American 2x12"
Cab 2 - Vintage British 2x12"
Cab 3 - British Green Slant 4x12"
Cab 4 - British Straight 4x12"
Cab 5 - Heavy American 4x12"
Cab 6 - Smooth Custom 4x12"
Cab 7 - Small Combo 1x8"
Bass Cabinets
Cab 1 - Flexy 1x15"
Cab 2 - Basic 1x15"
Cab 3 - Big Blue 1x18"
Cab 4 - AmeriTweed 4x10"
Cab 5 - Gold Diamond 4x10"
Cab 6 - Vintage Fridge 8x10"
Cab 7 - Blonde Basement 2x12"
DigiTech FreqOut
The second new pedal is the Digitech FreqOut, a natural feedback creator that lets you create a natural sounding harmonic at any volume level, with or without distortion.
There's a few really nice little features to this pedal, such as the Momentary switch that allows the user to make the latching bypass switch into a press and hold button for easier feedback and harmony creation for example if you want to sustain a single note or chord. There is also a onset delay control which allows you to set the amount of time before the feedback kicks in. The FreqOut gives you the choice between 7 different harmonic types (1st, 2nd, 3rd, 5th, Nat Low, Nat Hi and Sub).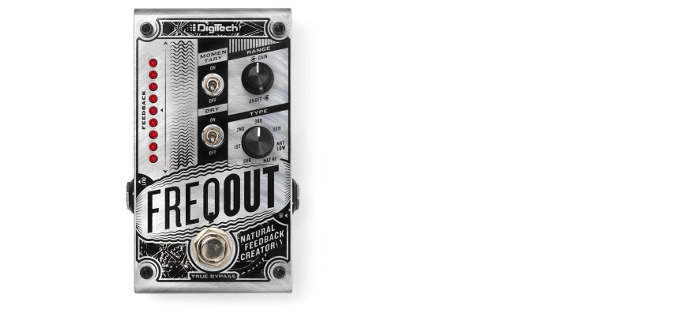 "Roaring feedback from an amp can add intensity and musicality to a live performance when used correctly," said Tom Cram, Marketing Manager, DigiTech, HARMAN Professional Solutions. "FreqOut gives guitarists and bassists a way to create and utilize feedback in an incredibly musical way. Whether creating atmospheric washes of sound or adding infinite sustain to scorching lead sections, FreqOut lets players transform the raw intensity of feedback into a musical secret weapon."
All of this in a rugged metal chassis, true bypass and powered by the standard 9V DC power supply.