Arturia Microbrute Review
Posted on Wed 06 May 2015 in entries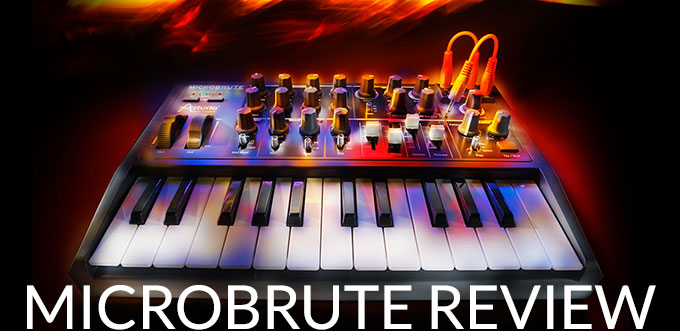 With the huge resurgence of interest in Analog Synthesisers, and analog synth based plug-ins and software, there are several companies that have been leading the charge over the last couple of years. Arturia have long had an excellent reputation for superb software models of analog classics, with an ever expanding collection, which includes the likes of Mini Moogs, Jupiter 8's and Arp 2600's, so when Arturia decided to jump into the World of hardware synthesisers, it was always going to be worth a further look.
First came the superb MiniBrute, with it's compact size and stunningly powerful filter and oscillator section, but then they decided to take this technology and shrink it into an even smaller unit, named the Microbrute, but rather than leave you wanting, they added some features which you don't get on the Minibrute!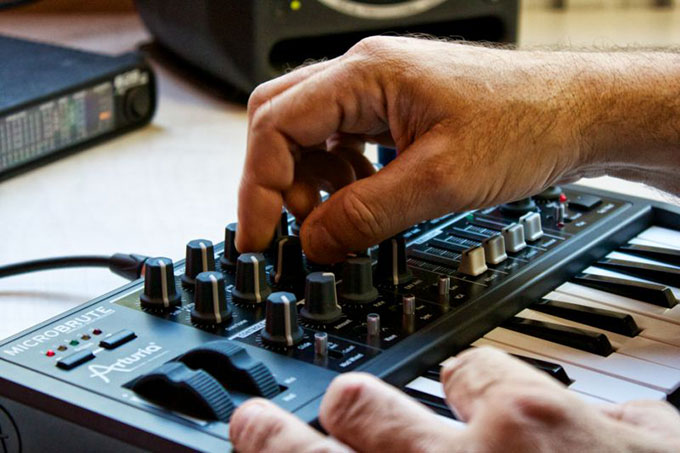 The obvious difference between the aforementioned Arturia mono synths is size - while the Minibrute has full size keys, the Micro has 2 octaves of mini keys, which some might consider a downside, however the upside is that it is tiny. So much so, it's an analog synth which is so portable, you can just pop it in your laptop bag and use it on the move! In fact, there are currently a batch of limited edition models, in funky colours such as White, and part of the appeal here is that you get a very cool and well made courier bag to put it in!
So let's delve in and look at the oscillator section. Constructed in a style reminiscent of a Roland SH-101, you have options to turn up and down a ubiquitous set of waveforms; Saw, Square and Triangle are all present and you also get a useful sub oscillator as well. Nothing new here, however the fun starts when you discover that you have the option to turn up each waveform beyond 12 O'Clock on the pot, at which point you start to overdrive the circuitry, which introduces all sorts of wonderful overtones. All the waveforms can be modulated as well which brings movement and harmonic variance right at the start of the signal chain.
The Filter is a classic Steiner Parker design and is switchable between high, low and band pass. The resonance will bite you head off if you want it to, and self oscillates nicely. As if that weren't enough, there is further distortion available in the shape of the 'Brute Factor', which introduces all sorts of wonderful colours into your signal, in much the same way as numerous other decimator type distortions might.
The single envelope is a classic ADSR design and takes care of amplitude duties by default, but it can also be dialled in to the filter (and elsewhere - more later!). The envelope is quick and snappy, making it perfect for percussion and bass duties.
There are numerous other features available on this tiny machine, as one would expect, including Glide, sync'able LFO and a sub oscillator that has the most awesome overtones, as you can tune it to a 5th, rather than the usual octave. At this point, it's worth mentioning stability of tuning, as all analog synth swill wander. I found the Micro to be very stable, after about 4-5 minutes of warm up time, and I must also mention that the build quality is excellent. Yes, there is plastic in use, but the chassis is metal, and from the moment you remove it form the box, you can feel the weight of the unit - it's analog, and the weight lets you know that!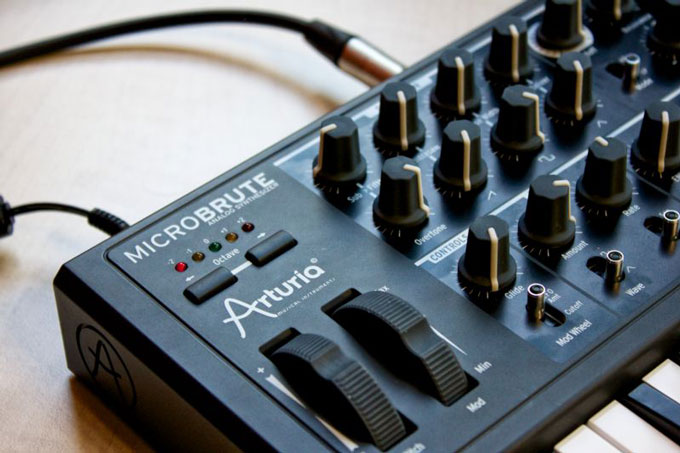 However, the big coup with this little beast is that there is a mini-jack field to allow you to patch in to various points on the synth. Apart from the obvious flexibility of being able to route the LFO or Envelope to a location such as the filter or pulse width of the Square wave oscillator, it also means that you can jack this machine in to other synth gear. So again, with the current interest in modular synths, such as the Eurorack systems, this would be a very cheap and obvious way to increase routing possibilities, with a small device that offers vast creative angles. Arturia include 2 patch cables, and with the limited edition models, these cables are of the stackable variety, allowing you to route the same signal in more than one direction.
The other difference from its big brother, is the included Step sequencer. There are 8 sequence memory locations, each of 64 steps, and with the addition of CV and Gate In and Out, even the sequencer can be used to power other CV based devices. But it doesn't end there, as the Microbrute is equally at home talking to your DAW, with both MIDI in (Din) and MIDI IN/Out (via USB), Arturia really have thought of everything!
At any price, this cool little synth would be worth a look, but at the budget end of the spectrum, it's difficult to know what the drawbacks are! Go have some fun with this amazing little beast - Micro is the NEW Mini!
Arturia MicroBrute SE Analogue Monophonic Synthesizer, LIMITED EDITION WHITE  Was £248.00  Now £229.00
FOR MORE INFORMATION GIVE US A CALL ON 01202 597180 OR E-MAIL SHOP\@ABSOLUTEMUSIC.CO.UK.