NOVATION IMPULSE CONTROLLER KEYBOARD REVIEW
Posted on Mon 07 November 2011 in entries

Novation have a new controller keyboard on the block and it's called 'Impulse'! Now, my keyboard of choice for my home studio is currently a Novation 61 SL MkII, so I'm very curious to find out how this new model shapes up. Will it convince me to upgrade from a keyboard that I am already very happy with? Does it improve on the SL MkII or is it simply a different range of keyboard to complement this series? I'm going to find out!
NOVATION IMPULSE – WHAT IS IT?
Put simply, the Novation Impulse is a MIDI controller. This means that it doesn't feature any built-in sounds of its own, but when combined with a MIDI instrument/device (hardware or software), it becomes an in-depth controller for that particular device. So, for example, you may have a hardware synthesiser module that doesn't feature a keyboard of its own (e.g. the Waldorf Blofeld Module). You could connect the Impulse to the synth module and trigger its sounds using the Impulse controller's keyboard. Or, you could hook it up to your computer and use it to play your MIDI instrument's and control other parameters in your program. Because of their versatile control features, MIDI controller keyboards are often an important part of any modern studio.

](https://www.absolutemusic.co.uk/novation-impulse-61-usb-midi-controller-keyboard.html)
Now, the Impulse comes in 25, 49 and 61 key versions. For this particular review I will be looking at the 49 key version, although all three versions are more or less the same. In fact, the 49 and 61 key versions are identical apart from their size. The smaller, more portable 25 key version cannot cram in as many controls as the other versions (due to the limited space on the front panel), and so it features less assignable controls. However, we have an Impulse 25 set up on demo in our Bournemouth store, so it is extremely easy for me to make comparisons, and I will make sure that I explain any differences between models during the course of this review.
NOVATION IMPULSE – DESIGN & BUILD
The first thing that popped into my head when I saw the Impulse was, 'It looks like an M-Audio Axiom controller!' As well as employing semi-weighted keys and a similar shape, the layout of the controls is practically identical! The Impulse even gives you that trademark Axiom blue screen right in the centre of the front panel! Yes, there are slightly different control and button designs, but to the untrained eye, the only difference between them are those red side-panels of the Impulse! In fact, I wouldn't be surprised if Novation decided to release the Impulse with the sole purpose of stealing potential Axiom customers!
This similarity injects some added competition into the mix as I now have the Axiom's and the SL MkII's to compare the Impulse to… but which comes out on top?
Firstly I will talk about the design, and in my opinion, I actually slightly prefer the executive look of the Axioms. Their simplistic black design against the white of the keys and that glowing blue screen just gives them a plain yet professional appearance. However, this is most definitely a personal opinion and as with any audio equipment, how it looks should be the least of your worries…
Moving onto the controls and again, for me, the Axiom comes out on top! I remember being fairly disappointed with the feel of the dials when I first splashed out on my Novation SL MkII approximately 3 years ago – they had a fairly loose, cheap, plastic feel to them and this was something that I was definitely not expecting. Unfortunately, the Impulse has been built with many of the same flaws. I'm sure it has no doubt contributed to a reduced retail price, but again, the controls do not feel as sturdy as I would have ideally liked. The Axiom certainly has more solid-feeling dials, and they also have what feels like a rubber coating, making them nicer to play with. However, the 'cheap' knobs of my Novation SL 61 MkII are still going strong on my unit, despite heavy use, so I would assume that the Impulse will also have deceptively rugged controls!
In terms of the faders and buttons, the Axiom's and the Novation's are fairly evenly matched. The faders on all of the keyboards feel solid enough and the buttons have a nice rubber feel to them. In fact, the buttons on the Axiom's and the Impulse's are a little chunkier than those of the SL MkII, making them nicer to work with.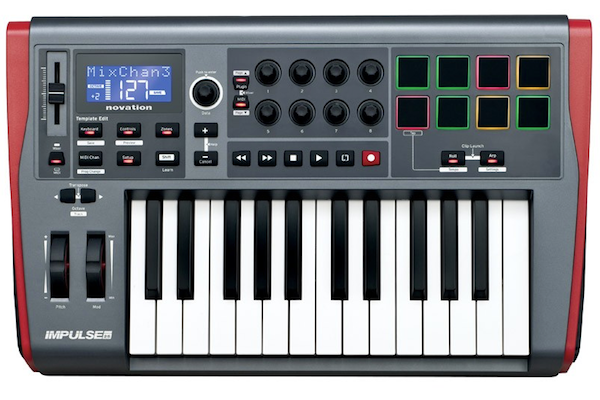 ](https://www.absolutemusic.co.uk/novation-impulse-25-usb-midi-controller-keyboard.html)
With regards to the pads (without actually using them to play anything), the Axiom and the Impulse win hands down over the SL MkII. The pads on the SL MkII are very small and despite being called 'pads', they have a really solid feel to them, making it difficult to judge how much pressure you are applying. In contrast, the pads on both the Impulses and the Axioms are nice and chunky and have an excellent firm rubber feel to them.
In terms of the screen, the SL MkII definitely gets a point here. I prefer the positioning of the screen on this controller (up the top and out the way, although still being very visible), as it does not intrude on any of the main control space. Its elongated design also means that it can display information relating to numerous controls at once, which is very useful for quick-reference purposes.
Finally and most importantly, the keyboard. Unfortunately for the Axiom, and not wanting to knock it as it is still a very popular keyboard, this is where it falls down in comparison to the Novations. The Impulse and SL MkII keyboards are both semi-weighted just like the Axiom's, but they both have a slightly different feel. To me, the SL MkII's keyboard feels a little more springy, like a classic synth, whereas the chunkier keys of the Impulse give it slightly more of an acoustic feel. In my opinion, both are excellent though and ideal for studio work and exactly which one you prefer will be down to personal taste.
Having played around with both the Axiom and Impulse keyboards, I just felt that the Impulse had a nicer keyboard response. The keys on the Impulse have a more solid feel compared to the Axiom's, making expressive playing a little easier. I'm guessing that there will be some people out there that will prefer the feel of the Axiom, but I imagine that the majority of players will agree that the Impulse comes out on top here.
In the next parts of my review I will incorporate the Novation Impulse in with my Logic set-up and explain each of its features in a little more depth…
NOVATION IMPULSE – ASSIGNABLE CONTROLS
All models of the Impulse controller feature 8 endless rotary encoders, meaning that they do not have physical start or end points, but instead can represent any value of any software parameter at any given time. This is brilliant for when you are switching between using the Impulse to control different software parameters as it means that the hardware controls will instantly take control of any parameter from the position that it is currently set at, without causing any sudden jumps. The knobs on the Impulse come with a special 'Plug-In/MIDI' button, which you can use to quickly switch them between controlling specific plug-in/mixer parameters and acting as general-purpose MIDI controllers. What's more is that each dial is sensitive to how quickly you move it, meaning that if you turn it sharply, it will produce a wide value change, and if you turn it slowly it will adjust a parameter with finer resolution steps - a very handy feature I am sure you will agree.
In addition to the dials, the Impulse keyboards also have 9 assignable faders and 9 buttons… apart from the Impulse 25 model, which only has one fader and no assignable buttons. The faders of the Impulse can be assigned to control whatever you want within a software application, although they are especially useful for controlling the fader's on your DAW's mixer. The fact that you have 9 of them means that you can have 8 faders assigned to individual channel strips and 1 assigned to a master level fader. Again, the control faders of the Impulse function in combination with two buttons: Mixer and MIDI (49 and 61 key versions only), meaning you can quickly switch them between controlling the levels of individual tracks in your mixer and acting as general MIDI controllers. The buttons can also be used in combination with the shift key to switch between fader banks – e.g. if you have more than 8 tracks in your project (which is more than likely in this day and age), you can quickly switch the faders so that instead of controlling channels 1-8, they are controlling tracks 9-16, etc. This is an extremely handy feature that really helps unite the software and the hardware controller as one. Just bare in mind that the faders aren't motorised so their physical position may not actually represent the position of the software fader that they are controlling. The Impulse 25 features a single button that toggles between Mixer and MIDI modes.
The buttons underneath each fader also help the integration of the Impulse with a modern DAW. They can either be assigned to control the mute or the solo state of their associated track, and a built-in LED will indicate their solo or mute status. It's extremely quick to switch between Solo and Mute modes - simply press one button to toggle!
In addition to all these controls, you also get a full set of transport buttons (back, forwards, stop, play, loop, record), which should automatically work with your DAW, a number of general settings buttons and a value dial and value buttons (for editing specific controls in the Impulse's screen). Plus, of course you get the standard Octave Transpose buttons and separate Pitch and Modulation wheels.
All-in-all, I was extremely impressed with the overall design of the Impulse keyboard, especially with how it integrated so closely with a modern DAW. Novation have obviously put a lot of thought into how they can make the average home-studio users life as simple as possible and using the Impulse really did help to speed up my workflow! Everything just made sense and I can honestly say that I've never used a MIDI controller like it!
In terms of control flexibility, the Impulse really does outperform the Axiom. In fact, in many ways, I even found it more flexible than my SL MkII! The only disadvantages to the Impulse are that the SL MkII has more assignable controls (including 8 endless rotaty encoders, 8 dials and a host more buttons) and the SL MkII has that extremely handy 'Speed Dial'. In fact, I was rather disappointed that the Impulse didn't have this because this one simple addition would have elevated it to a whole new level in my opinion.
The 'Speed Dial' (as featured on Novation SL MkII keyboards) allows you to quickly control any software parameter that you wish, whether it is assigned to a specific hardware control on your keyboard or not. Simply position your mouse over any parameter in your software and the Speed Dial instantly takes control of it! This is a brilliant feature that really helps improve the hands-on experience when working on a track. I use this a fair bit on my SL 61 MkII keyboard, especially for recording automation changes for single controls.
But, like I said, the Speed Dial is not featured on the Impulse keyboards. It's a shame, but luckily there are a lot of other things that I can shout about!
NOVATION IMPULSE – DRUM PADS
Novation Impulse keyboards have some great feeling drum pads. The pads are all velocity sensitive and can also respond to aftertouch if you so wish. What's more is that all the drum pads are backlit with tri-colour LEDs, which means that they can do things that other drum pads can't – e.g. act as a mini-Launchpad to trigger Ableton clips (it comes with Ableton Lite Live). This means that the Novation Impulse keyboard is also a brilliant option for live performance puropses.
The pads turn yellow to show that a clip is loaded, green to show that a clip is playing and red to show that it is recording. Of course, you can control the status of clips by pressing the pads, making Impulse by far the best keyboard for Ableton Live users!
NOVATION IMPULSE – ARPEGGIATOR & DRUM ROLL
I've often thought that it would be useful if controller keyboards featured built-in arpeggiators and Novation were obviously thinking the same thing because they have implemented one in the Impulse range!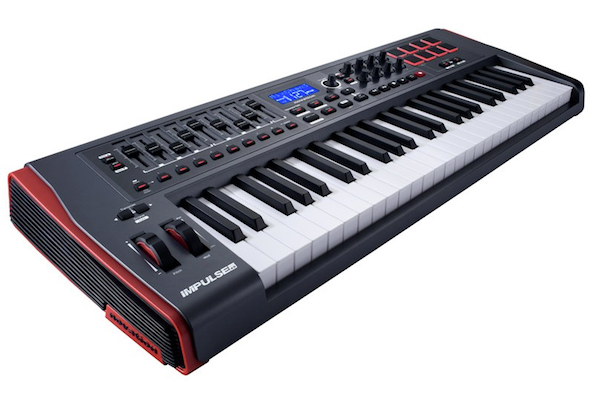 ](https://www.absolutemusic.co.uk/novation-impulse-49-usb-midi-controller-keyboard.html)
There is a single 'Arp' button underneath the main pads to activate the Arpeggiator mode, but there are also a number of more in-depth arpeggiator controls in the 'Arp Settings' menu. I was extremely impressed with how complete the arpeggiator controls were – the Impulse arpeggiator gave me everything that I would expect from the arpeggiator of a professional synthesiser: a number of patterns, gate (for setting how long the notes sound), swing, arpeggiation mode (Up, Down, Up Down 2, Chord, Up Down, Random, Key Order), octaves, and arpeggiation length. You can also set the tempo of the arpeggiation in the global tempo settings menu (which can also be synced to the tempo of a host application).
However, the Novation Impulse doesn't just give you an excellent standard arpeggiator – it also takes things a step further by allowing you to customise each pattern! In arpeggiation mode all the pads light up green and when you begin the arpeggiation, each pad lights up in sequence at a more prominent intensity, to visually demonstrate how the arpeggiation sequence is progressing. However, by pressing each pad, you can also choose to remove that particular step from the pattern (causing the pad to light up red). Therefore you can warp arpeggiation patterns in real-time, muting and activating different parts of a pattern as you choose! This is both an excellent feature for live performance and for studio use.
What's also rather cool (although it can be a bit of a pain to set-up exactly how you want) is that each step in the arpeggiation will sound at the velocity that that you used to activate the pad. By default, each step will be triggered with the same velocity, but you can quickly change this if you want to add a more natural characteristic to the sequence. I'm glad that this feature is here, although as I said, it can be a little fiddly if you take out an arpeggiation step and then need to re-activate it at exactly the same velocity for continuity purposes.
The Impulse pads also come with a feature called 'Beat Roll', which can be used to create roll effects by holding a pad down for as long as you require the note to roll for. This is a brilliant feature to use with percussive parts and because the pads are pressure sensitive, you can also create rolls that have a moving characteristic, sweeping in and out of a mix as you vary your finger pressure on the pad. You can even tap the tempo of the roll yourself and the pads flash in time with it!
Looking through the main Impulse menu, there is a load more that you can do as well. You can adjust the velocity response of the pads (between three different velocity tables) for different playing styles, specify a clock source, define MIDI channels, adjust the keyboard velocity response (between four different velocity tables), and loads more.
NOVATION IMPULSE – AUTOMAP & INCLUDED SOFTWARE
For a long time, Automap has been the feature that has set Novation controllers apart from their rivals. Yes, M-Audio do feature their own version of this software (DirectLink) for their Axiom keyboards, but I have always found Automap easier to work with.
Impulse keyboards come with the brand new version of Automap, featuring an improved graphical interface and a number of other little tweaks. When Automap mode is enabled you can view an Automap screen, which looks very similar to the interface of the Impulse controller itself. Whenever you open a new plug-in, the software will intelligently map the controls of the software to controls on the hardware and a label will appear next to each software control (within the Automap screen) to signal which hardware control will affect it. In the new Automap software you can also select a drop-down menu for each control and assign it to a new parameter, and you can also quickly set defined ranges that the hardware controls cannot go beyond. This is brilliant if you are playing live or recording automation changes. For example, you may want to adjust a filter cut-off manually, but never want to go beyond the limits of 40-60%. Instead of having to be really careful with your controller movements, simply define the limits of the control in the software and go crazy, safe in the knowledge that even if you crank the the dial to its extreme settings, you will still never exceed these limits. You can even save and recall Automap templates using the Impulse keyboard, meaning that you only need to create your custom mappings once.
This new Automap software is a fantastic improvement on the old software. In all honesty, I actually prefer to create completely custom mappings for all my most used plug-ins, as this means that I am in complete control and can decide how best to organise my controls. This also means that I find it easier to remember what each control on the hardware does for each plug-in, as it was me that set it. However, I still find the automatic mapping features of Automap very useful for my less commonly used plug-ins.
As well as Automap, the Novation Impulse keyboards come with Ableton Lite Live, Novation Bass Station, a 1GB Loopmasters Sample Library (royalty free) and a 512MB Mike the Drummer percussive loops library.
Ableton Lite Live is an excellent piece of software with a number of included software effects and instruments. However, for projects or live performances that extend to anything beyond the very basics, it isn't really powerful enough, as it only allows you to run up to a maximum of 8 audio and 8 MIDI tracks simultaneously. However, it does also give you £50 (at the time of writing) off the full version of Ableton Live 8, so it gives you a very tempting path to upgrade.
As for the samples that come with the Impulse keyboards, they are all very good. Additional samples are always welcome in my studio and although I wouldn't be too keen on ripping some of those loops straight from the packs for use in my projects, they are great to chop up and manipulate into something more unique.
As for the Bass Station, this is a software emulation of a classic Novation hardware synth. Now, it doesn't have all that analogue warmth of the original, but it is an amazing little plug-in instrument to be included for free and it sounds brilliant!
NOVATION IMPULSE – SUMMARY
I predict that these products are going to make a huge impact on the home-studio market. The Impulse keyboards seem to pull together so many aspects of modern studio (and live performance) life into one compact unit. First and foremost it is a MIDI controller keyboard with a great feel and response when playing, but then it is also a DAW controller, a plug-in controller, a Lauchpad, an arpeggiator and a set of drum pads all in one! Plus, it comes with an impressive bunch of free software to top it all off!
I think that M-Audio need to do some work to bring their Axiom range up to this standard because at the moment I think that the Impulse keyboards are superior in so many ways. Compared to Novation's SL MkII range, I would say that the Impulse keyboards have a lot of advantages, despite being cheaper. If you don't have the budget for additional DAW controllers, or you want some basic means of launching clips in Ableton, then the Impulse is the keyboard for you! Also, if you prefer a more acoustic semi-weighted keybed (with the chunkier keys), then you will want to get your hands on one of these. However, I haven't been persuaded to sell my current SL MkII just yet. Having become accustomed to the way that it fits in with my home-studio with its additional assignable controls, I think that I currently have the best keyboard for my needs. Plus, I am currently saving up for a DAW controller, so soon I will not need this functionality of the Impulse.
I've seen a few people moaning on the internet that the Impulse brings nothing new to the table and that it has just been introduced to compete with the Axiom range. Whilst I'm sure that this last statement is true, I think that these people need to do a bit more research before they jump to such conclusions based on looks alone. Novation's range of Impulse keyboards are about as unique as you can get in todays market and an amazing all-in-one solution for any bedroom producer. As they say, looks can often be deceiving…
For more information on Novation's Impulse range of keyboards or to buy one click the relevant link below:
Novation Impulse 25 – More Info/Buy

Novation Impulse 49 – More Info/Buy

Novation Impulse 61 – More Info/Buy

For more information on the Novation SL MkII range or to buy one, click the relevant lin below:
Novation SL 25 MkII - More Info/Buy

Novation SL 49 MkII - More Info/Buy

Novation SL 61 MkII - More Info/Buy

******If you're interested in buying and you have seen it cheaper elsewhere, please call us or use our
---
As well as receiving our first rate customer service you can also claim money off your next purchase with our loyalty points scheme and receive a 3 year warranty if you sign up to our FREE VIP Club (click here for more infomation). Many of our items also come out on a FREE next-day delivery service to mainland UK customers, so you won't be left waiting!
Also, if you want to keep up with all our latest offers, competitions, news and videos, why not follow us on Facebook and Twitter?