AUDIO TECHNICA ATH-M50 REVIEW
Posted on Thu 08 September 2011 in entries

I've recently been treated to some absolutely stonking top-end products to review, so when my latest list of review products came through and I saw that the Audio Technica ATH-M50 headphones were on there, I was a little disappointed! For one, I already own a pair so it is nothing new for me to try and for another… what the hell happened to all those expensive mixers and DAW controllers that I had got so used to reviewing over the last couple of months?!! Ha! Well, at least this review should be fairly straight forward as I use these cans pretty much everyday and for very good reason…
AUDIO TECHNICA ATH-M50 – INTRODUCTION
Woah, slow down there! Let's start at the beginning, so here is a quick summary of what the Audio Technica ATH-M50s are…
The Audio Technica ATH-M50s are professional studio headphones, designed to give the listener a true and accurate representation of the music that they are hearing. Yes, that's right, these have been especially designed for professional monitoring and mixing. They feature a collapsible design for portability (the ear-pieces fold inwards), 180 degree swivelling ear-pieces (allowing them to shape to your head when monitoring with one ear), padded ear cushions for comfort and sound isolation, a 1.2 - 3m coiled cable and a gold-plated mini plug adapter.
The Audio Technica ATH-M50 boasts an ultra-impressive frequency response of 15Hz – 28kHz (yep, they go below and above the limits of human hearing), they feature a sensitivity of 99dB and an impedance of 38 Ohms. Oh, and they come with a lovely little protective 'pouch'! Awww! ;)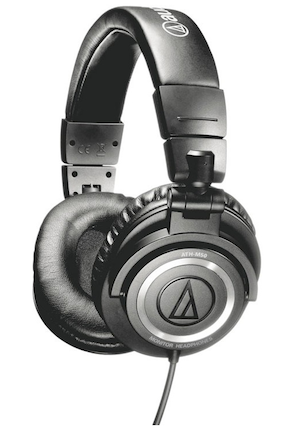 ](https://www.absolutemusic.co.uk/audio-technica-ath45m50-headphones.html)
AUDIO TECHNICA ATH-M50 – WHY DID I BUY THEM?
Now, if you haven't guessed by now, I work for a music store! No? Really? This means that I have access to a wide range of headphones from a variety of brands… so if I chose the Audio Technica ATH-M50s out of everything else, it must have been for a good reason, right? Correct! But let's rewind a little from this…
The first reason that I decided to purchase another pair of headphones was because I used to DJ in clubs on a regular basis. After purchasing (and breaking) my fair share of different headphones in the past, I finally settled on a pair of Sennheiser HD25s as my DJing weapon of choice, which I have been using for almost ten years now! This decision was inspired firstly as they were the headphone of choice for my teenage DJ idols, Andy C and Mampi Swift (probably only recognisable to all you Drum and Bass fans out there), secondly because they have an awesome bass response and amazing isolation (just perfect for mixing in a loud club) and thirdly because despite looking cheap and plastic, they lasted ages!!! Seriously, my first pair lasted for almost 8 years… that's 8 years of being shoved in a record bag, dragged around the country, knocked around when passed between me and my mates during a frantic back-to-back bedroom mix session, etc, etc, etc… they went everywhere with me and I only had to throw them out because (eventually) one of the ear-pieces fell off! Because of this, my first pair of battered, yet loyal Sennheiser HD25s were retired to the dustbin and I went straight out and got myself a new pair! Compare this to some of the equally expensive headphones that I used before this (which looked like armoured Transformers but snapped within a couple of months) and hopefully you can understand why I rate these headphones so highly!
However, once I settled down in my home studio, I soon began craving a second pair of headphones. The idea was that my trusty Sennheiser HD25s would function solely as my DJing headphones, standing up to all the bumps and knocks of life on the road and providing me with that enhanced pumping bass, whereas a second pair of headphones would sit calmly in my studio, in pristine condition and serve to help me flesh out a perfect mix.
Therefore, my next decision was to decide on the perfect set of headphones to fulfil this role. My initial thought was to get a second pair of Sennheiser HD25s! Why not? I was used to them, they had served me well and they sounded brilliant! However, after a little consideration I decided that it would be best to get something a little different, with a flatter frequency response, especially in the lower frequencies, to help me better craft my mix.
So, I wanted a headphone with the flattest frequency response for my budget (around £200 - £250)… something that would show up all the flaws of my mix and highlight any minor sonic details. I wanted them to reach those sparkling highs and those deep lows, but I didn't want them to colour the sound in any way, or essentially make a track sound better than it really was... I just wanted it to show the truth!
My mission began, so I started by reading online reviews and asking for recommendations at work. To my surprise, the product that came up most was a set of headphones that cost almost half my budget… the Audio Technica ATH-M50.
After one listen and comparisons with a few other headphones, I was sold… these were the headphones for me…
AUDIO TECHNICA ATH-M50 – THE SOUND
The sound that I got from the Audia Technica ATH-M50 was just what I was looking for. In comparison to my Sennheiser HD25s, the sound was less lively (mainly due to the decreased bass response), but this was exactly what I wanted as it really made bad mixes stand out… it was either obvious that the levels were unbalanced, or the track just sounded ultra lifeless. What's more is that when a mix was good, it still sounded excellent!
I especially like to use the Audio Technica ATH-M50 headphones to help me mix the bass elements of my tracks. As the bass elements on a good mix are audible but not overpowering on these headphones, any unusually loud bass characteristics stand out like a sore thumb! Like me, you may often get carried away with those low frequencies… after all, the bass is the driving force behind the types of music that I usually make and I have a tendency to push that bass up in my mix until it's pumping out louder than everything else, just like in a club! However, using these headphones as a reference really helps to remind me that I'm not in a club (even if I'm jumping around like a mad man!) and that I need to hold back and search for a better balance. Trust me, these headphones really are an integral part of my studio now and it would make the job of mixing a lot more difficult if I didn't have them.
I would also highly recommend the Audio Technica ATH-M50 headphones for a number of purposes besides mixing, including for use with digital pianos, electric guitars, etc, and they are even excellent for general listening purposes.
AUDIO TECHNICA ATH-M50 – THE DESIGN
I don't think that they are the snazziest looking headphones in the world (black with a few silver trimmings), but it's really all about the sound. Having said that, I think they look alright! It's just that that plastic moving design reminds me all too much of a number of the headphones that I owned in my teens, that snapped all too easily during hectic DJ sets! Luckily these will be staying safe and sound in my studio though and they are still in pristine condition after 8 months of use.
I must also add that the Audio Technica ATH-M50s are very comfortable and flexible enough to fit all sorts of different shapes of head!
Comfort + excellent sound = one damn fine pair of cans!
AUDIO TECHNICA ATH-M50 – SUMMARY
I've had my ATH-M50s for 8 months now and I'm extremely happy that I chose them for my home studio. These are now the headphones that I tend to recommend for most purposes (apart from applications where enhanced bass response is essential, in which case I point people in the direction of the Sennheiser HD25), having found them to more than compete with a number of headphones of twice their price.
I even use my Audio Technica ATH-M50s to listen to a lot of professionally mixed CDs, both for gaining an idea of how tracks should sound and because sometimes I just like kicking back and chillaxing... in my opinion, listening to a good album is much more entertaining than numbing my mind in front of the latest Big Brother episode! I found that these headphones were also excellent for this purpose, so if you are simply an audiophile looking for a great listening experience, then I would recommend treating yourself to a pair of these!
Now, when creating precision mixes I still prefer to use my studio monitors to perform the majority of the work. However, as I have already mentioned, these headphones are excellent for reference purposes and I often find myself switching between my monitors and the ATH-M50s as my mix reaches the latter stages, as these headphones can really help to give you a different perspective on your mix.
What's more is that when I purchased my Audio Technica ATH-M50s, I also got myself a Focusrite VRM Box and I can recommend these two products as perfect companions. The Focusrite VRM Box works by changing the frequency response of your headphones and applying some clever algorithms to the sound, to allow you to hear your mix through your headphones as if it were coming from a set of speakers in front of you! It even supplies you with a number of speaker models and environments so you can reference your mix in a huge number of situations! Confused? Click here to learn more about VRM technology and hear it for yourself.
This is an amazing tool for mixing if you do not have a pair of studio monitors to work from, or simply can't turn them up because it's too late, too early, etc. It also means that whether you are on the train or away at your parents' for the weekend, you can still perform a high quality first mix on a track.
The thing with the VRM Box is that its efficiency is highly dependant on the quality of the headphones that you use with it. For example, if you are using a pair of headphones that can't reproduce those high frequencies, then the VRM Box will not fix this. In a similar way, if you are using a pair of headphones that massively exaggerates the bass, the reproductions from the VRM Box will also have exaggerated bass. In other words, the VRM Box will not make your headphones any better than they really are!
Hence, the type of headphone that would perfectly partner the VRM Box is a headphone that is as flat (in terms of frequency response) as possible and has an excellent frequency range. Sound like anything familiar?
I tend to use my VRM Box to reference my mixes once I have worked on them through my studio monitors, ATH-M50s and my hi-fi. It is like having a whole set of reference monitors in one tiny box, allowing you to get the perfect mix that will suit all situations.
If you like what you have heard, then the Audio Technica ATH-M50s are probably the headphones for you, just like they were for me! Plus, their competitive price just makes them even more of a 'must-have' gadget! Once they have completed a wearing-in period of 2-3 hours, you should find that these headphones become your trusty companion for both detailed studio-work and recreational music listening. They certainly score top marks from me!
For more information on Audio Technica ATH-M50 headphones or to buy a pair, click the link below or give us a call on 01202 597180.
Audio Technica ATH-M50 Headphones – More Info/Buy

Audio Technica ATH-M50S Headphones (Straight Cable) - More Info/Buy

Audio Technica ATH-M50 Headphones With VRM Box Bundle - SAVE £££s!!! - More Info/Buy

Focusrite VRM Box – More Info/Buy

Sennheiser HD25 Headphones (Basic Edition) – More Info/Buy

Sennheiser HD25 Headphones (With Accessories) – More Info/Buy

******If you're interested in buying and you have seen it cheaper elsewhere, please call us or use our
---
As well as receiving our first rate customer service you can also claim money off your next purchase with our loyalty points scheme and receive a 3 year warranty if you sign up to our FREE VIP Club (click here for more infomation). Many of our items also come out on a FREE next-day delivery service to mainland UK customers, so you won't be left waiting!
Also, if you want to keep up with all our latest offers, competitions, news and videos, why not follow us on Facebook and Twitter?