NAMM 2012: ROLAND TD-30K ELECTRONIC DRUM KITS
Posted on Tue 24 January 2012 in Drums

Electronic drummers will be pleased as Roland have announced another 2 products in their famous TD range and amazing V-Pro series. These new Roland products make use of SuperNATURAL sounds and Behaviour Modelling, as well as advanced sensing technology, which gives them an unbelievable natural feel, allowing you to add all those subtle nuances that give pro drummers their unique styles. On top of this, the TD-30K kits feature USB connectivity, allowing you to hook it up to your computer for MIDI data transfer. Plus of course, both kits feature a whole host of parameters that allow you to customise each sound and kit to taste.
The Roland TD-30K kit is the smaller of the two kits, featuring a hi-hat, snare, 3 toms, a ride and 2 crash cymbals, and of course a kick drum. The TD-30KV is the larger kit, featuring an extra Tom and a lot more new technology, including the new V-Hi-Hat with an improved motion sensor and realistic hihat response, new V-Pads with improved rim sensors and new cymbals with more accurate triggering than ever before!
For drummers seeking the benefits of an electronic kit, whilst still demanding that acoustic sound and feel, look no further than the new TD-30K kits!
[caption id="attachment_1481" align="aligncenter" width="300" caption="Roland TD-30KV Electronic Drum Kit"]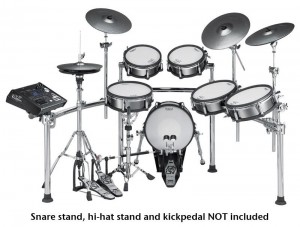 ]({static}/uploads/2012/01/roland-td-30kv.jpeg)[/caption]
For more information on the Roland TD-30K kits, click the relevant link below: