NATIVE INSTRUMENTS ANNOUNCE TRAKTOR AUDIO 2 MK2
Posted on Tue 05 November 2013 in DJ Gear
Native Instruments have updated their popular Traktor Audio 2! The Traktor Audio 2 Mk2 is an extremely compact USB 2.0 DJ interface... in fact, it's so small that it will fit in the palm of your hand or your pocket (its dimensions are 16.2 x 55 x 84.3 mm)!
The Traktor Audio 2 Mk2 features a main stereo output and stereo headphone output, allowing you to cue your tracks while your crowd are rocking out. Plus, with 24-bit/48kHz resolution, you can be confident of getting high-quality, detailed sound.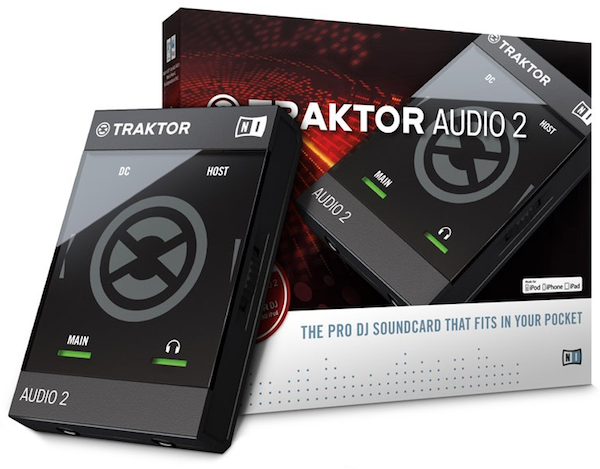 If you're using the Traktor DJ App on your iPad/iPhone then you can also improve the sound quality and increase the level of your mixes by hooking the Traktor Audio 2 Mk2 to it. The new Traktor Audio 2 Mk2 even comes with a 30 pin iOS cable for this exact purpose, and you can purchase an optional power supply if you wish to charge your iOS device while playing.
Please note that the Traktor Audio 2 Mk2 no longer comes with the full Traktor Pro software. However, it does ship with Traktor LE 2, so you can get up and running straight out of the box. There's also a €50 voucher included for spending in the online Native Instruments shop, which will give you significant savings on the full version of Traktor Pro, or any other Native Instruments software that you desire.
For more information on the new Native Instruments Traktor Audio 2 Mk2, click the link below, give us a call on 01202 597180 or e-mail shop@absolutemusic.co.uk.
Traktor Audio 2 Mk2 - More Info/Buy
CLICK HERE for more info on the Traktor DJ App for iPad
CLICK HERE for more info on the Traktor DJ App for iPhone/iPod Touch