SNOW PATROL & FOCUSRITE FORTE
Posted on Wed 23 October 2013 in Computer Music
The Focusrite Forte is a portable 2-in, 4-out USB 2.0 interface with a top-quality sound! Compatible with both Mac and Windows computers, the Forte features a colour OLED display for monitoring your recordings, as well as two of Focusrite's renowned RedNet remote-controlled microphone preamps and super clean converters.
In this short interview, Jonny Quinn from the band Snow Patrol explains why he loves his Forte for recording acoustic demos and capturing new ideas.
CLICK HERE to read the interview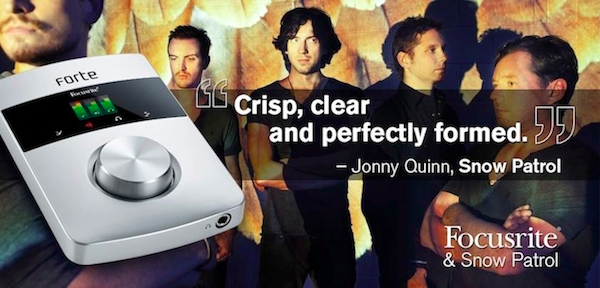 For more information on the Focusrite Forte, click the link below, give us a call on 01202 597180 or e-mail shop@absolutemusic.co.uk.
Focusrite Forte - More Info/Buy
CLICK HERE to view our range of Focusrite Forte money-saving bundles