NOVATION LAUNCHPAD APP - UPDATE
Posted on Wed 30 October 2013 in Computer Music
Novation's hugely popular FREE Launchpad iPad App has now been updated, with a number of bug fixes and a brand new Audio Import function! This is something that users have been asking for since the release of the Launchpad App and it now means that you aren't limited by the sounds that come with it. If you've got some of your own WAV or AIFF samples and loops then you can now import them into the App using Dropbox (free Dropbox account required), assign them to pads of your choice and then trigger them with the App. The Launchpad App also features time-stretching so that all your loops will stay in perfect time with each other.
CLICK HERE to download the FREE Novation Launchpad App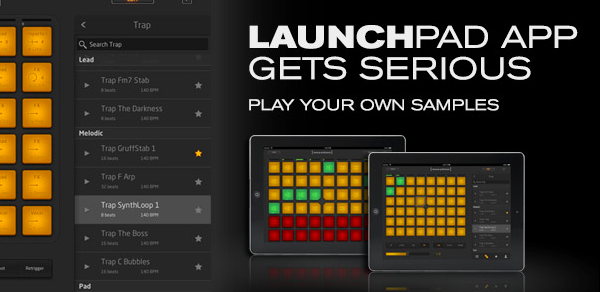 In addition to the new Audio Import function, the Launchpad App update also features an improved library manager (allowing you to browse categories, packs and create favourites), new trigger and sync types and the ability to edit levels on a per pad basis.
If you want to get even more hands-on with Novation's Apps (you may also want to check out their free LaunchKey synth App - CLICK HERE for more info), then don't forget that many of Novation's controllers are now iOS compatible (as well as working with Mac and PC computers). For example, use a LaunchKey keyboard to trigger the sounds in the LaunchKey App! Or hook up a Launchpad S, Launchpad Mini or Launch Control to your iPad in order to gain more control over the Launchpad App.
For more information on any iOS-compatible Novation controller, click the links below, give us a call on 01202 597180 or e-mail shop@absolutemusic.co.uk.
CLICK HERE to view our range of LaunchKey controller Keyboards & bundles
Novation Launchpad S - More Info/Buy
Novation Launchpad Mini - More Info/Buy
Novation Launch Control - More Info/Buy
Novation Launchpad Mini & Launch Control Bundle - SAVE £££s!!! - More Info/Buy