NEW 25-NOTE CONTROLLER KEYBOARD FROM AKAI - THE MAX25
Posted on Tue 29 January 2013 in Computer Music

At NAMM 2013 Akai have announced a new 25-note controller keyboard, which is set to join the larger MAX49. The compact MAX25 features 25 semi-weighted keys with aftertouch and most unique of all, four LED touch faders. Simply assign these fader to the software parameters of your choice and swipe your finger(s) up and down over them to make real-time changes. This approach has its advantages over traditional hardware faders because the LEDs will always show the current value of an assigned parameter even if you switch banks.
The Akai MAX25 comes with AkaiConnect software, which intuitively automatically maps the controls of the MAX25 to your VSTs. In terms of the hardware, the MAX25 also features 8 MPC pads, MPC Note Repeat and Swing, 4 pad panks and 4 fader banks, giving a total of 64 assignable pads, faders and buttons.
The Akai MAX25 also features a step-sequencer and arpeggiator, plus CV and Gate outputs, as well as Mackie Control and HUI modes.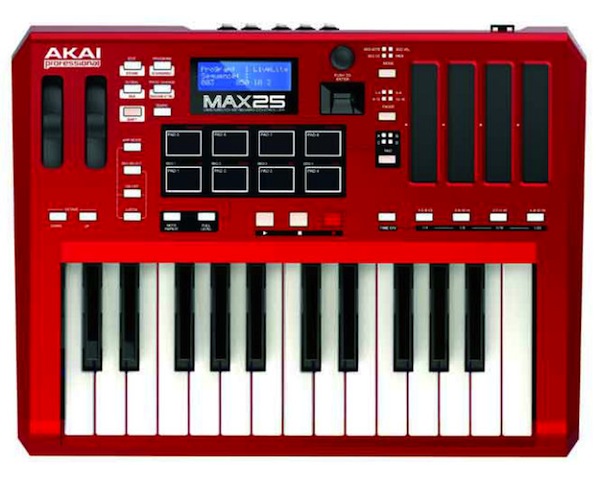 ](https://www.absolutemusic.co.uk/akai-max25-compact-25-note-usb-midi-cv-keyboard-controller.html)
If you're after a compact MIDI controller keyboard that is packed with features and controls then look no further than the Akai MAX25.
For more information on the Akai MAX25, click the link below or give us a call on 01202 597180. If you like the idea of the design but need more keys and controls then check out the Akai MAX49!

******If you're interested in buying and you have seen it cheaper elsewhere, please call us or use our
---
As well as receiving our first rate customer service you can also claim money off your next purchase with our loyalty points scheme and receive a 3 year warranty if you sign up to our FREE VIP Club (click here for more infomation). Many of our items also come out on a FREE next-day delivery service to mainland UK customers, so you won't be left waiting!
Also, if you want to keep up with all our latest offers, competitions, news and videos, why not follow us on Facebook and Twitter?