FREE HEADPHONE PREAMP WITH AUDIOBOX 1818VSL INTERFACE
Posted on Wed 11 December 2013 in Computer Music
The PreSonus AudioBox 1818VSL is a USB 2.0 audio/MIDI interface with 8 analogue inputs/microphone preamps, 8 balanced line outputs, plus S/PDIF and ADAT in and out, allowing you to connect another ADAT device to increase your I/O count to 18 ins and 18 outs. This makes the AudioBox 1818VSL an affordable solution for producers/engineers working with large recording projects.
From 1st November 2013 until 31st January 2014, anyone purchasing and registering a new AudioBox 1818VSL from us will be able to claim a FREE HP4 headphone preamp (worth £89) directly from PreSonus.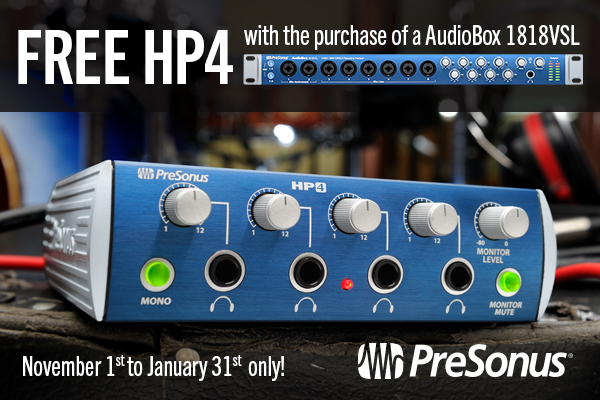 The PreSonus HP4 provides four discrete headphone outputs, each with its own volume pot. It also features controls for room monitors, along with 'monitor mute' and 'mono' switches.
HOW TO CLAIM YOUR FREE HP4
• Purchase a new PreSonus 1818VSL interface from us - CLICK HERE.
• Once received, CLICK HERE to download the online rebate form. Terms and conditions are printed on the rebate form.
• Fill in all information on the rebate form.
• Send a copy of the filled in rebate form AND a copy of your sales receipt to sales@sourcedistribution.co.uk. Rebate forms must be received by 1st March 2014 at the latest.
• Once verified, Source Distribution (the UK suppliers of PreSonus) will send you your free HP4.
For more information on the PreSonus 1818VSL or HP4, click the links below, give us a call on 01202 597180 or e-mail shop@absolutemusic.co.uk.
PreSonus 1818VSL USB 2.0 Interface - More Info/Buy