ARTURIA UNVEIL THE SPARKLE
Posted on Fri 25 January 2013 in Computer Music

Arturia have announced that they will be releasing the SparkLE; a new hybrid instrument that is based on Arturia's current Spark drum machine. The SparkLE combines elements of traditional drum machines with sample-based beat boxes and physical modelling. It works with samples and also synthesis, providing great tweakability and versatility for creating your own unique beats and sounds.
If you're wondering what a 'hybrid' drum machine is, it's essentially a product that makes use of both hardware and software. This approach offers many advantages, one of the main ones being that you get a hands-on hardware experience, whilst working on a platform that can be freely and easily updated in the future to move with the times.
http://www.youtube.com/watch?v=AS-bjMGzJC8
The SparkLE is ideal for both studio and live use. If you want to quickly build-up drum and synth loops then the SparkLE's step sequencer is the place to head. Each of the 16 SEQ buttons illuminate when active so that you can visualise your patterns, and each pattern can have up to 64 steps. However, you can also use the SparkLE's velocity sensitive pads to create and/or record a performance in real-time! Just like the original Spark, the SparkLE also features the XY pad, allowing you to add natural- (or unnatural-) sounding special effects in time with the beat.
The SparkLE has 3 assignable encoders, which work in conjunction with the currently selected sound. These can control things like pitch, filter cutoff, resonance, insert effect parameters and much more.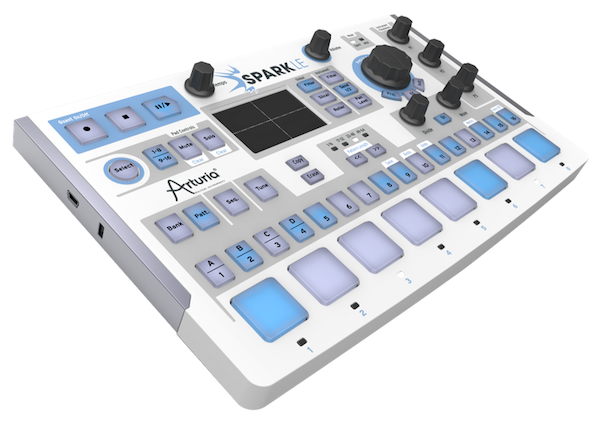 ](https://www.absolutemusic.co.uk/arturia-sparkle-hybrid-software-hardware-creative-drum-machine.html)
The software that comes with the SparkLE is also extremely intuitive and great for working in the studio. It features an in-depth mixer with effects, an intuitive automation screen and it offers a great way to organise your patterns, which comes in real handy if you are using them to build-up complete songs.
But what about the sounds? Well, you'll be pleased to know that the SparkLE comes packed with a load of high-quality content. From Hip Hop to Dubstep kits, RnB to Minimal Techno hits, Trance to Techno sounds and much more! Plus, the SparkLE also comes with Arturia's Vintage Drum Machines software (also available separately), which provides authentic-sounding software emulations for some of the most sought-after vintage drum machines ever. This includes the Roland TR-808, TR-909, TR-707, TR-606, the LinnDrum, the Oberheim DMX and many more! Imagine getting hands-on with all of these classic instruments and being able to tweak and refine all the sounds! Beats samples doesn't it?!
For more information on the Arturia SparkLE, give us a call on 01202 597180.
Arturia SparkLE - More Info/Buy


Arturia Spark Vintage Drum Machines Software - More Info/Buy

******If you're interested in buying and you have seen it cheaper elsewhere, please call us or use our
---
As well as receiving our first rate customer service you can also claim money off your next purchase with our loyalty points scheme and receive a 3 year warranty if you sign up to our FREE VIP Club (click here for more infomation). Many of our items also come out on a FREE next-day delivery service to mainland UK customers, so you won't be left waiting!
Also, if you want to keep up with all our latest offers, competitions, news and videos, why not follow us on Facebook and Twitter?