THE HOOD INTERNET & SCARLETT 2i4
Posted on Mon 06 January 2014 in Computer Music
The Hood Internet are best known for their mashup mixtapes and their quest to deliver dancefloor-friendly tracks to different cities across the world.
Their set-up revolves around two MacBooks, each running Ableton Live software, with each connected to a separate Focusrite Scarlett 2i4 interface. The Scarlett 2i4s are then hooked up to separate channels of a DJ mixer, allowing them to control each signal in the same way you would if you had two turntables fed into a mixer.
In addition to this, the Scarlett 2i4's preamps make it an ideal interface for use in a home or mobile recording set-up, and that's exactly what The Hood Internet do, running one alongside Ableton again.
CLICK HERE to read the full interview.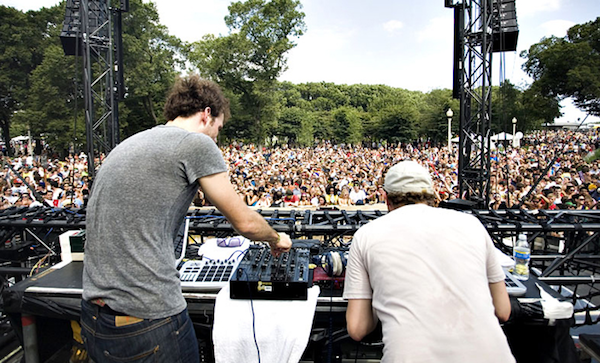 The Focusrite Scarlett 2i4 is a compact professional USB 2.0 interface with MIDI I/O, two mic/line/instrument inputs and four line outputs. Having this extra pair of outputs is ideal for DJing with software, as it allows you to create a cue track in your headphones. However, high-quality sound alongside very competitive pricing also makes Focusrite's Scarlett range an extremely popular choice with home studio owners and musicians.
Ableton Live is a popular piece of DAW software, which combines a traditional 'arrange' view (for recording and arranging sounds) with an innovative matrix view, for launching clips, making live remixes and trying out different compositions on-the-fly. This makes Ableton an ideal choice for producers and/or live performance artists who want maximum flexibility to get creative.
Ableton is available in four different versions. There is the Lite version, which comes free with selected pieces of hardware, including Scarlett interfaces. Ableton Lite provides an extremely cut-down version of the full software, for getting up and running with basic projects, where you require very few instruments and effects and no more than 8 tracks. That said, it does allow you to upgrade to the full version for cheaper - CLICK HERE, or HERE for the upgrade to Live Suite. If you need a little more, then there's Live Intro, which comes with 3 instruments, 26 effects and 4GB of sounds.
Now we move on to the big boys, with the full version of Ableton Live 9 offering a host of sounds, instruments, effects and the full set of professional editing tools. Finally, if you crave even more instruments, effects and samples, as well as access to Max For Live, which allows you to create your own software devices and access to another huge library of plug-ins, then the Suite version is for you
For more information on the Focusrite Scarlett 2i4 interface or Ableton Live software, click the links below, call us on 01202 597180 or e-mail shop@absolutemusic.co.uk.
Focusrite Scarlett 2i4 - More Info/Buy
CLICK HERE to view our range of Scarlett interfaces & bundles
Ableton Live 9 - More Info/Buy
Ableton Suite 9 - More Info/Buy