Rob Papen announces free upgrade to eXplorer IV offer
Posted on Thu 08 September 2016 in Computer Music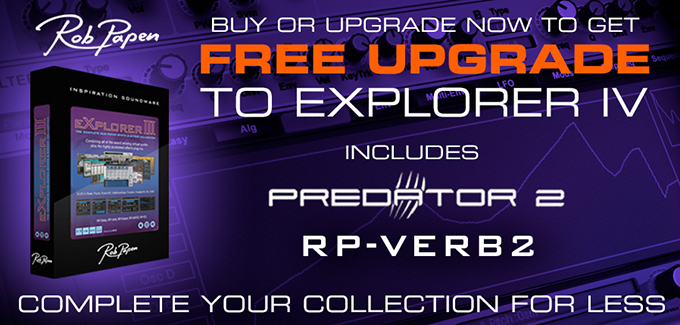 Rob Papen is one of the industry's leading virtual synth developers. Over the last few years he has released a series of multi-award winning high quality software plug-ins including SubBoomBass, Blue II, and Punch (to name a few), which have become essential tools for many of the world´s leading music producers.
Combining eight Rob Papen virtual synths plus the company´s six award winning effects plug-ins, eXplorer III provides all the tools you need for contemporary music production including thousands of rich, complex, track-ready presets created by Rob Papen and guest artists including acclaimed DnB artists Noisia.
With the arrival of Predator 2 just around the corner, the fourth version of eXplorer will be released. This will contain Predator 2 as well as RP-VERB 2 in the near future.
Right now, anyone who buys or crossgrades to eXplorer III will get to upgrade to eXplorer IV for FREE! This means you'll get Predator 2 with all its incredible new features and presets for no extra cost, as well as RP-VERB 2 when it's released later this year.
Already own a Rob Papen product? Choose from the following crossgrade paths…
Crossgrade for owners of one Rob Papen product – SRP £232
Crossgrade for owners of three Rob Papen products – SRP £116
Please note: the grace period for eXplorer III purchases/upgrades extends back to 1st July 2016 and runs through to 30th September.