Superior Drummer 3 UK Exclusive Demo Evening - 21st September
Posted on Thu 21 September 2017 in Uncategorized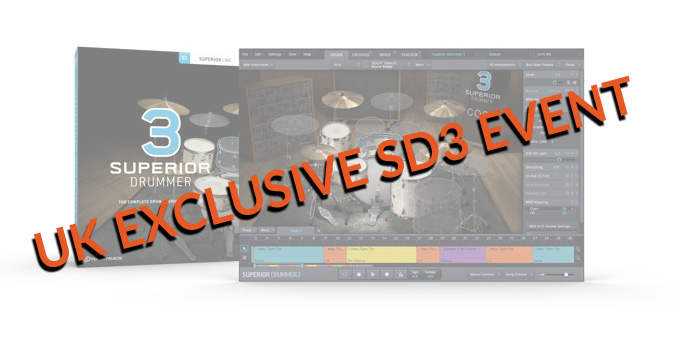 If you are as excited about the release of Superior Drummer 3 as we are then you will want to come along to our exclusive Toontrack SD3 evening on Thursday 21st September at 7pm.
Come and meet the Toontrack product experts to see and hear SD3 in action for yourself at the UK's only official Superior Drummer 3 event.
The Product Specialists will be demonstrating their new flagship drum software at a special seminar at our superstore in Bournemouth. All of the new features of SD3 will be explained, including its surround sound capabilities, the new kits recorded by George Massenburg, triggering sounds live, using macros, and the seriously updated drum replacement functionality.
On the evening we will be joined by Austin Lane who will be playing a kit from Premier Drums to trigger the sounds of Superior Drummer, so you can see and hear the software in full swing.
Book your place now, tickets are very limited!
Join us on the evening and be entered into a prize draw. One lucky attendee will walk away with a free copy of Superior Drummer 3 just for turning up!