ADAM A7X: 7TH ANNIVERSARY COMPETITION
Posted on Mon 08 May 2017 in Uncategorized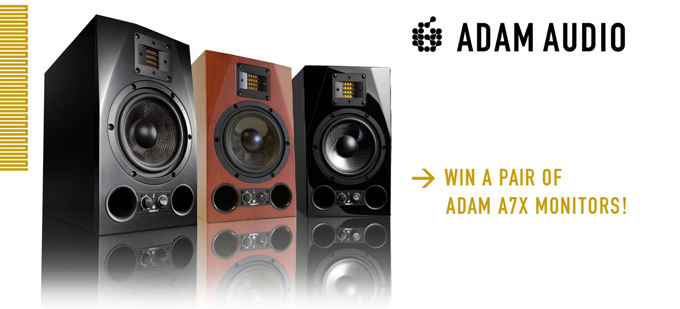 This year is the 7th anniversary of the launch of the award-winning ADAM A7X and to celebrate ADAM Audio are having a photo competition, a User Of The Week promotion, and much more besides.
Since its introduction in 2010, the A7X has not only become ADAM Audio's most popular studio monitor but also an industry standard upon which many users worldwide have come to rely.
ENTER THIS COMPETITION FOR YOUR CHANCE TO WIN ONE OF THREE PAIRS OF A7X MONITORS
Send ADAM a photo of what YOU think is the ultimate location to install a pair of A7Xs, and share it online so everyone in the audio community can see it too! The photo judged the most interesting will be rewarded with the competition's first prize: a pair of limited-edition cherry-finish ADAM A7X monitors. Runners-up need not despair: there are two more pairs of A7X speakers to be won, in gloss silver and standard matte finish, as second and third prizes respectively.
HOW DO YOU ENTER THE PHOTO COMPETITION?
ADAM want to know where you think the all-time ultimate location to install a pair of our A7X monitors would be. So...
Find or create a photo of your dream install location, download a pic of the A7X (bit.ly/ADAM-A7X), and put the two together in any way you can. If digital manipulation isn't your forte, they will also happily accept drawings, sketches or any other creative ways you can come up with to show them your idea...
Upload your photo, drawing or whatever you've come up with to Facebook, Instagram or Twitter
The description of your post must include the hashtags #ADAMAudio and #A7X
Complete the simple form on www.adam-audio.com/happy-birthday-a7x to enter the competition
NOTE: you haven't officially entered the competition UNTIL you've completed and sent us the form!
WHAT ELSE DO YOU NEED TO KNOW?
The best pictures will be chosen based on creativity. The amount of " likes" is not a criteria for the jury. No purchase is necessary
THE COMPETITION PERIOD
The competition starts on May 1st 2017, 0:00 am CET and ends on June 16th 2017, 12:00 pm CET. The winners will be announced on June 21st 2017 on the landing page www.adam-audio.com/happy-birthday-A7X.
THE JURY
The winners will be chosen by the team at ADAM Audio