THE BASS STATION IS BACK!
Posted on Mon 08 April 2013 in General News

](https://www.absolutemusic.co.uk/novation-bass-station-ii-analogue-synth.html)Novation have just announced that they're bringing back a classic! Introducing the Bass Station II - a brand new analogue synth based on the original Bass Station but re-worked for the modern era. If you've heard the original then this will certainly excite you because this synth was capable of creating super warm bass sounds as well as screaming leads. I should know because I own one of the originals!
http://www.youtube.com/watch?v=utKZJdaNLyE&feature=youtu.be
The Novation Bass Station II features two filters, three oscillators and a fully analogue effects section. Plus it allows you to save all your patches for instant recall. There's even a step sequencer, arpeggiator, MIDI I/O, USB connectivity and a 25-note velocity-sensitive keyboard!
The Bass Station II's pure analogue signal path features a brand new design, optimised for warm, wall-shaking BASS! It features the filter of the original Bass Station as well as a new 'Acid' diode ladder filter, for sounds that resemble those of Roland's iconic TB-303, which helped kick-start the Acid House revolution. That's not all though because the Bass Station II also features two syncable oscillators plus a sub-oscillator, for creating HUGE bass sounds. As you can see from the image, there's also plenty of tweakable controls on there as well!
So, who else is really excited about this one?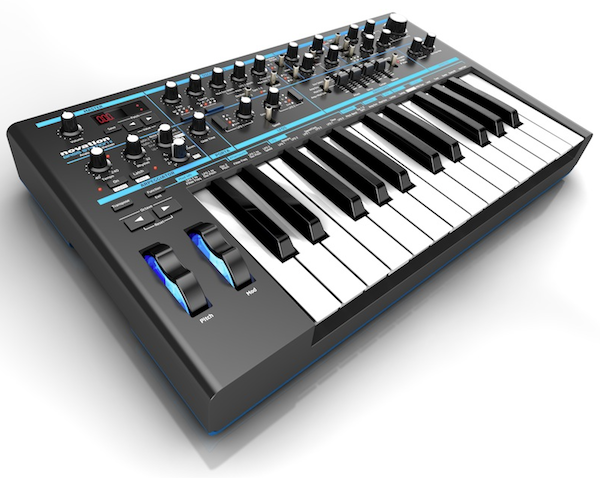 ](https://www.absolutemusic.co.uk/novation-bass-station-ii-analogue-synth.html)
The Novation Bass Station II is due to be released in June this year (2013), so not too long to wait! Given the popularity of the original, we're expecting big demand for this synth and will be taking pre-orders NOW, so if you want to grab one from the first shipment, get in touch!
For more information on the Novation Bass Station II or to buy/pre-order, click the link below or give us a call on 01202 597180.
Novation Bass Station II - More Info/Buy
<p style="text-align: center;">



***If you're interested in buying and you have seen it cheaper elsewhere, please call us or use our

As well as receiving our first rate customer service you can also claim money off your next purchase with our loyalty points scheme and receive a 3 year warranty if you sign up to our FREE VIP Club (click here for more infomation). Many of our items also come out on a FREE next-day delivery service to mainland UK customers, so you won't be left waiting!
Also, if you want to keep up with all our latest offers, competitions, news and videos, why not follow us on Facebook and Twitter?