Reason News: Reason 9 Now Available
Posted on Tue 21 June 2016 in General News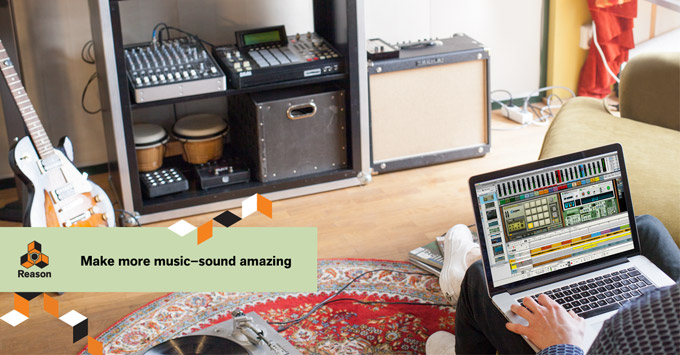 Today sees the launch of Reason 9 with new instruments, features and sounds to get you making music faster.
Reason 9 is an integrated software music production studio with audio recording, million-dollar mixing, built-in collaboration tools and a massive collection of instruments, sounds and effects. It's the perfect choice for writing recording, remixing and producing great-sounding tracks.
It's easy to get started with, yet as deep as you want it to be. And with an intuitive flow and musician friendly design that focuses and enhances your creative process, you can keep your mind on what really matters: your music.
Build your songs from start to finish in Reason's sequencer. Create with synths, samplers, loops and drum machines. Record live instruments, or your entire band. Polish your music to perfection with easy–to-use editing tools and studio effects.
When you're looking for even more creative options, Rack Extensions come to the rescue. Expand your virtual rack with new, inspiring instruments and effects created by developers around the world—from modern effects to vintage instruments.
New in Reason 9
Player Devices
Set your creativity free with the new Player devices. Scales & Chords, Note Echo and Dual Arpeggio will take your Reason instruments to a new level.
Reason 9 Sounds
1000 new patches to spark a million new songs. Reason 9 adds a collection of cutting-edge synth sounds from professional sound designers.
Pitch Edit
Polish your recordings to perfection with Reason's new Pitch Edit. It doesn't just sound good. It sounds Reason time-stretch good! Did we mention it does audio to MIDI too?
Themes
Select a visual theme that matches your creative mood. Reason 9 adds Blue and Dark visual themes.
Bounce In Place
Speed up your workflow with Bounce in place - bounce a synth track to and audio clip with a single click.
Reverse MIDI & Automation
When you need to reverse notes or automation, just select the clip and use the Reverse command.
Reason 9 is now in stock and ready to ship. Click here to buy Reason 9, click here to buy the Student/Teacher edition, click here to buy Reason 9 Essentials and click here to buy the upgrade from any previous full version of Reason or Balance with Reason Essentials bundle.