NORD STAGE 2 ON THE EMELI SANDÉ TOUR
Posted on Fri 15 February 2013 in General News
Meet Gavin Powell, the young British keyboardist for triple Platinum selling artist Emeli Sandé. Gavin has recently purchased a Nord Stage 2 HA88 keyboard to accompany him for future performances and it even featured on-stage at Emeli's recent Royal Albert Hall gig. Check it out in the video below!
http://www.youtube.com/watch?v=N7wIvh1LjOk&feature=youtu.be
"I really enjoy playing my Nord Stage 2 as it is very hands on and easy to use", says Gavin. "The sounds are extremely authentic and it equips me with a wide variety to use on all genres of music".
As well as accompanying Emeli Sandé, Gavin has also toured with N-Dubz, although it is with Emeli that he has worked with most, accompanying her on her European and American tour alongside Coldplay, featuring on her album 'Our Version of Events' and appearing with her at the 2012 London Olympics closing ceremony.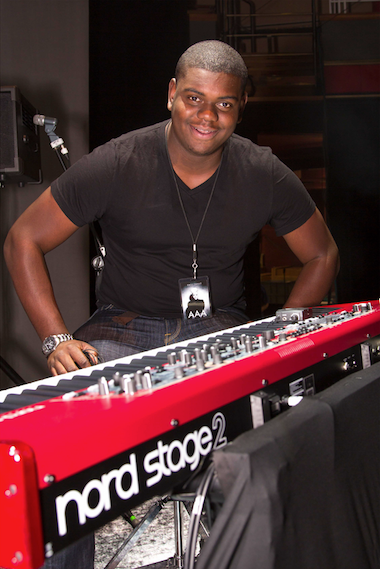 ](https://www.absolutemusic.co.uk/clavia-nord-stage-2-88-stage-piano.html)
Nord keyboards are renowned for their build quality, feel and amazing sound and are the top choice for many professional artists all over the world. The Stage 2 is Nord's flagship keyboard line, created especially for professional touring musicians, although due to their state-of-the-art sound engines they also make a fantastic studio instrument.
For more information on the Nord Stage 2 HA88, click the link below or give us a call on 01202 597180.
Nord Stage 2 HA88 - More Info/Buy

Nord Stage 2 76 - More Info/Buy

Nord Stage 2 SW73 - More Info/Buy

<p style="text-align: center;">



***If you're interested in buying and you have seen it cheaper elsewhere, please call us or use our

As well as receiving our first rate customer service you can also claim money off your next purchase with our loyalty points scheme and receive a 3 year warranty if you sign up to our FREE VIP Club (click here for more infomation). Many of our items also come out on a FREE next-day delivery service to mainland UK customers, so you won't be left waiting!
Also, if you want to keep up with all our latest offers, competitions, news and videos, why not follow us on Facebook and Twitter?