NEW TASCAM PORTASTUDIOS: THE DP-006 & DP-008EX
Posted on Tue 29 January 2013 in General News

Fresh from NAMM 2013 are two new Tascam Portastudios. I think that it's fair to say that Tascam certainly have a lot of experience in this area, being the designers and manufacturers of the hugely popular DP-004 and DP-008. The DP-006 and DP-008EX continue this legacy and are perfect for anyone wanting a compact portable battery-powered studio recording solution without the need for a laptop computer.
First up is the Tascam DP-006, which is essentially the 'new' DP-004! Just like the DP-004, the DP-006 features 2 inputs for recording up to 2 tracks simultaneously (microphone, guitar, keyboard, etc.), 2 high-quality built-in microphones, phantom power, simple mix controls (Pan/Balance and Level) and easy-operation. However, the main difference from the DP-004 is, as the name suggests, that the DP-006 allows you to record up to a maximum of 6 channels of audio. It achieves this by providing tracks 3 and 4 as switchable mono/stereo tracks, which allows you to create more complex recordings than the DP-004, despite being the same size.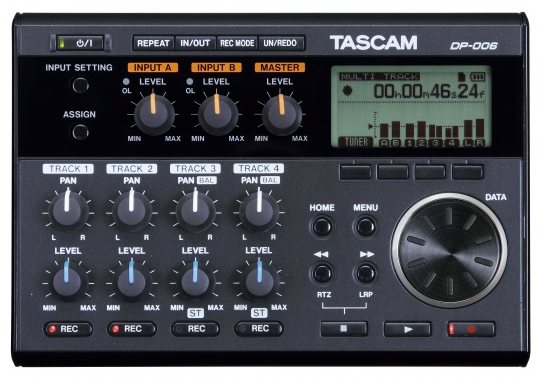 ](https://www.absolutemusic.co.uk/tascam-dp-006-6-track-digital-pocketstudio.html)
And now for the DP-008EX, which provides 8 mono tracks for you to record to at CD quality. Just like the DP-006, the DP-008EX features two built-in microphones, which are great for capturing ideas, and it has two inputs, which can record a variety of signals (e.g. mic, guitar, line). As well as the Level and Pan controls of the DP-006, the DP-008EX features Reverb Send dials on each track for adding reverb to individual parts. In fact, the DP-008EX actually features 6 different types of reverb! The DP-008EX also comes with built-in mixing/mastering effects including 2-band EQ, multi-band compression and normalize, so you don't necessarily need anything else to bring your tracks up to scratch! There's even an Auto Analysis Mastering tool for those that don't have the knowledge or time to perform their own tweaks but want a professional sound.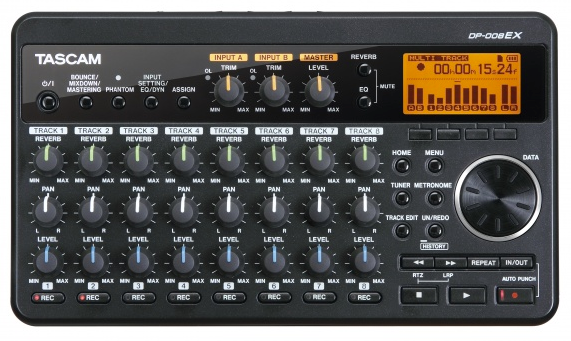 ](https://www.absolutemusic.co.uk/tascam-dp-008ex-8-track-digital-pocketstudio.html)
For more information on the Tascam DP-006 or DP-008EX Portastudios, click the links below or give us a call on 01202 597180.

Tascam DP-008EX - More Info/Buy

******If you're interested in buying and you have seen it cheaper elsewhere, please call us or use our
---
As well as receiving our first rate customer service you can also claim money off your next purchase with our loyalty points scheme and receive a 3 year warranty if you sign up to our FREE VIP Club (click here for more infomation). Many of our items also come out on a FREE next-day delivery service to mainland UK customers, so you won't be left waiting!
Also, if you want to keep up with all our latest offers, competitions, news and videos, why not follow us on Facebook and Twitter?