HONEY, KORG SHRUNK THE SYNTH - IT'S THE MS-20 MINI!
Posted on Thu 24 January 2013 in General News

We've got a really exciting announcement to make now and we're itching to get our hands on this one. Korg have miniaturised one of their most iconic analogue synths ever. Introducing the MS-20 mini! This little synth reproduces the original circuitry of the classic MS-20 (1978), including that amazing analogue filter and all those patching options! Yes, that's right, this synth is fully analogue and we're also pleased to announce that it is extremely well priced for such a beast of an instrument!
The Korg MS-20 mini was overseen by the engineers that built the original 1978 synth and so it completely replicates the original analoge circuitry. It features 2 VCOs, 2 VCAs, 2 VCFs 2 EGs and 1 LFO. The high-pass/low-pass filters of the MS-20 mini, just like the rest of the circuitry, are identical to the orignal. Yes, that's right, they self oscillate with their distinctive distortion! Plus, the MS-20 mini is also brought right up-to-date with the inclusion of a MIDI input and a USB connector, so it will fit right into the modern producer's/musician's studio even if space is limited - the MS-20 mini is 86% the size of the original!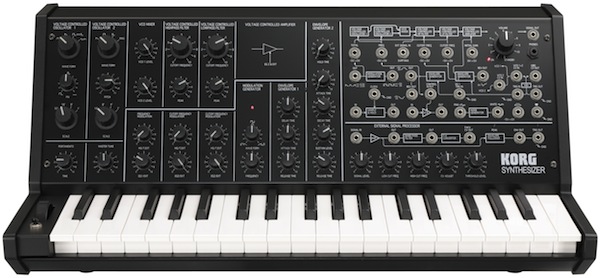 ](https://www.absolutemusic.co.uk/korg-ms-20-mini-monophonic-synthesizer.html)
If you're a synth addict then the Korg MS-20 mini is an instrument that you will undoubtably  want to add to your collection! Or, if you're simply after a true analogue mono synth with a classic sound (for a great price!) then we know that you'll also be drooling over this one!
http://www.youtube.com/watch?v=hA-owDEGpac
For more information on the Korg MS-20 mini or to pre-order, click the link below or give us a call on 01202 597180.
Korg MS-20 mini - More Info/Buy

******If you're interested in buying and you have seen it cheaper elsewhere, please call us or use our
---
As well as receiving our first rate customer service you can also claim money off your next purchase with our loyalty points scheme and receive a 3 year warranty if you sign up to our FREE VIP Club (click here for more infomation). Many of our items also come out on a FREE next-day delivery service to mainland UK customers, so you won't be left waiting!
Also, if you want to keep up with all our latest offers, competitions, news and videos, why not follow us on Facebook and Twitter?