FREE TC ELECTRONIC BASS CABS
Posted on Tue 16 July 2013 in General News

The TC Electronic BH500 is a bass head for the serious musician. It features advanced tone-shaping tools such as TubeTone, SpectraComp, bass tuned controls and 3 memory slots, which allow you to save your custom settings and switch between them instantly. It even features a built-in tuner, allowing you to silently get into perfect tune.
The BH500 is an ideal head to be combined with one of TC Electronic's specially designed bass cabs: the BC410, BC212 and BC210. By choosing the right cabs, you can build a rig that fits in perfectly with your practice and gigging needs, depending on what size venues you play. You can even expand your setup by mixing and matching cabs and you can stack them horizontally or vertically for a complete, reliable and great sounding professional bass rig.
And, get this... for a limited time, you can claim a speaker cab completely FREE when you buy a BH500 half stack from us! Simply purchase a BH500 with either a BC410, BC212 or BC210 cabinet and you can get a second cab for nothing!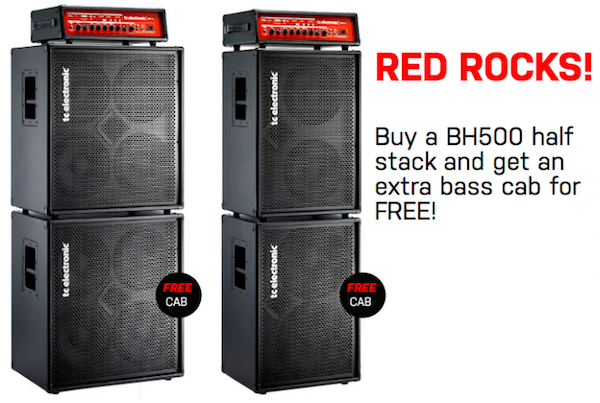 Please note that stock is extremely limited for this offer so please order early to avoid disappointment as free cabs will be offered on a first come, first serve basis with the cheapest cab in the stack combination coming free.
To take advantage of these deals or for more information, please click the links below or give us a call on 01202 597180.