FREE MONOTRIBE WITH EVERY KINGKORG
Posted on Mon 23 September 2013 in General News
Purchase Korg's flagship KingKORG synthesiser between 10th September and 31st December 2013 and you'll be able to claim a Monotribe analogue synth completely free of charge! You'll even be able connect them together using the included cable, in order to use the KingKORG to access the Monotribe's analogue sound engine.
The KingKORG is a powerful analogue modelling synth that features an adjustable vacuum tube driver circuit to add analogue warmth or distortion to your sounds. It also features a wealth of filters that accurately model those found on a selection of classic instruments (e.g. Prophet 5, MS-20, Roland TB-303, Moog and Oberheim).
http://www.youtube.com/watch?v=2K1YHujkATU
The Monotribe on the other hand is a true analogue synthesiser. Although it doesn't have nearly as many features as the KingKORG, this makes the Monotribe very easy to get to grips with, allowing you to sequence and manipulate your own ideas very quickly. It even features an analogue bass drum, snare and hi-hat, which can be combined with the synth part!
The Monotribe features a beautiful sounding analogue filter, along with controls for adding basic modulation. It also sports a ribbon keyboard for triggering the synth sounds. All-in-all, the Monotribe is a great sounding product and very fun to use, but an even better companion for a KingKORG!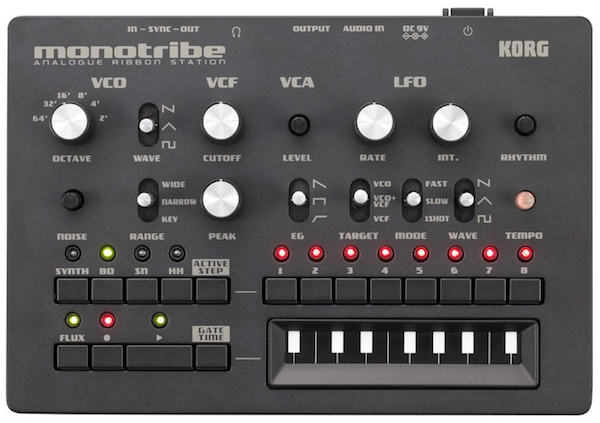 HOW TO CLAIM
To claim your FREE Monotribe, simply purchase a KingKORG from us between 10th September and 31st December 2013. Then, CLICK HERE to download the claim form. Please be sure to read all of the terms and conditions listed on this form.
Simply fill in the claim form, attach a dated copy of your sales receipt and register your KingKORG online (with Korg), then send off the claim form in the post to:
The KingKORG Offer,
KORG UK LTD,
1 Harrison Close,
Knowlhill,
Milton Keynes,
MK5 8PA
Please note that all claims must be received by Korg no later than 17th January 2014.
For more information on either the Korg KingKORG or the Monotribe, please click the links below, give us a call on 01202 597180 or e-mail shop@absolutemusic.co.uk.