FREE MONOTRIBE WITH EVERY KINGKORG
Posted on Thu 13 March 2014 in General News
The KingKORG is a synthesiser with a powerful analogue-modelling sound engine. It features a wealth of filters, allowing it to model the characteristic sound of a number of classic synths, including the Korg MS-20, Prophecy, Z1 and Radias, as well as filters based on classic Oberheim instruments, the legendary Prophet 5 and the Roland TB-303.
On top of all this, the KingKORG is packed with effects, it has a number of hands-on controls for tweaking your sounds, plus a 61-note keyboard and a vacuum tube driver circuit to add real analogue warmth at the output (or distortion).
Anyone purchasing a KingKORG synthesiser from us between March 1st and April 30th 2014 will be able to claim a FREE Korg Monotribe analogue synth (worth £139).
http://www.youtube.com/watch?v=2K1YHujkATU
The Korg Monotribe is a true analogue synth with a three-part analogue drum machine and built-in sequencer. The Monotribe features the same analogue filter circuit as Korg's classic MS-20 (now available in the form of the more compact MS-20 Mini), as well as a built-in speaker, for sound creation and performing on-the-go.
Want to use both synths together? No problem! Simply use the supplied cable to connect the KingKORG to the Monotribe's CV/Gate input and you'll be able to access the true analogue sounds of the Monotribe directly from KingKORG.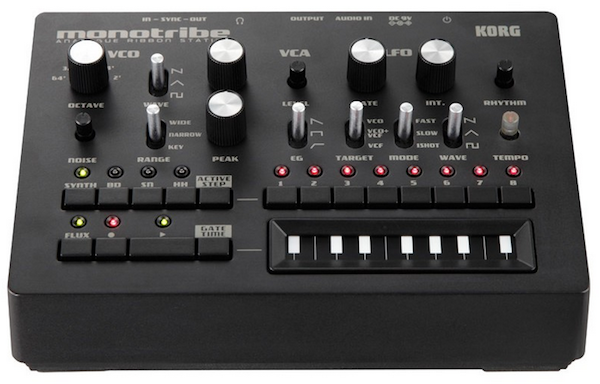 HOW TO CLAIM YOUR MONOTRIBE...
1. Purchase a KingKORG from us during the offer period.
2. CLICK HERE to download the claim form from Korg's website. The claim form also contains all the terms and conditions, so please make sure that you read and understand these.
3. Fill in all details that are required. Don't forget to include a dated copy of your sales receipt/invoice.
4. Post your completed form off to:
The KingKORG Offer,
KORG UK LTD,
1 Harrison Close,
Knowlhill,
Milton Keynes
MK5 8PA
Claims must be received at KORG (UK) Ltd. no later than May 16th 2014.
5. Sit back and wait for your FREE Monotribe to arrive!
For more information on either the KingKORG or Monotribe, give us a call on 01202 597180 or e-mail shop@absolutemusic.co.uk. Alternatively pop into our store in Bournemouth to demo one - CLICK HERE to find us.