UNIVERSAL AUDIO APOLLO REVIEW
Posted on Tue 17 April 2012 in entries

Our warehouse recently saw its first shipment of Universal Audio Apollo interfaces, so we thought that this would be an ideal opportunity to grab one and test it out! After all, we're guessing that you're just as excited as us to find out what these things sound like and how they perform!
UNIVERSAL AUDIO APOLLO - BRIEF INTRODUCTIONS
Without wanting to waste too much time explaining things that you could just as easily read in the standard product description, the UA Apollo is a high-quality professional 24-bit 192kHz audio interface with 4 mic inputs, 2 Hi-Z Instrument inputs, 8 line inputs, 8 line outputs, S/PDIF and ADAT IO, Word Clock and more! Plus, it also features built-in DSP for handling the running of Universal Audio's powerful award-winning software emulation plug-ins while placing a minimum burden on your computer's CPU. Therefore, the Apollo essentially models a classic analogue outboard rack, giving you access to some of the most famous equipment in musical history!
The UA Apollo comes in two different models: the Duo version, with two built-in UAD processors, and the more powerful Quad, with four UAD processors. Although both interfaces currently feature Firewire connections as standard, they are also compatible with an optional user-installable Thunderbolt I/O card, for super high-speed future-proof compatibility.
[caption id="" align="aligncenter" width="600" caption="Universal Audio Apollo Duo"]
](https://www.absolutemusic.co.uk/store/computer-music-46/hardware-4612/firewire-interfaces-46122/universal-audio-apollo-duo-audio-interface-with-dsp-47183)[/caption]
UNIVERSAL AUDIO APOLLO - BUILD & DESIGN
Right out of the box, the Apollo feels like a quality piece of equipment. It seems extremely sturdy and well built, and the dials on the front, which are taken from their famous 1176 compressor, just add to the professional aura that the Apollo exudes.
All-in-all, I thought that the Apollo definitely looked the part and I particularly liked that it had two headphone outputs (something that I found very useful in basic recording situations) and a large LED meter display, although I was a little concerned about the lack of controls at first. With just four dials, this feature-packed interface has about as many hands-on controls as a compact, beginner interface such as the Alesis IO2! However, I guess whether this will impact on the practicality of the Apollo will tell as I begin to use it.
UNIVERSAL AUDIO APOLLO - IN USE
Despite my initial reservations, the Apollo was actually very simple to use. Despite being used to having a level control for each preamp input, the fact that the Apollo only had one dial to control all input levels was only fractionally more time-consuming.
Pushing the 'Preamp' dial cycles your selection through channels 1–4 and the active channel is highlighted with an LED on the level meter display. The Preamp dial can then be used to set the preamp gain for the selected channel, from 10 dB to 65 dB. As I said, it's really simple and it's not like I ever really find myself wanting to alter multiple preamp levels at once in simple recording scenarios.
[caption id="attachment_3640" align="aligncenter" width="600" caption="UA Apollo Console Application"]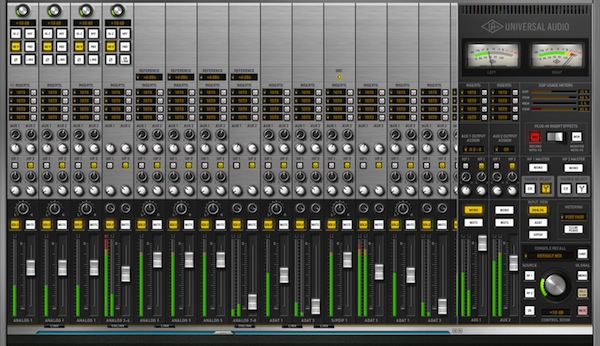 ](https://www.absolutemusic.co.uk/store/computer-music-46/hardware-4612/firewire-interfaces-46122/universal-audio-apollo-duo-audio-interface-with-dsp-47183)[/caption]
The other large dial on the front of the Apollo controls the monitor level (and you can press it to mute the system), and there are also 6 buttons on the front of the Apollo (which also effect the selected channel, 1-4) for switching between the Apollo's mic and line inputs, adding a high-pass filter to the signal, activating/deactivating Phantom Power, activating/deactivating a Pad on the mic inputs, inverting the phase of a signal and for activating/deactivating a Stereo Link (automatically creates stereo input pairs by linking adjacent channels, e.g. 1 and 2, 3 and 4).
The Apollo also comes with a 'Console Application', which is a piece of software that displays a mixer channel for each Input of the interface for more in-depth control of mixing and monitoring. From this screen, you can easily adjust the levels of each input, solo and mute inputs, adjust pan positions, activate filters, pads, Phantom Power, invert, etc, for individual channels, set-up auxiliary sends, add Insert effects to input and output channels and much more. Although you won't need to use the Console Application for basic recording purposes (as everything can be achieved using the front-panel controls of the Apollo), the Console Application is extremely handy for more complex recording and monitoring set-ups and it can also help speed up your workflow in certain situations.
[caption id="" align="aligncenter" width="600" caption="Universal Audio Apollo Duo - Front"]
](https://www.absolutemusic.co.uk/store/computer-music-46/hardware-4612/firewire-interfaces-46122/universal-audio-apollo-duo-audio-interface-with-dsp-47183)[/caption]
Despite its minimal design, the Apollo really was a breeze to use and set-up, and it integrated with my Logic-based Mac set-up seamlessly and without hassle.
UNIVERSAL AUDIO APOLLO - RECORDING
To say that I was impressed with the quality of the Apollo would be an understatement. Listening back to my recordings, my jaw almost hit the floor with the clarity and un-coloured sonic detail that the Apollo captured. Universal Audio state that the sound quality of the Apollo is on a par with premium dedicated converters costing £1000's more, and although I didn't have such equipment to A/B the Apollo against in my studio, I wouldn't be surprised if it was true.
Hearing the quality of the Apollo was a real eye-opener for me. When you haven't heard something of this quality for a long time, it's easy to forget that it exists! In the same way that I had got so used to my Focal CMS65 monitors that I couldn't imagine how anything could sound any clearer, only to be reminded that there most definitely were more professional products on the market when I heard the Focal Twin 6 BE monitors, it was a similar experience when I heard the results of my recordings with the Apollo!
For the last couple of years, my studio experiences have mainly involved work with mid/high-range MOTU interfaces (such as the Traveler, and whilst the preamps and converters on these are of an exceptional quality (and more than capable of being used in professional projects), I had forgotten that there was yet another step-up in class from these devices! Luckily, the Apollo reminded me that recordings can sound even more detailed and even clearer and for that I am very grateful!
UNIVERSAL AUDIO APOLLO - DSP PROCESSING
Having experienced the quality of the Apollo's preamps and converters, I thought to myself that anything else would be a real bonus! However, amazingly, there is a lot more to the Apollo in that it features onboard DSP processing for handling the power of their hugely successful software emulation plug-ins! And just a quick word on these in case you haven't heard them before – they sound amazing!!!
UA plug-ins are certainly the best analogue emulation plug-ins that I have come across and some of them really do sound so similar to the originals that it is scary! If you're after an arsenal of classic compressors, reverbs, EQs, tape machines, etc, without the huge cost or wanting to take up racks and racks of space, then UA plug-ins are most certainly for you! If you have no need for the Apollo interface but fancy the benefits of UA plug-ins, then you can purchase separate DSP cards in the form of UAD PCIe cards and UAD Satellite cards (with a Firewire connection).
As well as being able to use these plug-ins within your DAW as standard inserts, the Apollo also allows you to insert them directly into your signal chain and record through them with less than 2ms latency! This means that you can use them to add classic analogue colour to the squeaky clean Apollo preamps, and you can customise every little detail using the plug-in controls! As I said before, it's like possessing walls and walls of classic analogue recording gear but without the need to re-patch everything every time you approach a new recording situation!
Both the Apollo Duo and Quad come with three classic analogue plug-ins: the LA-2A Classic Audio Leveler, the 1176LN Limiting Amplifier and the Pultec EQP-1A Program Equalizer. Additional plug-ins can be purchased from the UA online shop.
[caption id="" align="aligncenter" width="600" caption="Universal Audio Apollo Duo - Back"]
](https://www.absolutemusic.co.uk/store/computer-music-46/hardware-4612/firewire-interfaces-46122/universal-audio-apollo-duo-audio-interface-with-dsp-47183)[/caption]
UNIVERSAL AUDIO APOLLO - SUMMARY
This is the first time that I've come across an interface that has seriously made me consider upgrading from my MOTU Traveler, but there are just so many obvious advantages that the Apollo has over its competitors. As well as its future-proofing with Thunderbolt compatibility, the powerful DSP processing that the Apollo interfaces possess really sets them apart. There isn't an interface on the market (that I know of) that is as flexible as the Apollo series when it comes to DSP processing, simply because most interfaces with DSP (my MOTU Traveler included) give you a choice of hard-wired effects/processors, e.g. you may get an interface with a couple of different types of onboard reverb and compression, but with the Apollo, you have a huge library of different plug-ins to choose from and you can place each plug-in on different parts of the signal chain and run multiple instances of the same plug-in across the same, or multiple tracks, etc. It really is very flexible, and as I keep saying, the quality of the plug-ins really is soooo good, it's just like having an arsenal of vintage analogue gear for a teeny tiny fraction of the size and cost.
If you're in the market for an interface of exceptional quality and outstanding flexibility, and the DSP processing aspects of the Apollo appeals to you, then you really have to check it out! Upgrading my interface wasn't at the forefront of my thoughts until I came across the Apollo, but now I'm going to have to have a serious think about saving some extra pennies!
For more information on the Universal Audio Apollo series of interfaces, give us a call on 01202 597180 or click the links below:
UA Apollo Quad - More Info/Buy