TOONTRACK ANNOUNCE EZDRUMMER 2 - WHAT YOU NEED TO KNOW...
Posted on Fri 21 March 2014 in entries
At the recent Musikmesse show, Toontrack announced that their hugely popular drum software, EZdrummer, would be receiving the update treatment. In this article, we'll take a look at some of the features that make EZdrummer 2 the new standard for creating grooves, as well as how buying the original EZdrummer (while stocks last) can actually end up being beneficial...
http://www.youtube.com/watch?v=U0RktO45GCo
The original EZdrummer was designed to make song creation as quick and easy possible, with professionally processed sounds that are record-ready right out of the box, along with a selection of intuitive controls that allow you to create your perfect drum track without the need for vast technical knowledge. This made EZdrummer a big hit with songwriters who just wanted an instrument that allowed them to get their ideas down and sounding great, without getting bogged down in technical processes and losing their creative flow.
You'll be pleased to know that EZdrummer 2 is designed with exactly the same principles in mind, but there are a number of new features that take the software to the next level...
EZDRUMMER 2 - WHAT'S NEW?
How have Toontrack improved on the original EZdrummer? Well, they've actually made it even easier to use!
EZdrummer 2 introduces a selection of new songwriting features, an improved audio engine and a new mixer with easy-to-use effect chains, along with two new sound libraries. EZdrummer 2 will also feature an improved user interface.
EZDRUMMER 2 - WHEN IS IT DUE TO BE RELEASED?
EZdrummer 2 is due for release on 6th May 2014.
EZDRUMMER 2 - WHAT IF I BUY EZDRUMMER NOW?
Fear not, for anyone who purchases an original copy of EZdrummer from March 14th 2014, will be eligible for a FREE grace period upgrade to EZdrummer 2, available as a download. To claim your free upgrade, simply purchase a copy of the original EZdrummer software between 14th March and 6th May 2014, register your software in your Toontrack account (CLICK HERE) and your EZdrummer 2 license will automatically be added to your account on 6th May, along with details of how to download upgrade.
Not only does the grace period upgrade allow you to start making great-sounding drum tracks straight away, but by purchasing EZdrummer now, you'll actually also be securing more content for yourself, because not all original EZdrummer audio and MIDI content will be included in EZdrummer 2. Therefore, by purchasing EZdrummer 1, you'll gain access to all the content from the original software, plus all new content from EZdrummer 2 when it is released!
To be more specific, the Pop/Rock kit and associated MIDI loops currently included in  EZdrummer will not be included in EZdrummer 2 and will instead be made available to buy as a separate EZX from 6th May. However, purchasing the original EZdrummer before 6th May means that you will gain all that extra content at no extra cost and without the need to purchase the new EZX expansion pack.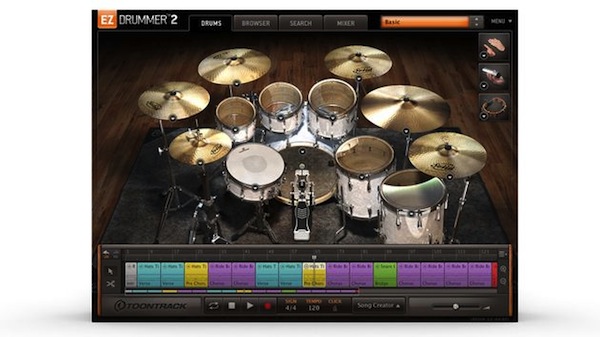 EZDRUMMER 2 - WILL THE ORIGINAL VERSION STILL BE AVAILABLE AFTER 6th MAY?
Following the release of EZdrummer 2 on May 6th 2014, the original EZdrummer will be discontinued. If we have any stock left, these will still be available to buy, but once they are gone, they will be gone, and the only way to get EZdrummer will be to purchase EZdrummer 2.
EZDRUMMER 2 - HOW DO I UPGRADE?
If you do not qualify for a free grace period upgrade, then an upgrade from EZdrummer to EZdrummer 2 will be available to purchase from us from 6th May.
EZDRUMMER 2 - WILL MY CURRENT EZX EXPANSIONS STILL WORK?
Yes and they will be upgraded for use with EZdrummer 2, with new graphics and effect chain presets. These EZX updates will be provided free of charge to EZdrummer 2 customers from 6th May 2014.
EZDRUMMER 2 - WILL EZX EXPANSIONS STILL WORK WITH EZDRUMMER 1?
As EZdrummer 2 has been updated with new features, any newly released EZX expansion packs will no longer be compatible with the original version of EZdrummer. However, existing titles will continue to be compatible with both EZdrummer 1 and EZdrummer 2. These titles include: EZX Jazz, EZX Rock, EZX The Blues, EZX Randy Staub Rock Solid, EZX Metal Machine, EZX Indie Folk, EZX Americana, EZX Number 1 Hits, EZX The Classic, EZX Vintage Rock, EZX Twisted Kit, EZX Nashville, EZX Metalheads, EZX Latin Percussion, EZX Funkmasters, EZX Electronic, EZH Drumkit from Hell, EZX Claustrophobic, EZX Pop! and EZX Metal!.
EZDRUMMER 2 - CAN I INSTALL IT ALONGSIDE EZDRUMMER 1?
No. Upgrading to EZdrummer 2 will replace your original EZdrummer software.
EZDRUMMER 2 - WILL UPGRADING AFFECT CURRENT PROJECTS THAT USE EZDRUMMER 1?
No need to worry. EZdrummer 2 will automatically load in place of any previous EZdrummer instances and will retain all your original settings. However, you will also gain access to the new features of EZdrummer 2 for if you want to add further tweaks to your sounds.
However, please note that EZdrummer 2 will not be compatible with Windows XP/Vista, nor Mac PowerPC or Mac OS 10.5 on Intel-based Mac.
EZDRUMMER 2 - SUMMARY
We hope that this article has been useful in answering some of your questions. If you have any more questions on EZdrummer or any expansion pack, please click the links in this article, give us a call on 01202 597180 or e-mail shop@absolutemusic.co.uk.
Also, don't forget that you can save 50% on all current EZX expansion packs (except EZX Metal!) until 30th April 2014, so this is a great opportunity to expand your EZdrummer library and save money. CLICK HERE for more information on this offer.
EZdrummer 2 (Boxed) - More Info/Buy
EZdrummer 2 (Serial download) - More Info/Buy
EZdrummer 1 (Available while stocks last) - More Info/Buy
CLICK HERE to view our range of EZdrummer products and EZX expansions