The Fender Strat: From Squire to Masterbuilt - A Buyers Guide
Posted on Thu 04 August 2016 in entries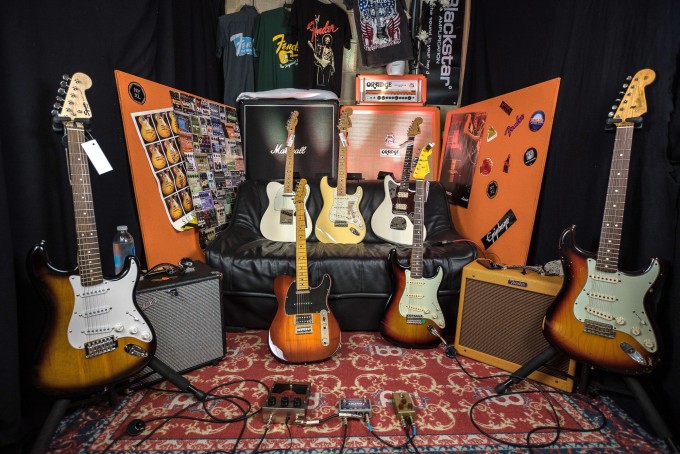 A comprehensive buyer's guide to all of the Fender and Squier series. Whether you have a strict budget or money is absolutley no object, we have the Fender to fit any of your requirements. The Storeroom guys meticulously explain each range of Fender Strat to help you choose which guitar is best for you. So sit back and relax and enjoy this short…when I say short I mean very long…video.
The Fender Stratocaster is one of the most iconic electric guitars to have ever been made, it's been a major influence on the sounds of modern music. The Strat has been featured on countless recordings, and played by rock, punk, jazz, blues, soul, R&B, and country artists alike. For six-decades, Fender has continually been one of the most popular electric guitars in production.
THE FENDER STRAT: A BUYERS GUIDE Part 1 of 2
THE FENDER STRAT: A BUYERS GUIDE Part 2 of 2
Famous Stratocaster Players
Countless guitarists have chosen the Fender Stratocaster as their weapon of choice. The Strat has earned its place among the most revered guitars ever. Some famous Stratocaster players include:
Jimi Hendrix
Eric Clapton
Jeff Beck
Stevie Ray Vaughan
George Harrison
John Frusciante
Dave Murray
Ritchie Blackmore
The Edge
David Gilmour
Buddy Holly
Eddie Hazel
John Mayer
Buddy Guy
Robert Cray
Eric Johnson
Mark Knopfler
Bonnie Raitt
This is just a fraction of players who love the Strat. The list goes on and on.
FOR MORE INFORMATION GIVE US A CALL ON 01202 597180 OR E-MAIL SHOP\@ABSOLUTEMUSIC.CO.UK.