TC-HELICON VOICETONE MIC MECHANIC REVIEW
Posted on Tue 24 July 2012 in entries
You can read more reviews like this, listen to Tony's productions, purchase synth patches and more at his personal site -> Tony Long Music.
TC-HELICON MIC MECHANIC - INTRODUCTION
TC-Helicon need no introduction and in recent years, they have been introducing more and more products onto the market to assist our vocals both in the studio and on stage. I am always intrigued to find out what they will do next and thankfully I did not have to wait long this time.
At the Summer NAMM show in Nashville this year, TC-Helicon announced the release of the VoiceTone Mic Mechanic (I do love this name - excellent choice), which they are advertising as a complete vocal toolbox in a pedal. The initial advertising seemed to suggest that they would be available in October, but I managed to get my hands on one much sooner and thankfully for everyone else, they are now available for general sale.
TC-Helicon describes their new pedal as a no-frills, compact effects pedal for vocalists who just want to sound great.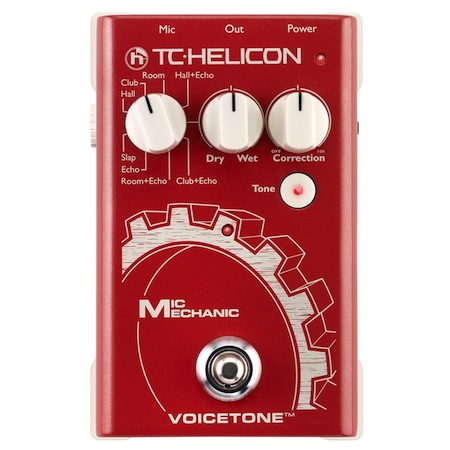 ](https://www.absolutemusic.co.uk/tc45helicon-voicetone-mic-mechanic-pedal.html)
TC-HELICON MIC MECHANIC - PEDAL IN A BOX
There isn't too much in the box; the pedal, a 12V power adapter, a USB lead and a very small manual. The pedal itself is of cast metal construction with a rubberised base and its layout and general design is pretty much identical to a standard guitar pedal.
The pedal is a standard size (90mm x 140mm x 60mm/3.5" x 5.4" x 2.3") and it weighs just 0.42 kg (0.92 lbs).
However, from my experiences, vocalists tend to dislike the idea of pedals and having to look down to make changes as they feel that it spoils their visual performance as well as their concentration. Therefore I think that it is great that TC-Helicon have taken this into consideration, creating their MP-75 Modern Performance Vocal Microphone, which has a small button that allows you to turn effects off or on from anywhere on stage (or in the studio).
The Mic Mechanic pedal is mainly designed for singers that either do not always have access to a sound technician, or feel that they could improve their performance by having access to their vocal effects during a performance. Or vocalists that may not always necessarily sing in perfect tune. But we'll pretend that I didn't mention that one!
I think that the idea of the Mic Mechanic pedal is great but I am a bit surprised that TC-Helicon did not replicate the design that they used on their VoiceLive Touch effects unit and mount the unit on a mic stand. I thought this was such a brilliant idea for vocalists!
TC-HELICON MIC MECHANIC - LET'S PLUG HER IN
TC-Helicon claim that the Mic Mechanic pedal makes your vocals sound crisp, clean and full sounding and that it is what every singer needs. The Mic Mechanic pedal takes the approach that some singers don't want to change their voice; they just want it to sound great! So I suppose from that point of view, they have hit on a slightly different product to the rest of their range.
I know where they are coming from on this. When I record my own voice and it sounds flat and dead, I used to think that I wanted to change the sound of it because I hated it so much! However, in reality all this does is to make it unrecognisable as me (which defeats the object a bit), when what I really want is for me to sound great!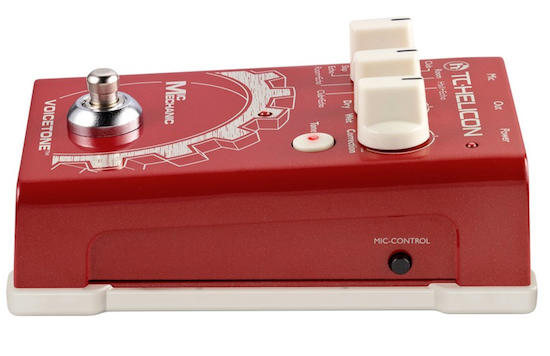 ](https://www.absolutemusic.co.uk/tc45helicon-voicetone-mic-mechanic-pedal.html)
Ok, let's get the pedal set-up by following the very simple instructions in the manual, which tells me that I can press the footswitch to light the LED and confirm the unit is powered on. Then I need to turn down my PA's master volume, connect my mic and then plug in the AC adaptor. Now I just need to sing into my mic while adjusting the 'Mic Gain' control (which is on the side of the pedal) so that the input level LED flashes green to orange. It's all very straight forward, just beware of the LED flashing red - if this happens then you should turn the Mic Gain control down a little until you can see that red LED no more!
The Mic Mechanic pedal has six controls and four connections. So far I've just used one of these controls (Mic Gain), but on top of the pedal is where all the more common controls can be found, including three knobs.
The first of these knobs allows you to select an effect that will be applied to your vocal. The Mic Mechanic pedal gives you eight different choices: Hall, Club, Room, Hall + Echo, Club + Echo, Room + Echo, Echo and Slap.
The second knob on the Mic Mechanic pedal adjusts the Dry and Wet mix of the selected effect and there is also a handy 50/50 centre notch. I found that the best way to set your dry/wet mix was to start from this midway point and make adjustments from there whilst you are singing to determine how much effect you want applied to your voice.
The third and final knob adjusts the amount of pitch correction that gets applied to your voice, but I'll speak about this a little more later on in this article.
TC-HELICON MIC MECHANIC - WHAT DOES IT SOUND LIKE?
I'm going to start by selecting an effect and I'm going to opt for one of the reverbs because it is one of those essentials that all singers love to have to some lesser or greater extent. I'm going to choose the 'Hall Reverb' effect, and once I have it selected with the dial, I can simply toggle it 'on' and 'off' by pressing the footswitch. As I do this, the LED also lights up to let me know that the effect is active.
As I start to sing and adjust the Dry and Wet knob, I begin to get a feel of how the Mic Mechanic pedal sounds. To me, the Hall Reverb has that classic, smooth as silk, lush TC-Helicon Reverb that you hear on their other other VoiceLive products. The early reflections you hear give you a sense that the Hall is large and spacious. It's hard to say without another TC-Helicon Voice product alongside to carry out an immediate comparison, but I feel it is fair to say that I feel it is no better or no worse than any of their other Reverbs that they have given us the last few years. It simply has that professional quality, which we have come to expect of TC-Helicon. For a pedal at this cost, you cannot fault it.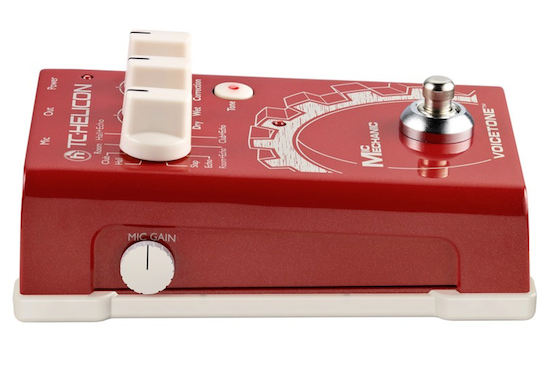 ](https://www.absolutemusic.co.uk/tc45helicon-voicetone-mic-mechanic-pedal.html)
My favourite of all the three reverbs was the 'Club Reverb', because the tail is shorter than the 'Hall' and it also sounds just a little bit brighter and not as distant. From a live point of view, this reverb would be great to give you some vocal confidence, but I would also be happy to use it on a studio recording.
The 'Room Reverb' seemed to provide an equal mix between the 'Hall' and 'Club' settings. It also had a very short tail and in many situations I think that it would actually be more suitable than the 'Club' reverb. All-in-all, I felt that all three reverb effects were worthy of their place on the Mic Mechanic pedal.
It's also worth noting that when you change effects whilst singing, the transitions are very smooth - there are no blips or noises as you switch from one effect to another and it all seems very seamless, which is great!
So, I've tested the reverbs, but what about the delays? Most of the delay effects on the Mic Mechanic pedal are in fact combinations of reverb and delay effects, so you get options such as 'Hall + Echo', 'Club + Echo' and 'Room + Echo'. The final two delay effects are simple 'Echo' (which has no reverb) and 'Slap' (which has a very fast delay).
With the delay presets, you can set the tempo of the delay by tapping, which is great for making sure that the effects fit in with your performance. If you hold down the footswitch for a moment, you will notice that the LED starts flashing and it will flash at the rate of the last tempo that you set (or the default rate). If you then tap a few beats on the switch to match the timing of your song, you can create some rhythmic interest by making the echo repeats fall on the beats of your song (or at other musical points if you wish).
The Mic Mechanic measures the tempo as the time between your last two taps. If you then hold the footswitch again, you can exit 'Tempo Tap' mode.
The third knob on the pedal is for pitch correction. According to TC-Helicon, this is Auto Chromatic Pitch Correction that gently guides you towards the true note being sung. I quite like that explanation of Pitch Correction. It almost hints that they are sorry that you are singing slightly flat or sharp, but don't worry; they have the technology to gently guide you and make you sound pitch perfect - excellent advertising. They also say that it is an organic correction that can either be transparent or used as an effect.
My own view on this is that when the 'Correction' control is set to its maximum, it doesn't seem like a Hard Tune effect that you will hear on some of their other pedals; it is a lot more subtle.
The Tone Button adds compression, adaptive EQ de-essing and gating. Apparently this is set to automatically adjust to your voice as you sing. As I sung and switched this on I found that it subtly added just a little bit more quality to my sound. I quite like this idea as it's nothing extreme and you do not need an engineer or a whole load of expensive hardware - it simply just gives you a better sound. As a result, I found that generally when using this pedal, I just left this on.
TC-HELICON MIC MECHANIC - CONNECTIONS
Looking around the back of the Mic Mechanic, it all looks very logical and easy to understand. You have a Mic XLR balanced analogue input, an XLR output that can be balanced or unbalanced, a USB input so that you can connect to a PC or Mac for firmware updates via TC's Voice Support software, and a 12 Volt, 4 amp power input for the supplied power adaptor. The Mic Mechanic pedal comes with an excellent low noise mic preamp and phantom power is always available - great stuff.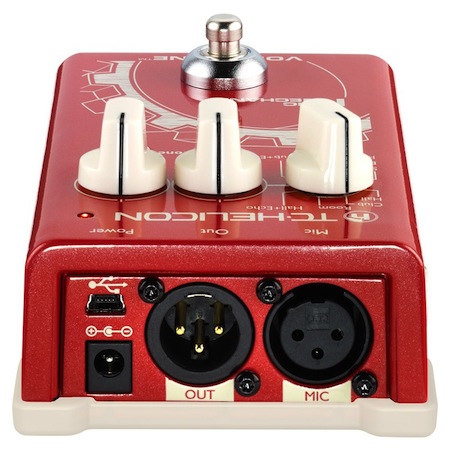 ](https://www.absolutemusic.co.uk/tc45helicon-voicetone-mic-mechanic-pedal.html)
TC-HELICON MIC MECHANIC - CONCLUSION
I think that the Mic Mechanic pedal is ideal for a lot of singers in bands, duos or solo artists who are playing pubs and clubs and want to be assured of producing a good sound. The pedal is not expensive and the fact that you can add instant compression, EQ, de-essing and gating is really very cool!
The pedal is very easy to control and you'll soon finding that using it to find your best sound becomes second nature. Yes, I do feel that it's a shame that they did not make it mountable on a mic stand, but I am sure this would have increased the price. You never know, TC may bring out the Mic Mechanic Touch! There I go again, that is another idea I have given them!
Having said all this, I think that the Mic Mechanic really is a 'less is more' product. I have come to the conclusion that if I had one, I would get it set up how I like it and use it like that all night so I would not be constantly looking down to change it. I would probably have some mild transparent pitch correction, a tiny bit of reverb and the 'Tone' button on all the time, so there is nothing drastically changing my voice - just me sounding the best that I can without a sound engineer! If you sing live in a band and do not have any vocal effects pedals, go and buy this one today!
For more information on the TC-Helicon VoiceTone Mic Mechanic pedal, click the link below or give us a call on 01202 597180.
TC-Helicon Mic Mechanic - More Info/Buy

<p style="text-align: center;">



***If you're interested in buying and you have seen it cheaper elsewhere, please call us or use our

As well as receiving our first rate customer service you can also claim money off your next purchase with our loyalty points scheme and receive a 3 year warranty if you sign up to our FREE VIP Club (click here for more infomation). Many of our items also come out on a FREE next-day delivery service to mainland UK customers, so you won't be left waiting!
Also, if you want to keep up with all our latest offers, competitions, news and videos, why not follow us on Facebook and Twitter?