TC ELECTRONIC FLASHBACK X4 REVIEW
Posted on Mon 18 March 2013 in entries

When TC Electronic released the original Flashback Delay pedal, its wide-ranging delay tones & the inclusion of TC's TonePrint technology made it a unit that stood out from the crowd. Now, with the Flashback X4, TC have listened to user feedback & expanded upon an already winning formula to achieve a result that is even more compelling than the original.
http://www.youtube.com/watch?v=xBi9ikO6mT8
TC ELECTRONIC FLASHBACK X4 - IN USE
The first thing you will notice about the X4 is the size (it's significantly larger than a standard TC stomp box); however, it's bigger for a reason! There's four footswitches lined across the lower half of the pedal & these are labelled 'A', 'B', 'C' & 'TAP'. The 'TAP' switch functions as a tap tempo, allowing you to set the delay times with a simple tap of the foot, while the others allow you to instantly store & recall three separate delay presets. These presets can obviously be altered from factory settings & storing any changes is as simple as pressing & holding the desired footswitch for two seconds (lights will blink to confirm once your changes have been saved).
There are five knobs across the top of the Flashback X4. The first allows you to select the delay type that you wish to use (there are twelve main delay styles & four TonePrint slots to choose from) & the others are labelled 'DELAY TIME', 'FEEDBACK', 'DELAY LEVEL' & 'LOOPER LEVEL'. The unit also comprises of two toggle switches: one to set your repeats to quarter notes, dotted eighths or both; the other to toggle between delay & looper modes.
The X4 can also be used in either Buffered Bypass or True Bypass mode depending on the user's individual preference. Using it in Buffered Bypass mode will enable delay spillover (thus enabling the delays to fade naturally once disengaged), whereas True Bypass mode will ensure that the unit does not affect your tone in any way when not in use. The unit ships in Buffered Bypass mode, but it can be changed over by flipping an internal toggle switch should you so wish. In addition, there is also a second internal switch enabling you to kill the dry signal when the pedal is in use (this is for people who intend to use the pedal in a parallel effects loop); however, this is only an option when running the pedal in Buffered Bypass mode.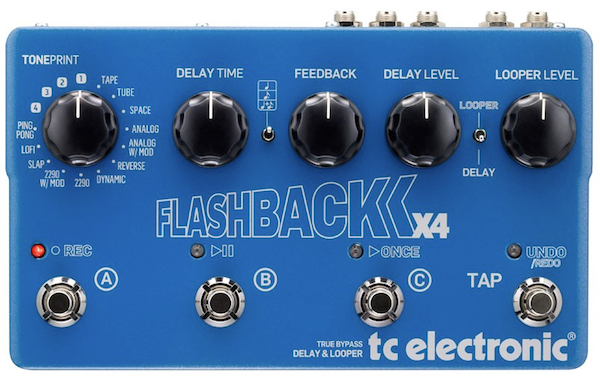 ](https://www.absolutemusic.co.uk/tc-electronic-flashback-x4-delay-and-looper-pedal.html)
TC ELECTRONIC FLASHBACK X4 - CONNECTIVITY
The Flashback X4 comes with its own power supply, but can be powered using any 9V or 12V centre-negative power supply capable of producing 300ma or more (do note the particularly high current draw though as most power supplys max out at far lower ratings).
There are stereo inputs & outputs that allow you to run the unit in either mono or stereo setups, as well as an expression pedal input that can be used for controlling Delay Time, Feedback Level &/or Delay Level with a suitable 25kOhm linear taper pedal. The X4 is also equipped with MIDI in & thru jacks, allowing one to activate/deactivate presets from an external MIDI device &/or control the delay tempo from your DAW. Overall, the connectivity options on offer mean that this unit will fit seamlessly into both simple & complex setups alike.
TC ELECTRONIC FLASHBACK X4 - SOUNDS
The twelve delay types on offer serve up everything from pristine digital delays to convincing tape & analogue bucket-brigade emulations. Two sounds of particular note are 'SPACE', which emulates the sound of an old Roland Space Echo & 2290, which nods to TC's heritage by recreating the legendary 2290 Dynamic Delay... not to mention the 2290 W/MOD setting. This captures the sound of a 2290 being run through three chorus pedals (perfect for any U2 covers you may wish to conjure)!
There's also the fairly unique 'DYNAMIC' mode. This mode essentially operates like your own little sound engineer by turning the delay level down when you're playing & then turning it back up again whenever it detects a pause (ideal for when you don't want delay repeats muddying up fast runs etc.).
Basically, you can dial in the X4 to get everything from country inspired Slapback all the way through to Devin Townsend-style delays of epic proportions. There's also the obligatory 'Reverse' & 'Ping Pong' options that one would expect & the inclusion of modulation on some of the delays is certainly an inspired choice as well.

](https://www.absolutemusic.co.uk/tc-electronic-flashback-x4-delay-and-looper-pedal.html)
TC ELECTRONIC FLASHBACK X4 - TONEPRINT
As well as the delay types on offer out of the box, the Flashback X4 is capable of many more sounds that you simply can't dial in using the onboard controls. With this in mind, TC have given access to the internal parameters of the pedal to many well known artists & allowed them to program their own delays. These sounds can be downloaded (free of charge) from TC's website & have been created by artists such as Joe Perry, Steve Morse, Doug Aldrich, Steve Stevens, Dave Stewart, Ron 'Bumblefoot' Thal & James 'Munky' Shaffer.
Although the TonePrint slots do come pre-populated, replacing the sounds is a simple affair as new delays can be loaded in via USB or beamed over by way of the TonePrint smartphone app. This allows you to tailor your X4 to your own needs & is a great concept for anyone wanting to capture the sounds of their favourite artists.
There's even a TonePrint editor app on the horizon, which when released will give you access to all the inner workings of your Flashback X4, allowing you to create your own custom delays! You can click here to sign up to TC's newsletter to be notified when this is released if you wish. Of course, this app will also function with any of TC's other TonePrint compatible pedals.
TC ELECTRONIC FLASHBACK X4 - LOOPER
In addition to its primary function as a delay pedal, the Flashback X4 also makes a great looper pedal. When in Looper mode the footswitches function as record, play/pause, play once & redo/undo buttons & you get forty seconds of loop time in total. The multiple switches make it easier to use than a lot of looper pedals & you can use your last active delay while in looper mode (which is nice). However, do be aware that if you toggle back to Delay mode to activate a different delay then your loop will be wiped. The pedal only remembers your loops when switched on & in Looper mode; switching between modes or powering the unit down will mean that you have to start again. This won't be a problem for people wishing to use the looper for putting down quick accompaniments etc. on the fly, but people wishing to store multiple loops for quick recall in the future will need to fulfill their looping needs elsewhere.
TC ELECTRONIC FLASHBACK X4 - CONCLUSION
The amount of features that the Flashback X4 has on offer is astounding & it could perhaps be best described as a Swiss-Army Knife for delay! Although the unit's size & power requirements may render it a less than ideal choice for the simplest of delay needs, its ability to produce such a wide range of delays & echoes makes it a great choice for someone who wants to cover all of the bases in one pedal.
The sounds on offer are all of a quality that you would expect from TC & the addition of an easy-to-use looper is an added bonus. The X4's connectivity & buffering options mean that it will fit into any setup seamlessly & customisation by way of TonePrint means that you can really tailor the pedal to suit you.
The Flashback X4 remains remarkably easy to use regardless of its wide-ranging functionality & if an advanced delay pedal is what you're after then this may just be your beast!
For more information on the TC Electronic Flashback X4 delay and looper pedal, click the link below or give us a call on 01202 597180.
TC Electronic Flashback X4 - More Info/Buy](https://www.absolutemusic.co.uk/tc-electronic-flashback-x4-delay-and-looper-pedal.html)**
******If you're interested in buying and you have seen it cheaper elsewhere, please call us or use our
---
As well as receiving our first rate customer service you can also claim money off your next purchase with our loyalty points scheme and receive a 3 year warranty if you sign up to our FREE VIP Club (click here for more infomation). Many of our items also come out on a FREE next-day delivery service to mainland UK customers, so you won't be left waiting!
Also, if you want to keep up with all our latest offers, competitions, news and videos, why not follow us on Facebook and Twitter?