Superior Drummer 3 by Toontrack just announced
Posted on Tue 15 August 2017 in entries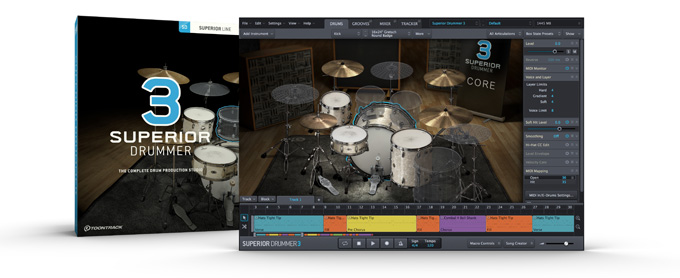 Building on the legacy of its predecessor, Superior Drummer 3 was redesigned from the ground up to introduce a completely new and improved workflow, countless added features and an unequalled amount of raw sound material. With Superior Drummer 3, you are in control.
It's been almost ten years since the release of Superior Drummer 2.0, and it is still a massively popular product that has seen numerous add-ons and expansions, without much call for an update to the brains and inner workings. However, Toontrack Superior Drummer 3 is set to future-proof drum programming for the next ten years.
The Superior Drummer 3 core sound library was recorded by award-winning engineer George Massenburg at probably the world's most quiet and ideal location for sampling, the Galaxy Studios in Belgium. The library boasts in excess of 230 GB of raw sound material captured in extreme detail.
In additional to close microphones and several ambience positions, the Superior Drummer 3 setup also includes an additional eleven room microphones set up in a surround configuration, for use
in anything from stereo to 5.1, 9.1 and all the way up to 11.1 systems.
In combination with the large selection of extra instruments added for stacking and sound design purposes, the sounds of Superior Drummer 3 give you an incomparable palette of options to craft drum tones beyond your wildest imagination.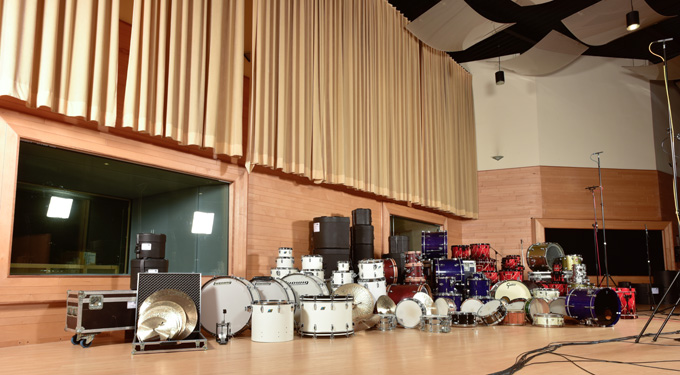 The Kits of Superior Drummer 3
Six (6) kits (Ayotte, Gretsch, Pearl, Premier, Ludwig, Yamaha)
Tom shell dimensions cover ranges from 6" to 20"
Optional tool selection available on select kits and instruments
Optional drum head selection available on select kits and instruments
Approx. 350 electronic drum sounds, sampled from vintage and classic drum machines
25 unique acoustic snares, 35 recorded configurations
16 unique acoustic kicks, 27 different recorded configurations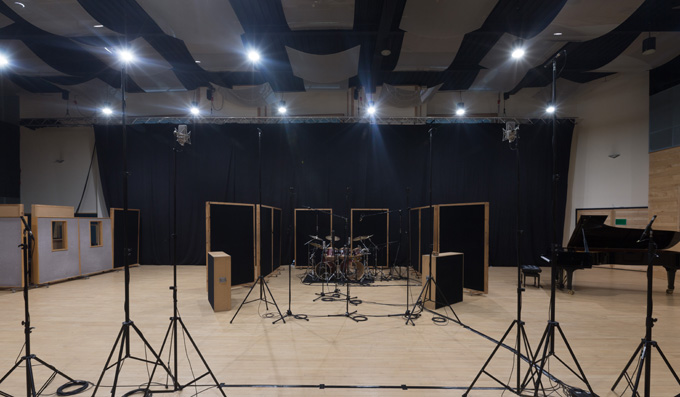 The Studio of SD3
The Superior Drummer 3 core sound library was recorded at Galaxy Studios in Belgium. With its 330 square meter room and eight meter ceiling height, it was the ideal location for capturing immersive audio of the utmost quality. In addition, the entire studio complex is built on springs to ensure that the outside interference is literally nonexistent. In fact, with only 14 dBA
of environmental noise, the main hall at Galaxy Studio is the most quiet recording space of this size in the world.
Perfect acoustics, balanced reverberation and second-to-none recording technology. Superior Drummer 3 called for a superior studio.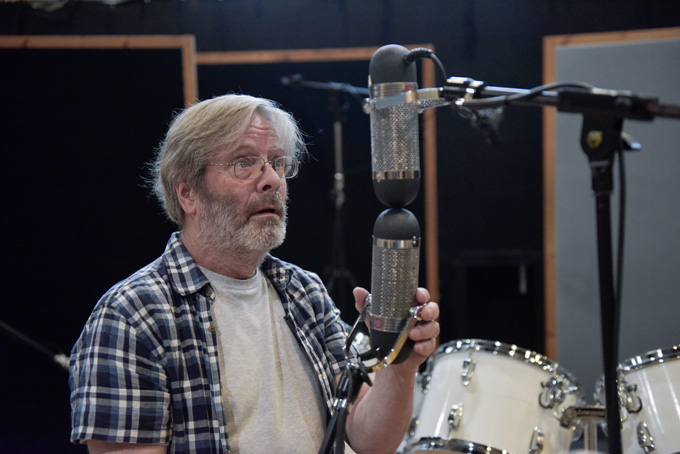 The Engineer of SD3 - George Massenberg
George Massenburg's contribution to the world of audio technology is hard to emphasize in words. Aside from having produced, mixed or engineered in excess of four hundred records, received almost any industry award thinkable, been inducted into the TECnology Hall of Fame and received an honorary Doctorate of Music at the esteemed Berklee College, he is the inventor of an industry staple: the parametric equalizer. His attention to detail, accuracy and quality is second to none.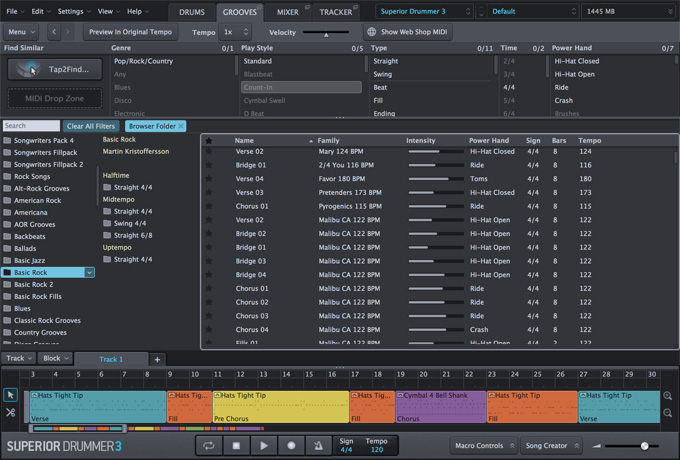 Finding Your Groove in SD3
New and improved features for finding, customizing and working with MIDI. From quickly getting a custom beat going to diving deep into fine-tuning timing and velocity detail, Superior Drummer 3 has got you covered.
Multiple song tracks
Build full drum arrangements
Grid editor
Time and tempo editor integrated in Song Track
Edit Play Style, Tap2Find, Song Creator and Song Track
Integrated grooves and search browser
Text search
The new and improved MIDI Library
The Superior Drummer 3 MIDI library was designed to provide a wealth of fundamental groove and fill variations for mainstream pop, rock and singer-songwriter material. It also has a few dedicated sections for metal as well as an 'Extras' category with count-ins, snare rolls and MIDI files specifically designed for use with brushed samples. In total, the library encompasses in excess of 1,600 individually played fills, all categorized in common song structure parts.
Drum grooves and fills inspired by a broad range of styles
More than 1,600 individually played files
4/4, 3/4, 6/8, 12/8, 2/4 in straight and swing feel
Tempos ranging from 55 to 204 BPM
Song structure categorization (intro, verse, chorus, bridge, fills, etc.)
Upon its release on 12th September, there will be upgrade and cross-grade options for those looking to move over to Superior Drummer 3 from a previous version or from EZDrummer. Already bought a load of SDX kits? Not a problem, all the expansions will work seamlessly with the new version!
In summary...the features of the new Superior Drummer 3
In excess of 230 GB of raw, unprocessed sounds in 44.1 kHz/24 bit
Recorded with an additional eleven separate room microphones set up in a surround configuration
Playback in stereo or up to 11 channel surround systems
Engineered by George Massenburg
Integrated offline audio to MIDI conversion
Approx. 350 vintage and classic drum machine sounds
35 mixer effects
New and improved scalable interface with detachable windows
Edit Play Style, Tap2Find, Song Creator and Song Track features
Built-in MIDI grid editor
DAW automation for built-in macro controls
Drag & drop and import for individual and third party samples
Support for keyboard shortcuts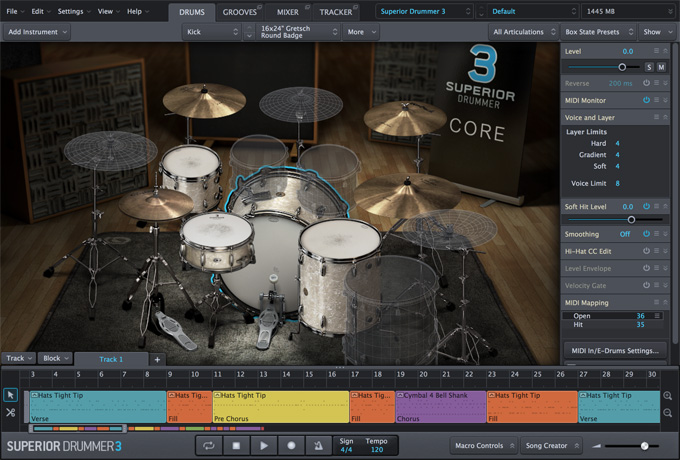 Superior Drummer 3 - To Be Released on 12th September 2017
Superior Drummer 3 Crossgrade from EZ Drummer 2
Toontrack Superior Drummer 3 Upgrade from Superior Drummer 2
If you are as excited about this as we are then you will want to come along to our exclusive Superior Drummer 3 evening on Thursday 21st September at 7pm.
Come and meet Toontrack to see and hear SD3 in action for yourself at the UK's only official Superior Drummer 3 event.
Toontrack Product Specialists will be demonstrating their new flagship drum software at a special seminar at our superstore in Bournemouth. All of the new features of SD3 will be explained, including its surround sound capabilities, the new kits recorded by George Massenburg, triggering sounds live, using macros, and the seriously updated drum replacement functionality.
Book your place now, tickets are very limited!
](https://www.eventbrite.co.uk/e/superior-drummer-3-evening-tickets-37030282572?ref=ebtn)