SONTRONICS STC-1S CONDENSER MICROPHONES (MATCHED PAIR) REVIEW
Posted on Wed 22 August 2012 in entries

You can read more reviews like this, listen to Tony's productions, purchase synth patches and more at his personal site -> Tony Long Music.
Here is a first for me; I am going to look at a matched pair of stereo microphones. There are many on the market today such as the sE Electronics SE-1A and SE-2A mics, but I have been informed that one of the best value for money matched pairs are the Sontronics STC-1S condenser mics. I have a very sexy black pair of these and I am hoping that by the end of this review I will have a greater understanding of their use and suitability.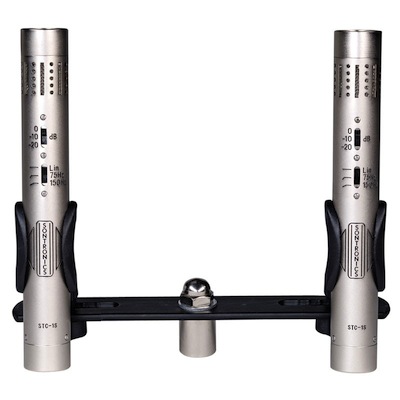 ](https://www.absolutemusic.co.uk/sontronics-stc451s-condenser-mics-matched-pair-silver.html)
Sontronics are a UK based company that launched their brand at the NAMM show in 2005. Their microphones are designed in the UK but hand made in Shanghai, which allows them to produce top quality at a great price. They now have a great reputation and a large range of affordable, but professional quality products, which are used by famous artists and recording engineers around the world.
SONTRONICS STC-1S - WHAT IS IT?
The STC-1 is a small diaphragm condenser microphone. It is available either as a single STC-1 mic or as an STC-1S stereo pair. You can purchase them in either silver (in a brushed nickel finish) or in black (with a satin finish and gold lettering). I know I have the black set but they all look very professional!
The mics come in a stylish wooden box with a classy velvet interior, which is excellent for protecting them in storage or during transportation. They also come with mounting clips, windshields and a stereo mounting bar.
The two STC-1 mics feature a cardioid polar pattern and its frequency response runs from 20 Hz - 20 kHz. They also each have an attenuation or pad of -10 and -20 dB, which is very effective for preventing overload from loud signals. Additionally there is a filter with a low-cut of 75 Hz, which is great for removing rumble, and there is a further 150 Hz filter to add definition to the recording of instruments such as a guitar.
I do like the way the switches are recessed into the body of the STC-1 mics. I suppose this will prevent you from accidentally switching them. You can move them with the tops of your fingers and the switch settings are smartly engraved in so that they will not wear off with constant handling.
The STC-1 microphones are particularly good for the recording of acoustic instruments. You could use them for recording the sounds of things that you find in your home. Imogen Heap recently did this and used a whole manner of objects to make different percussive sounds!
SONTRONICS STC-1S - WHY MATCHED PAIR?
If I were to record in stereo with two mics, I would want those mics to be very similar - but is that possible? The manufactures have a difficult process to go through in trying to match up two mics that are very close in performance and find pairs that have similar characteristics... but they do manage it. If they did not manage to do this, the mics would be taking in the sounds very much like we do when we have a bad cold and our hearing on one side is partly blocked. So a carefully matched pair with a similar frequency response is very important.
The stereo pair is particular great when used as overhead mics to record an acoustic drum kit. They are also good outside in live environments with a very good narrow sound rejection from the cardioid pattern.
SONTRONICS STC-1S - WHY DO ENGINEERS USE SMALL CAPSULE CONDENSER MICS?
Engineers seem to like small capsule condenser mics because they do not flatter and colour the sound like so many large capsule ones. I suppose to many of us, the idea of a mic that does flatter to improve the sound of our own voice is very welcome but when you are recording live drums for example, you don't want any colourisation occurring. This is where a stereo matched pair of small capsule condenser mics such as the Sontronics STC-1S is an ideal choice.

](https://www.absolutemusic.co.uk/sontronics-stc-1-condenser-microphone-black.html)
SONTRONICS STC-1S - PREAMPS
The Sontronics STC-1s have on-board class-A preamps and I found that these allowed the microphones to pump out a very good signal with no unwanted noise. I like to think of this in more basic terms and say that the STC-1S microphones have a very good range of usable volume without distortion at high levels or noise at low levels, plus you also do not hear any bumps in frequencies. Because of this, having these built-in preamps offers particularly great advantages when recording quieter sounds.
I particularly like the high-end of the STC-1 mic, which has a very pleasing pro-shine about it without going over the top and sounding too bright. With this much power, it seems sensible to put on the attenuation pad when you record loud instruments like drums or electric guitars, otherwise you will be going into overload.
SONTRONICS STC-1S - THE PROXIMITY EFFECT
There was no manual with my set but there is sufficient information on the Sontronics website and they do a great job of giving you help, advice and tips on matters such as mic positioning, polar patterns and filters, etc. There is also a good Youtube clip demonstrating the STC-1S microphones by the founder and MD of Sontronics himself Mr Trevor Coley - check it out below!
http://www.youtube.com/watch?v=ZPmjeOP7h-g
One thing that caught my eye was something called the 'proximity effect', which I know I have read about in various articles. To give you an immediate idea as to what this is about, you just have to think about the sounds made by DJs on late night radio shows when they change their voice to something deep and sexy. Sontronics state that this is what you experience when a cardioid (or 'pressure-gradient') microphone is moved closer to its sound source and its bass response increases. People like announcers and Radio DJs use this to their advantage, as it adds a deeper sound to their voice. If, however, you prefer to avoid the effect, you can use a low-cut filter - the STC-1s have a very useful variable filter (0, 75, 150Hz) and a pad (0, -10, -20dB) built-in, which clearly demonstrates just how versatile they are.
SONTRONICS STC-1S - TESTING
I got my old Rogers snare drum out and tuned it up as it hasn't seen the light of day for a while. I must say that it was in need of a bit of 'TLC'. I recorded some stereo close mic singular strikes with a variety of tunings to get some different snare samples. The results were very pleasing and useable. The mics accurately produced all of the metallic ring and snare buzz and natural acoustic ambience.
Ok, let's try some cymbals - I have some classic Paiste Formula 602s. I recorded different velocity hits on my 16 and 18 inch crashes and set the mics up as overheads. Again, the results produced a very pleasing recording with the cymbals sounding deep and rich - I was impressed with this and research shows that many recording engineers use Sontronics STC-1s as overheads. Although they will often use other microphones (sometimes other Sontronics mics) on other parts of a drum kit, the consistent fact is that they commonly choose the STC-1s for overheads and now I can hear why.
Fortunately a friend of mine wanted me to record some acoustic guitar for him so this was an opportunity to kill two birds with one stone. He had one of those Taylor 210, 6-String Dreadnought Acoustic Guitars. I can't say I know much about guitars (or the recording of them) but this had a lovely sound so I thought that was a good start. He suggested I set up the Sontronics STC-1s at an eighty degree angle with the 75Hz filter on. His experience was invaluable and we proceeded to record the track for him. On playback, he was very pleased with the recording and felt that it was an accurate representation of his performance, capturing all of the harmonic content that he wanted to hear and I had to agree and I was very pleased with the job accomplished.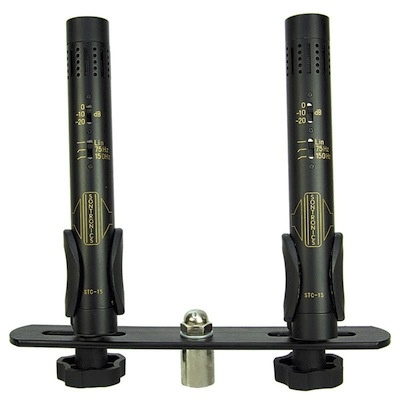 ](https://www.absolutemusic.co.uk/sontronics-stc451s-matched-pair-condenser-mics-black.html)
SONTRONICS STC-1S - OMNI AND HYPER CAPSULES
There are also two capsules available for the STC-1s; an omni-directional capsule and a hyper-cardioid capsule. Switching capsules is easy - you simple unscrew the capsule on the mic and screw in a new one!
Unfortunately I did not have these capsules (which can be purchased separately) with my set so I cannot test them but I have researched them and I think I would check out the omni-directional set, which may very well be the best out of the three. It has been said that whilst the highs detail is still present, they provide a more defined bass sound with a better, smoother response. It maybe also worth noting that the omni capsules rely on sound pressure, so you cannot get any proximity effect with them.
Each capsule is available in black or silver and they are very reasonably priced and supplied in their own ringbox with magnetic closure. Whilst these capsules are compatible with the Sontronics STC-1S matched pair, once fitted they are not considered to be 'matched' - only the capsules that the matched pair ship with fulfil this specification.
SONTRONICS STC-1S - TECHNICAL SPECIFICATIONS
For all you technical guys out, here are the specifications:
Response: 25 Hz - 20 kHz
Sensitivity: 12mV/Pa -38dB ±2dB (0dB=1V/Pa 1,000Hz)
Polar pattern: cardioid
Impedance: \<=200
Equivalent noise level: 16dB (A-weighted) - Max SPL for 0.5%
THD\@1,000Hz: 137dB
Power source: phantom power 48V
Connector: 3-pin XLR.
SONTRONICS STC-1S - CONCLUSION
I have been really impressed with the Sontronics STC-1 microphones as they seemed to provide exactly what I was looking for. They are also built extremely well, look very professional and are very versatile. Generally you get a very good sound from them, which is pure and open, but perhaps they score even higher in the higher frequencies where it's smooth and not at all brittle like on many other mics.
The specifications are great, providing you with a High Pass Filter, Attenuation Pad and easily interchangeable capsules. The response is very impressive and they have very powerful pre-amps. On top of all of this, the price is extremely reasonable for something that will take your live and recorded sound to a whole new level, so what are you waiting for - grab yourself a pair today!
For more information on Sontronics STC-1 microphones, click the links below or give us a call on 01202 597180.
Sontronics STC-1S Matched Pair (Black) - More Info/Buy

Sontronics STC-1S Matched Pair (Silver) - More Info/Buy

Sontronics STC-1 (Black) - More Info/Buy

Sontronics STC-1 (Silver) - More Info/Buy

Sontronics STC Omni Capsule (Black) - More Info/Buy

Sontronics STC Omni Capsule (Silver) - More Info/Buy

Sontronics STC Hyper Capsule (Black) - More Info/Buy

Sontronics STC Hyper Capsule (Silver) - More Info/Buy

******If you're interested in buying and you have seen it cheaper elsewhere, please call us or use our
---
As well as receiving our first rate customer service you can also claim money off your next purchase with our loyalty points scheme and receive a 3 year warranty if you sign up to our FREE VIP Club (click here for more infomation). Many of our items also come out on a FREE next-day delivery service to mainland UK customers, so you won't be left waiting!
Also, if you want to keep up with all our latest offers, competitions, news and videos, why not follow us on Facebook and Twitter?