Pro Tools HD - The 'Software Only' Version. Choose Your Route.
Posted on Wed 08 March 2017 in entries

Now that the dust has settled since Pro Tools HD has become widely available as a 'software only' option, we take a look at the various routes you can take for upgrading and the interfaces that you might want to use.
Why go HD?
Pro Tools HD is still the professionals choice and has been the industry standard for some time, last year, for the first time since AVID discontinued the Complete Production Toolkit, ProTools HD software only is again available outside of a bundle, offering users upto 64 tracks of audio at 192khz (or 192 tracks at 192khz with Pro Tools HDX systems), as well as over 60 included virtual instruments (thousands of sounds), effects, sound processing, and utility plug-ins, with optional access to 25 bonus plug-ins. It has also been making waves with professionals that make music for film and games because of its support of 5.1 and 7.1 surround sound. The HD video editing capabilities has also gained a lot of interest, especially as no transcoding, or leaving ProTools is needed, it's all right there in the timeline!
There are many reasons why people are choosing Pro Tools HD, not only does it support surround sound and have HD video editing built-in but it also has hugely advanced audio editing capabilities such as Scrub Trim, Replace Region, Fit to Marks, Matching Channels, Back and Play, Auto Fades, and more. Workflow is also enhanced with some of the most powerful automation tools available.
Interfaces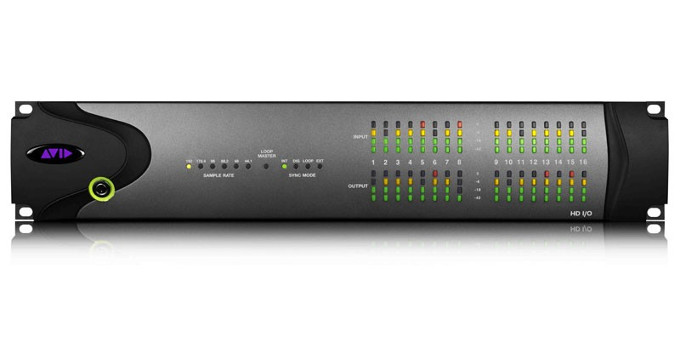 The AVID Pro Tools HD I/O 16x16 Audio Interface
Avid have their own range of interfaces that have been designed specifically for use with Pro Tools HD (Native or HDX) systems with high-quality electronics, giving you pristine, best-in-class A/D and D/A conversion and the lowest possible latency, such as the AVID Pro Tools HD I/O 16x16 Digital interface, the AVID Pro Tools HD I/O 16x16 Analog interface and the Avid HD Omni interface. These Avid interfaces connect to your Pro Tools HD system through a DigiLink Mini connection (cable and adaptor included) and offer advanced routing from within ProTools. Another interface that has been designed with ProTools HD in mind is the Focusrite Red 4Pre Audio Interface, which is a 58-in / 64-out interface that combines four digitally-controlled, 'Air' enabled, 'Red Evolution' mic preamps and has dual Thunderbolt 2, Pro Tools HD and Dante network audio connectivity built-in. Please call our in-house ProTools specialist if you need to take about more advanced I/O, such as MADI options.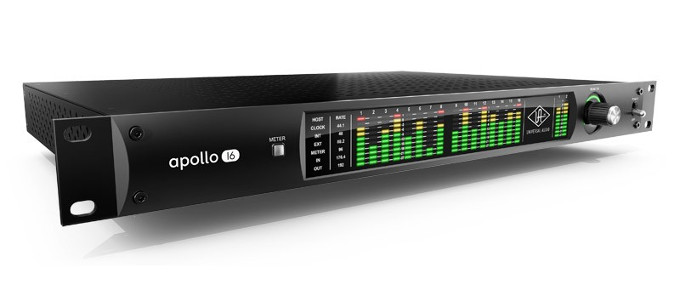 Alternatively, if you intend to run the HD software Natively on your computer most USB or Thunderbolt interfaces can be used, we are particular fans of UA, you might want to go for the Universal Audio Apollo 16 v2 Thunderbolt Audio Interface with DSP with an onboard UAD-2 QUAD Core DSP that allows Realtime UAD Processing and recording through plug-ins from Neve, Lexicon, Studer, Manley, Ampex, and more.
Subscribe or buy?
As mentioned above, Avid Pro Tools HD is available as a software only option for those looking to buy it outright, but it is also available as an annual subscription or as an upgrade package from a previous version of Pro Tools. The Pro Tools HD subscription gives you access to the latest version as well as updates and upgrades or 12 months, 25 bonus plugins (such as Pro Compressor, Pro Expander, Pro Limiter and the widely renowned Eleven MK II which gives you some of the most popular guitar and bass amp sounds).
The Pro Tools HD 12 annual subscription is currently priced at £922.80, which will give you the same plugins, feature set and support as the Pro Tools HD perpetual licence (which is currently priced at £2,278.80).
Minimum system requirements
If you are looking to run Pro Tools HD on a Mac system you will be needing an Intel Core i7 processor, at least 8GB of RAM (although AVID recommends 16GB) and 15 GB of disk space for the installation and an additional 2GB for the optional loop library. You will also be needing a PCIe slot for HDX or HD Native card (including one power connection on motherboard) or Thunderbolt port for HD Native, supported PCIe chassis or Core Audio-supported audio device.
The minimum system requirements for Pro Tools HD on a Windows system are a PC with an Intel Xenon processor, 8GB of ram (16GB is recommended though) and 15 GB of disk space for the software installation and an additional 2GB for the optional loop library. Similar to the Mac spec above, if you are running on a PC you will need a PCIe slot for HDX or HD Native Card or an ASIO-supported audio device.
Please note: These specs were correct at time of publishing (8th March 2016) and system requirements & compatibility can change with each revision of the software release, please either check the Avid website or give us a call to double check your systems current compatibility.
If you are unsure which version of Avid Pro Tools HD is best for you or you want to check compatibility, just give us a call and one of the experts here will be able to help.
All of the software and interfaces mentioned here are available to buy online or in-store now, so get in touch or follow the links to the products to place your order today.