NEW: Universal Audio Arrow Thunderbolt 3 Interface
Posted on Tue 16 January 2018 in entries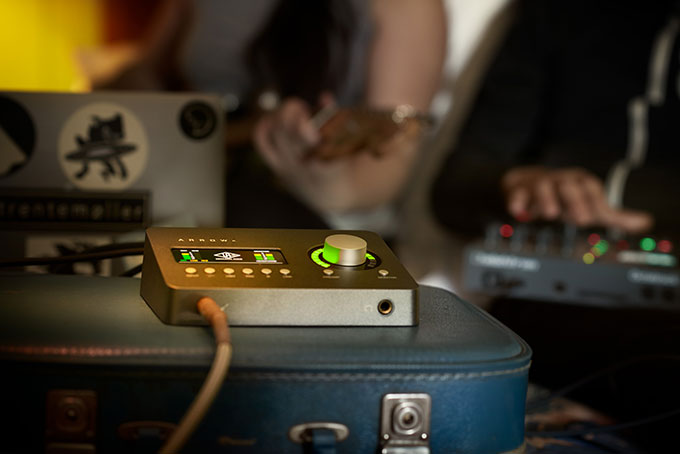 Universal Audio, a leading manufacturer of professional audio recording hardware and software, just announced the Arrow - the world's first Thunderbolt 3 audio interface for Mac and Windows.
Every year the NAMM show brings some of the biggest product announcements from the most widely respected names in the music instrument and recording technology world. Amongst the first of the announcements is Universal Audio's newest offering - a Thunderbolt 3 interface for PC and Mac. Universal Audio is one of the main go-to names for professional studios across the world, so when they announce a new interface, it tends to get a lot of people excited (and rightly so).
Rather than adding to the massively popular Apollo range of interfaces, the new Universal Audio Arrow brings a whole new approach to the recording game. Not to take anything from the Apollo, but from the first glance the UA Arrow looks tidier and more thought out than the Apollo. However, it's what's inside that really counts. Featuring two Unison mic preamps, Realtime UAD Plug-In Processing, and class-leading Universal Audio conversion, the Universal Audio Arrow is a portable 2x4 bus-powered Thunderbolt 3 audio interface that provides a generous collection of UAD plug-ins to record album-quality vocals, guitars and more at near-zero latency.

A glance of the new Universal Audio Arrow Interface
Derived from the aforementioned award-winning Apollo interfaces, Arrow features an onboard UAD-2 SOLO Core processor, letting musicians monitor and record through the full library of UAD Powered Plug-Ins — at near-zero latency, no matter their audio software buffer setting.
The UA Arrow also features acclaimed Unison mic preamp technology, giving musicians the tone, touch and feel of the world's most sought-after tube and transformer-based mic preamps and guitar amplifiers.Universal Audio have also built their reputation on an enviable marriage of hardware and software and the new release of the Arrow looks to further cement this reputation. Right out of the box, Arrow provides a suite of incredible analog emulation plug-ins including the world's only authentic Teletronix LA-2A, 1176LN, Pultec EQs, and the Unison-enabled UA 610-B Tube Preamp.
From the tube warmth of the Pultec EQ on guitars, to the gentle limiting of the LA-2A on vocals, your recordings will take a giant leap forward in rich, sonically complex analog sound. The included UAD studio mixing tools — featuring classic compressors, EQs, and reverbs —enable musicians, electronic producers, and songwriters to produce polished tracks quickly and easily, right out of the box. Highlights include the UA 610-B Tube Preamp and Marshall® Plexi Classic plug-ins — and Arrow can be expanded with exclusive titles from Neve, SSL, Fender and Ampeg.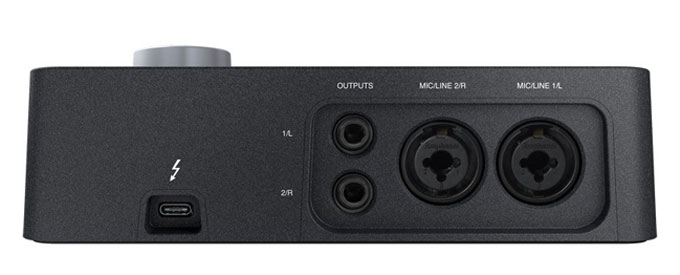 The ports on the reverse of the UA Arrow
The UAD library offers more than 100 titles, including everything from classic Moog filters to Ampex tape to Lexicon reverbs — with more being added every few months. These are the same UAD plug-ins used on hit records by Kendrick Lamar, Coldplay, Dr. Dre, Brad Paisley and many more.
The Universal Audio Arrow is available to buy now with free UK delivery or buy in-store from our Bournemouth superstore. Click here to order yours today
Desktop 2x4 Thunderbolt 3-powered audio interface with class-leading 24-bit/192 kHz audio conversion
Unison mic preamp technology provides the tone, touch and feel of the world's most sought-after tube and transformer-based mic preamps and guitar amplifiers from Neve®, API®, Manley®, Marshall®, Fender®, and more*
Realtime UAD Processing allows near-zero latency tracking with classic UAD plug-in effects, regardless of software buffer setting
Includes studio compressors, EQs, reverbs, and guitar amp emulations, and more as part of the "Realtime Analog Classics" bundle — featuring 14 quality UAD Plug-Ins
Bus-powered connection to modern Mac and Windows systems for easy portability and reduced cable clutter
*Arrow includes the "Realtime Analog Classics" UAD plug-in bundle. All other plug-ins are sold separately at www.uaudio.com. All trademarks are property of their respective owners.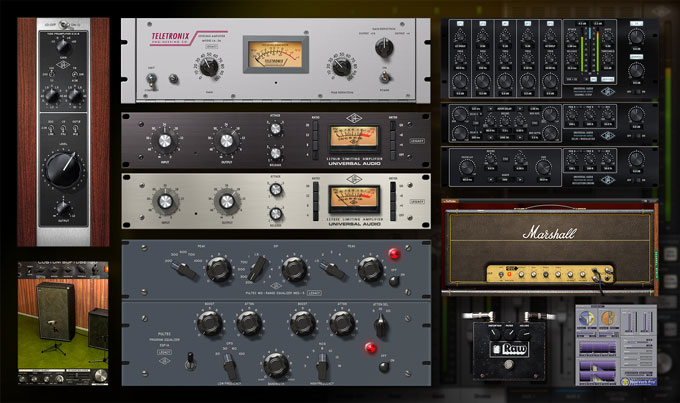 The Realtime Analog Classics Bundle